How to Fix Apple TV Stuck in DFU Mode Issue
by Jenefey Aaron Updated on 2021-02-24 / Update for Apple TV Repair
Apple is always on the verge of coming up with new and quality products. But as we all know, nothing is perfect, and so does Apple TV. Many users reported about Apple TV DFU mode issues. Although many methods are present to safely enter and exit the DFU mode, but what if your Apple TV gets stuck in DFU mode? Well before discussing the solutions, first let's see what is apple TV DFU mode.
Part 1: What Does Apple TV DFU Mode Mean
DFU stands for Device Firmware Update. As the name suggests, the DFU mode allows you to update your device with the latest firmware, if any. You can also restore your Apple TV in DFU mode along with updating it. But if the procedure is not followed systematically, your device may get stuck in this DFU mode. Apple users have also reported about Apple TV stuck on DFU mode while updating issue. In such scenario, you have to immediately try exiting the DFU mode.
To exit the DFU mode, you simply require to force restart your Apple TV.
1.To force restart Apple TV follow below steps:
For 4th Generation Touchpad Remote ATV
Long press both buttons—the Menu and the Home button, at the same time. Now release the buttons once the Apple TV LED starts to flash.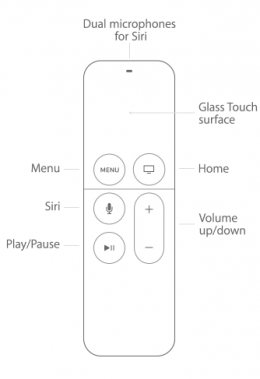 For 3rd Generation (or earlier) Aluminum Remote ATV
Hold the Menu and the Home buttons simultaneously. Now let go the buttons when you see the Apple TV LED starts to flash.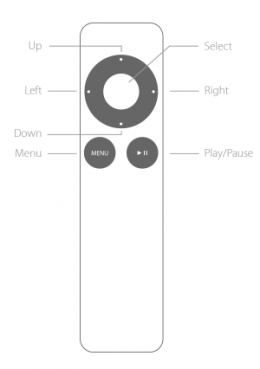 Part 2: Restore Apple TV from DFU Mode via iTunes
To solve DFU reset Apple TV issue, you merely require a USB-C cable and iTunes. Yes, these two things will help restore your DFU-stuck Apple TV. The restoring process will get your Apple TV stuck in DFU mode out by downloading and updating the device with most recent firmware. Follow below easy steps to restore the ATV using iTunes.
Step 1: Using a USB-C cable, connect your Apple TV with a PC. The status light will show that the Apple TV connected if it blinks. Automatically, the iTunes will be launched. If not, then open iTunes.
Step 2: Now, select the Apple TV option in the Devices menu. Click Restore Apple TV option.

Step 3: This will make iTunes download and install the latest firmware version on your ATV. iTunes will inform you when the restoring process is finished.
Step 4: Simply disconnect your computer and Apple TV. As usual, plug it back. When the booting process is finished, your ATV will be back to normal working state.
Part 3: Use Tenorshare ReiBoot to Fix Apple TV Stuck in DFU Mode
If still your Apple TV DFU mode not working, and updating the Apple TV software and restoring of Apple TV are not solving your issue, try iOS Fix Tool ReiBoot without thinking much. The tool is a problem-solver overcoming any type of iOS device-related concerns. The tool will help solve your DFU stuck problem in no time. Follow below steps to overcome the problem.
Step 1: First of all, download, install and launch ReiBoot to your PC/Mac.
Step 2: Unplug and disconnect your ATV by unplugging HDMI cable and the power cord.
Step 3: Further, connect the Apple TV and PC with USB-C cable. Take care that you plug the cable's one end to the TV's USB port (you can see this port below the HDMI port) and the cable's other end to the PC's USB port. Make a proper connection in order to make Tenorshare ReiBoot detect your ATV.
Step 4: Now simply open the software if you have already installed. If not, download, install and open the s/w on your system. When the ATV is detected, click the Start and select Standard Repair option.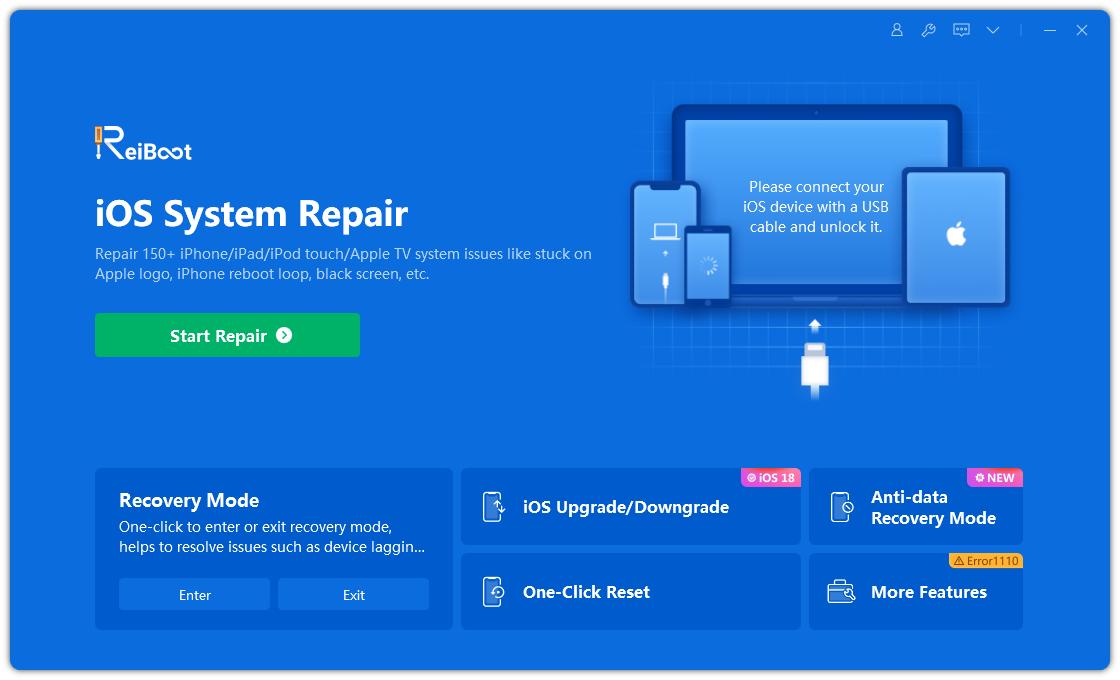 Step 5: You need to have the latest Apple TV firmware online and hence need to download it to fix the stuck ATV.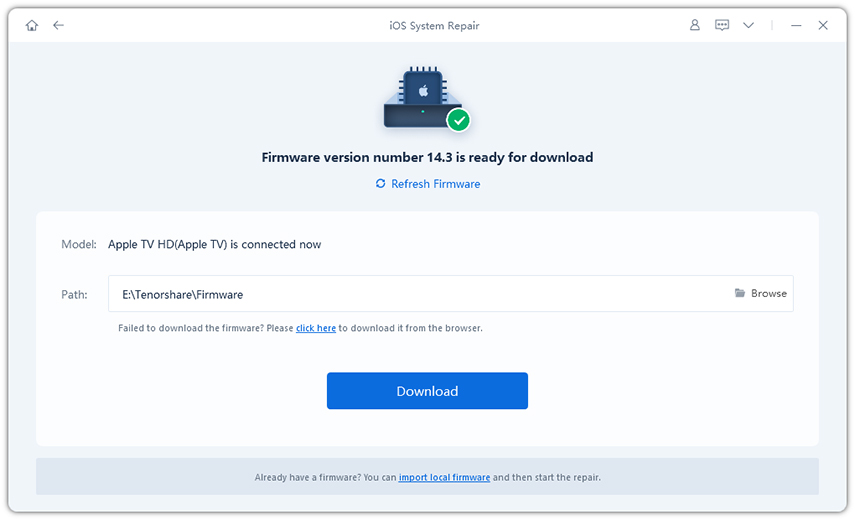 Step 6: When the downloading is finished, select Start Standard Repair. Repairing process will hardly take any time or can take several hours, depending on the issue.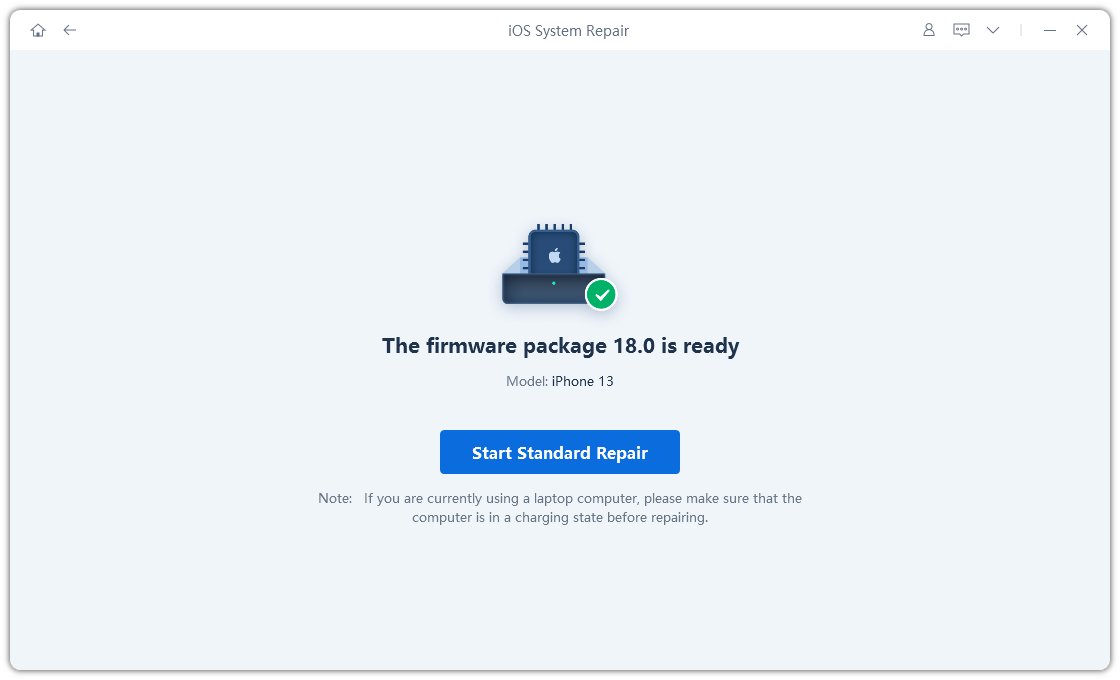 Step 7: When the repairing process is finished, your ATV will be restored and will restart. Congratulations! You have taken your Apple TV stuck in DFU Mode out successfully.
Video Guide to Fix Apple TV Stuck with ReiBoot
Summary
In the above article, we have talked over the different and simple methods to fix Apple TV stuck DFU mode issue. You can effortlessly bring your stuck ATV in a working condition by above solutions. As Apple is always on the verge of bringing new devices every now and then, you can expect more problems with its new devices. Tenorshare ReiBoot is a very reliable tool software in these conditions. The tool helps solve all iOS devices-related concerns and enhances the device performance. Feel free to share your feedback through comments.