How to Fix Apple TV Won't Connect to Wi-Fi
by Jenefey Aaron Updated on 2020-03-26 / Update for Apple TV Repair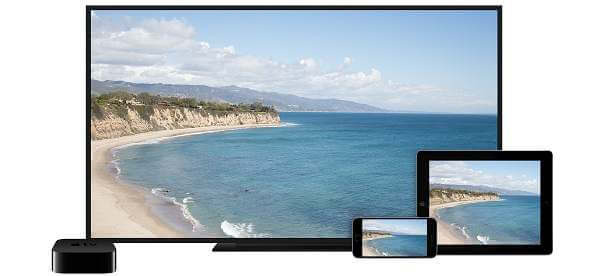 Apple TV is a digital media player and micro console developed by Apple Inc. Users can enjoy TV shows online through Apple TV or they can use the Airplay feature to transfer photos, videos and music from iPads, iPhones, iPods, and PCs to a high-definition widescreen television. It's a fantastic entertainment device but things get really frustrating if it won't connect to any Wi-Fi connection. If you are facing Apple TV won't connect to Wi-Fi problem then keep on reading we will introduce some of the most effective solutions to troubleshoot this issue. We will also recommend one of our personal favorite tools which can be used to fix all sorts of Apple TV problems with a single click. These are some of the most common problems you might face:
Apple TV is unable to find or join the network.
The Wi-Fi network is unstable.
The existence of intermittent connection problem like Error -3905 code.
Solution 1: Make Sure Wi-Fi is Working
The very first thing you must check if your Wi-Fi network is working properly. If you have an iPhone or any other smartphone then check if it can connect to internet on that Wi-Fi. If the Wi-Fi internet is accessible on any other of your other device then you must make sure that there is no device interfering the connection between Apple TV and your Wi-Fi network. In fact, there are some devices could cause Apple TV not connecting to wifi problem when they are nearby:
Wireless Headsets
Cordless Phones
Microwave ovens
Chrome Faceplates
Metal dividers
Doors on the entertainment unit where Apple TV is placed
Once you take care of all interference make sure your internet connectivity is not limited, if the problem still resists then continue to next solution.
Solution 2: Restart Apple TV and Router
Another way to fix Apple TV not connecting to internet issue is restarting your Apple TV device and your router too. In order to do so, turn on menu of Apple TV and then tap Settings> General>Restart.After that now its turn to restart your router too, once you do that for both of your devices check if the problem resists.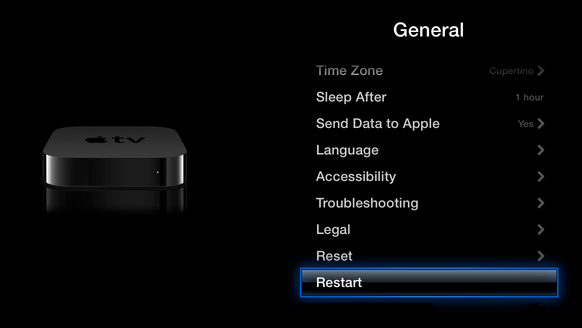 Solution 3: Update Your Equipment
It is always best to keep your all devices updated all the time because it will fix most of the issues with updates and resolve compatibility problems and can also fix bugs. If you are facing Apple TV not connecting to network problem then you must probably update your gear.
1. Update Wireless Router's Firmware
You may refer to your router's manual for the specific steps to update the firmware as every router is different, but generally, they have a similar process for upgrading the router's firmware.
Login to your router's administrator console.
Locate the firmware upgrade section of the administrator console.
Download and install the router firmware (from a trusted source).
2. Update your Apple TV's Software
Turn on Apple TV and go to Setting.

Select Update software.
Solution 4: Check Security Settings on your Router
First thing that you must make sure is that you enter the password of the router correctly. Then make sure that the router is using MAC Address Filtering. If MAC address filtering is enabled then navigate to Settings > General > About on Apple TV to get Apple TV's MAC address and add the address to your router's list. Last thing you can try is checking, if your router is set to WEP, you might consider switching the wireless security to WPA or WPA2. Also, it is helpful to disable your internet security and check if the device can connect or not. If you are still facing Apple TV cannot connect to wifi issue then check next solution.
Solution 5: Use an Ethernet Cable
If everything fails on you then there is always an option to simply use Ethernet cable for connectivity, make sure you are using good quality Ethernet cable and plugging in to right input and output ports. If you want to use Wi-Fi and don't know how to fix Apple TV will not connect to wifi problem then try our last solution which will absolutely fix all of your issues.
Solution 6: Fix Wi-Fi Not Connecting on Apple TV with ReiBoot
Tenorshare ReiBoot is an excellent tool which can be used to fix all sorts of stuck issues on any iOS device. You can use it on your Apple TV too, it is very easy to use and provides one click solution to all of your problems. Follow the below instructions carefully:
You can free download and install ReiBoot for Win/Mac from Tenorshare official website on another Windows or Mac based computer.

When you launch ReiBoot on your Mac/PC, it will ask you to plug in your Apple device. Do as it prompt and connect your Apple TV with an USB-C or Micro-USB cable and you will find that the "Enter Recovery Mode" button gets highlighted as soon as ReiBoot detects your Apple TV. When this recognition is over, click on "Fix All iOS Stuck" to move on.

Choose "Fix Now" and download the newest tvOS firmware online. You will get a page on your Mac/PC which says "Start Repair". Run the repairing process when tvOS is ready.

You will get a closing page saying that the "Repairing operating system is done" and in less than one minute, your Apple TV will reboot again and be back in action!
Video Guide to Fix Apple TV Network Problem