How to Bypass Apple ID Lock from iPhone/iPad
Is your iPhone Apple ID locked? You don't need to be amazed or worry, if you have encountered this issue as Apple ID lock is a common problem among some Apple users worldwide. There can be several reasons to get this issue and most of time users face this issue when they purchase the iDevice second hand, also some other possible reasons are discussed below. Here, in this article we will be discussing about Apple ID lock and the process on how to bypass Apple ID lock on iPad/iPhone. Just go through the entire article to get the full idea about the reason and even the solution of Apple ID lock.
1. Why your Apple ID is Locked on iPad?
There can be several reasons which can lead you to get your iPhone/iPad locked. In case you or someone else tries to access the device entering password or security question or any other information incorrectly for number of times then your device will be locked automatically and you won't be able to reach any of the Apple services. There are the cases when you purchase the iDevice second hand and later found the device is Apple ID locked. Sometimes you might even encounter iCloud Activation lock as this feature is enabled from the time when you switch on your iPhone and enable "Find My iPhone" to prevent unauthorized access of the device which is also counted as Apple ID locked. Read further to know how to bypass Apple ID lock on iPad.
2. How to Bypass Apple ID when it is Locked on iPhone/iPad
Do you know that you can easily bypass Apple ID when it is locked. There are several methods which talks about the perfect working but only few of them actually works and if you are looking for the genuine solution which can easily let iPhone Apple ID locked bypass, then you should better try Tenorshare 4uKey. This software have an awesome features whether it be "Unlock Apple ID" in few clicks, fix disabled iPhone without the need of iCloud or iTunes, delete 4 digits/6digits passcode, Face ID & Touch ID and many more. This software is compatible with latest version of iOS (12.1) and even iPhone XS Max/XS/XR.
Review from Tech Advisor: "4uKey makes it easy for you to unlock your iOS device. Connect your iPhone as you normally would via a cable, 4uKey will then recognize your device and …"
Process on how to bypass Apple ID lock using 4uKey:
Step 1 Download, install and open Tenorshare 4uKey software on your PC/Mac. Once the software is launched, you will come up with 2 options, directly click on "Unlock Apple ID".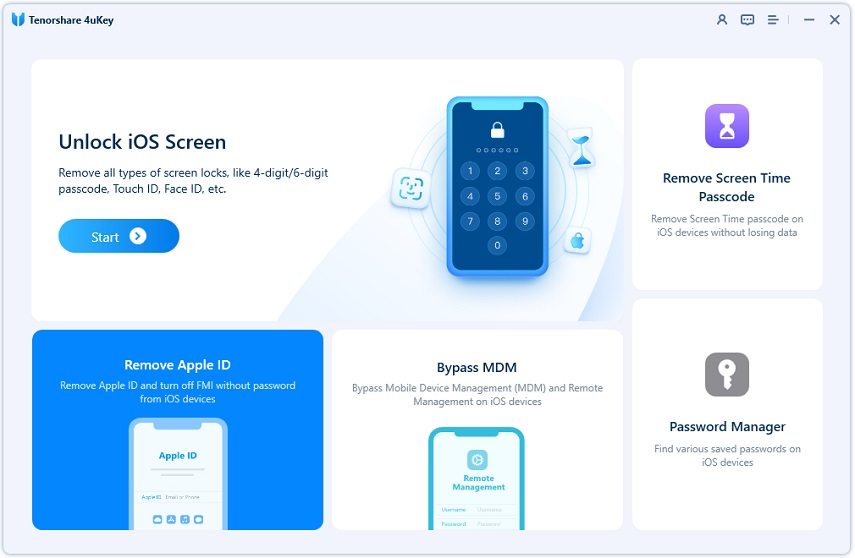 Step 2 Connect your iPhone to PC/Mac using lightening cable. Soon your device will be detected and you will see a message saying unlock the device and tap on "Trust" option.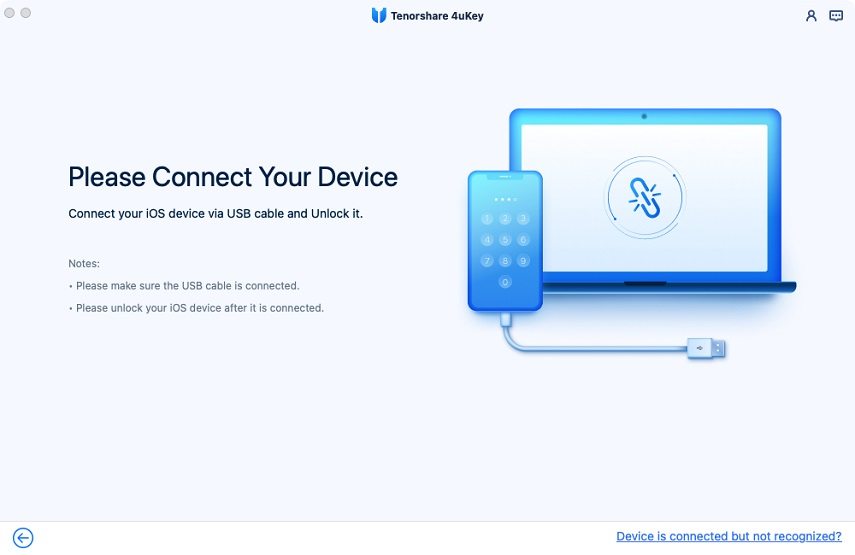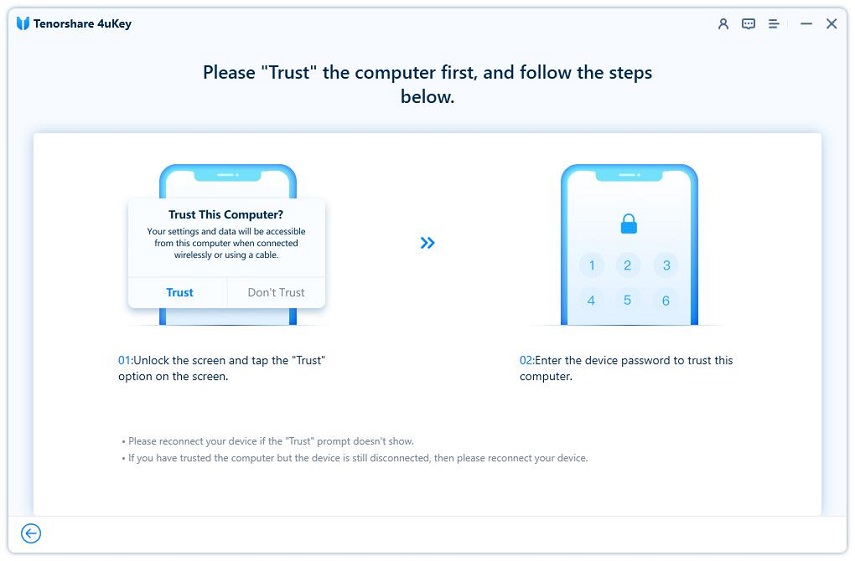 Step 3 Click on "Start" button to initiate the procedure of wiping Apple ID that associated with your iPhone.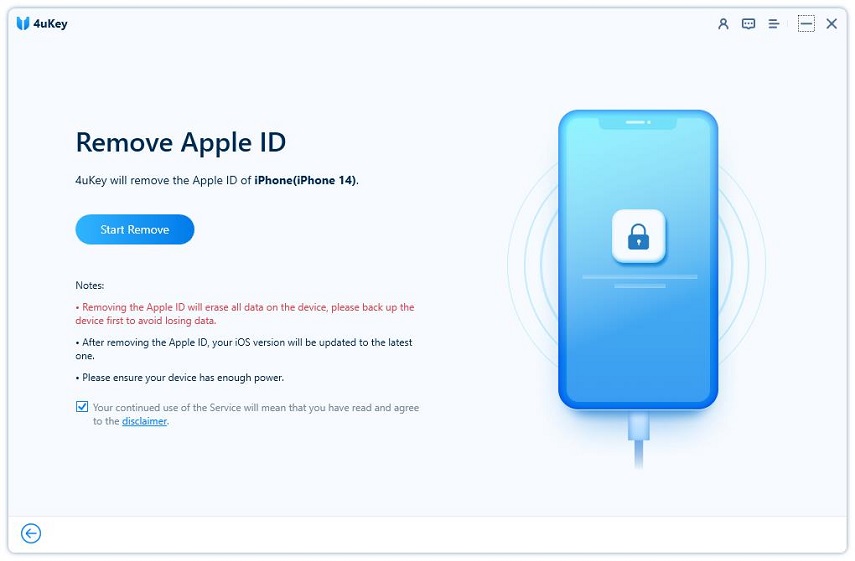 Now you will come across one of these situation. Just know in which situation you lie so that you can proceed accordingly.
1st Situation: "Find My iPhone" option is OFF
a.As soon as Tenorshare 4uKey will detect your device, it will remove Apple ID that is associated with your iPhone and your data won't be deleted too.
b.It will take few minutes to complete the process. Keep calm and wait until you don't see a completion message on your screen.
2nd Situation: "Find My iPhone" option is ON
a.In case this option is turned ON, first you need to reset settings than only you can remove Apple ID. Go to Settings >> Tap on General >> Tap on Reset All Settings.
b.Soon your device will be reset and it will automatically restart then the software will begin to remove the Apple ID.
c.Finally you have deleted Apple ID lock of your iPhone. Also never use the same old Apple ID to log-in into Apple Account, instead create a new one and use it.
Tenorshare 4uKey can resolve any of the unlocking process, only it can't solve the issue when Activation Lock is locked.
Rating: 5 stars
Here is a video link about how to bypass Apple ID when it is locked on iPad.
3. How to Prevent Apple ID Locked?
There can be many useful tips that can actually help you to prevent from getting Apple ID locked.
Use a normal password that you can remember easily or you can even note it down somewhere you can find easily.
Try not to use more than one Apple ID on your iDevice as you might get confused among the passwords having multiple account.
If you are not good at remembering the stuff then you better turn off "Find My iPhone" so that it will be easy for you in case you need to reset ipad.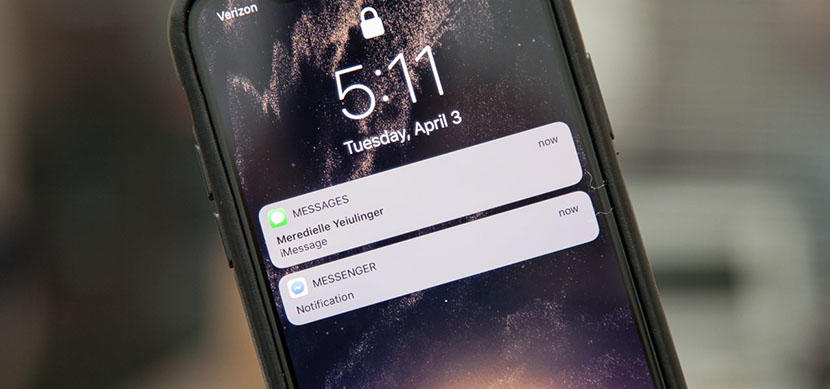 Most of the person make this mistake while buying the second hand iDevice is that, they don't check whether the device is Apple ID locked or not. Please check the device properly before buying it so that you can ask the owner to remove the Apple ID lock in case it has not been removed. These are some of the things you need to remember to prevent Apple ID lock on the device.
Bottom Line
Today, you must have learned some of the good things that can help you out in your daily life whether it be the reason behind the Apple ID lock, how to prevent Apple ID lock or the best solution on iPhone 5 Apple ID lock bypass or any other iPhone. It is also recommended to use Tenorshare 4uKey to unlock your device within few clicks without any problem. You get more features in this software other than bypassing Apple ID lock. So, you can use this software and let us know in comment section below about your experience.