How to Fix 'This iPhone is Currently Linked to An Apple ID' Problem
by Anna Sherry Updated on 2019-07-25 / Update for Apple ID
iPhones are very attractive and very expensive devices so; you can guess that not all its followers are able to get a new phone from the store. They, often buy a used iPhone, at a cheaper price. But after getting the iPhone, most of them complain that this iPhone is linked to an Apple ID. So, basically the users get stuck with an already linked Apple ID on their iPhone. This is a very old issue which can be fixed very easily. Unfortunately, most of the users don't have any idea how to remove an iPhone linked to Apple ID previously. Thankfully, we know how to do it and provided a detailed description in the article below.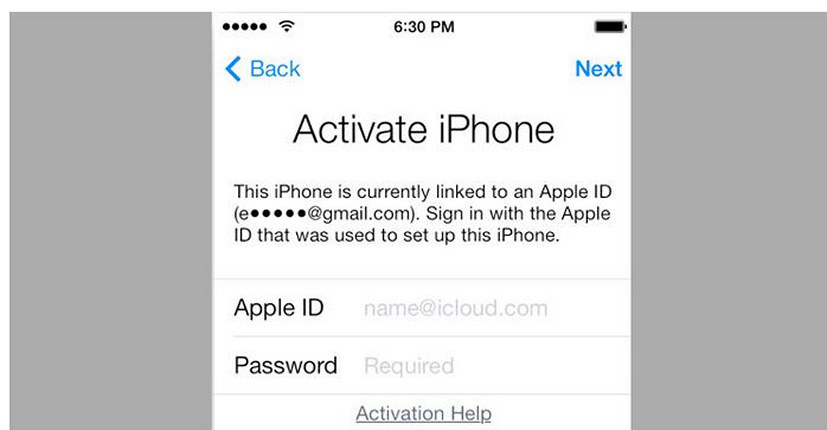 Solution 1: Remove Apple ID from iPhone without Password Easily and Quickly
While most people eagerly looks for their lost Apple ID there are still some users who voluntarily removes the Apple ID linked to their iOS devices. Basically, users go through this procedure because they are going to hand over the device to someone else. So, it completely makes sense to erase the Apple ID along with all the contents associated with it.
You are thinking that simply erasing the data and restarting the phone will do the trick but if you have failed to erase the Apple ID, then that ID will be still connected and registered in your name. It is even possible for someone else to take advantage of such situation.
So, if you are sure that this iPhone is linked to an Apple ID then, you need to remove it immediately before handing over the device, preferably using a quick and easy method. This is where Tenorshare 4uKey comes in. Various programs with similar capabilities are available over the internet but we recommend Tenorshare 4uKey as it provides a simplistic approach to fix the said situation. The guide is as follows;
Step 1 Start by download and installing the program on your computer and then launch it. Click on "Unlock Apple ID" from the main interface of the program.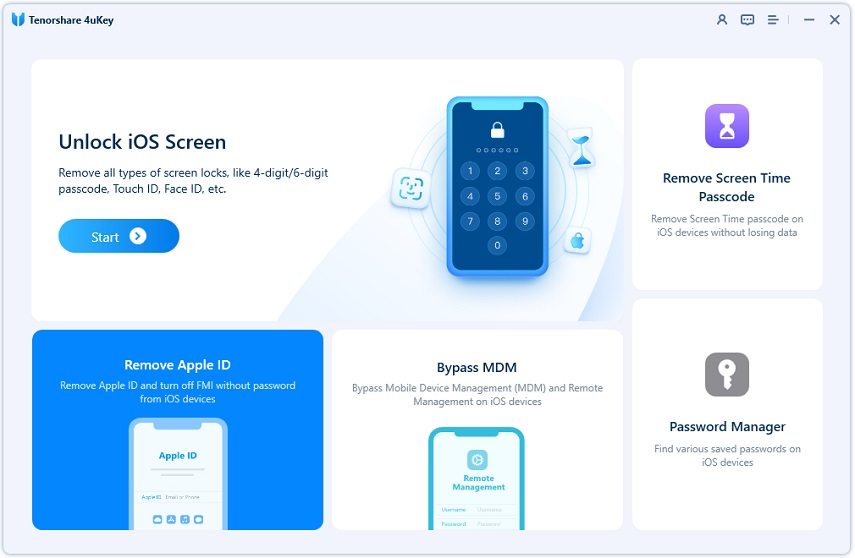 Step 2 Now, get your iPhone and connect it to the computer via the USB cable. The program will detect the device immediately, then you will be prompted to unlock it.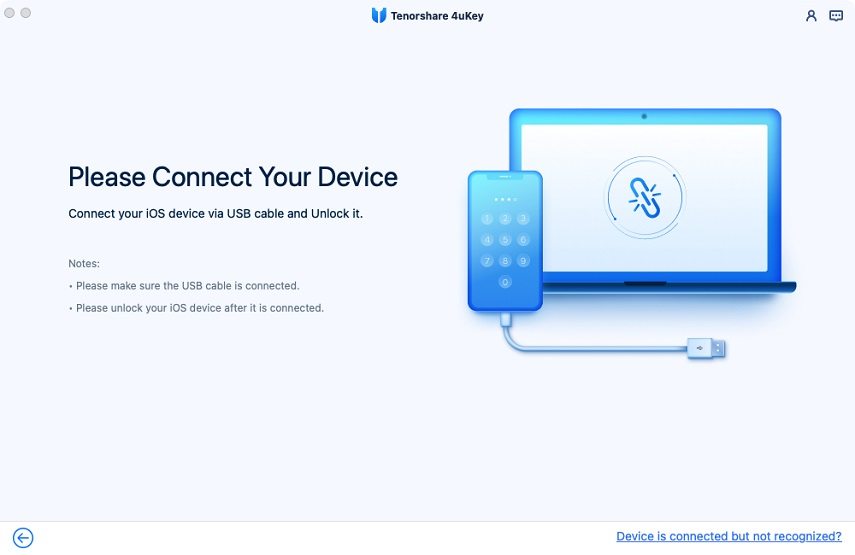 Step 3 Now, click "Start" to remove the Apple ID.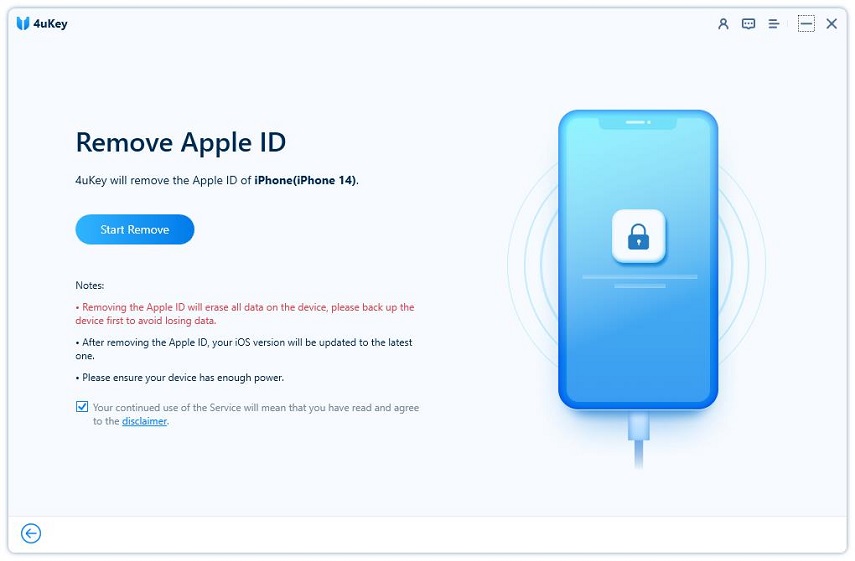 Step 4 If the "Find My iPhone" feature is active on your iPhone then you have to reset all settings, first. After that iPhone will be restarted and then 4uKey will start to remove the Apple ID. But if that feature is turned off on your iPhone then the program will directly start removal of the Apple ID.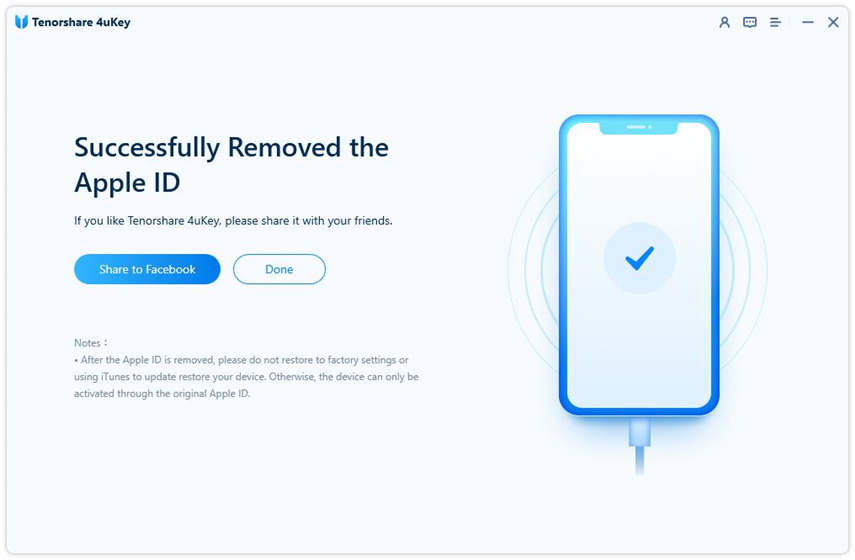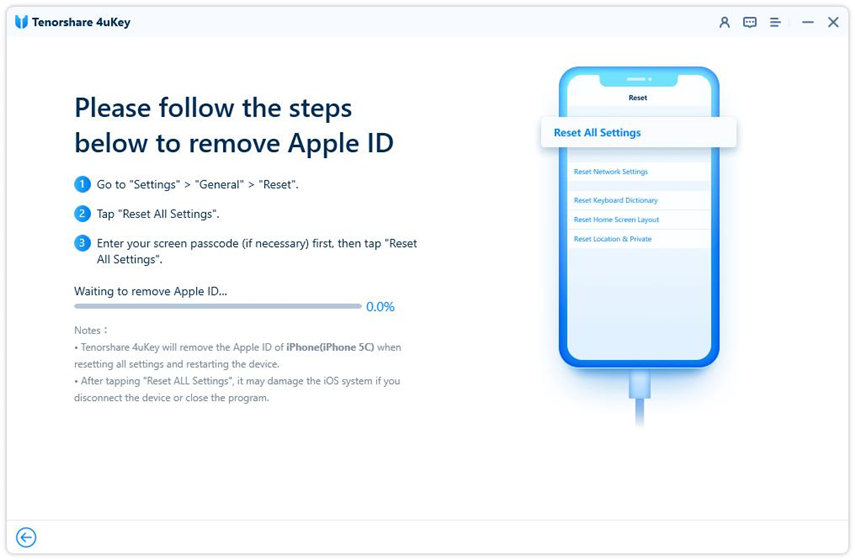 This is the easiest way to remove the Apple ID without the password quickly. But you need to be careful with the device for the future, as you won't be able to use the original Apple ID registered with this particular iPhone again. If the version of iOS you are using is below 10.2 then all your files will be lost after the completion of the procedure. So, if you were having trouble with this iPhone is linked to an Apple ID, you can use Tenorshare 4uKey to get the ID removed immediately.
Solution 2: Ask the Previous Owner to Remove Apple ID
Apple introduced the iCloud activation lock during the launch of iOS 7. It was a security measure to protect the device against unauthorized use of the device. Basically it was designed for cases like theft of device or loss of the device.
Basically, Apple introduced the Apple ID and linked the devices with it so that no one other than the owner of the device will be able to use its privileges. If you bought a second hand iPad/iPhone and you think that this iPad is linked to an Apple ID, it is much of a trouble for you. Fortunately, the Apple ID can be bypassed very easily if you can just contact the previous owner and ask them to unlock the device remotely using the following steps;
Step 1 Log into the iCloud account with their Apple ID.
Step 2 Click on "Find iPhone" and choose the device.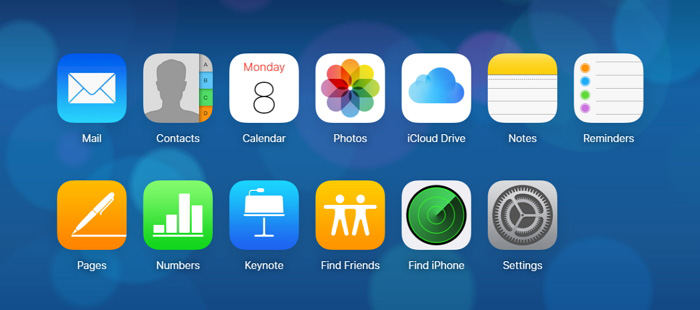 Step 3 Afterward, click on "Remove from Account".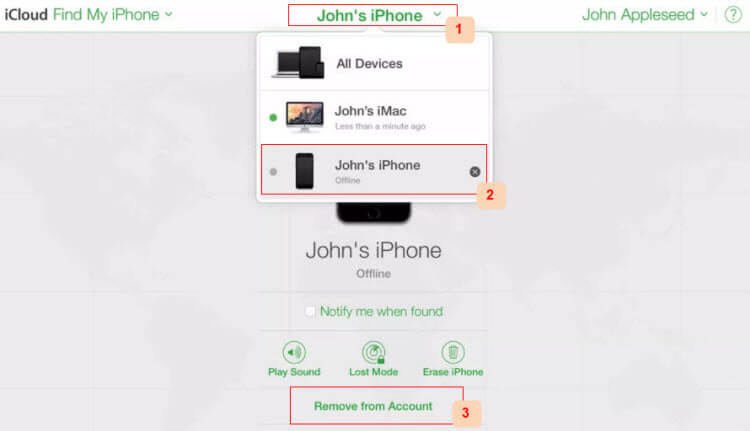 That's it, now access to your iPad will be flawless without any interruption. Now a note of warning, if you are getting a used device then you must check if the activation lock is activated. If it is activated, ask the owner of the device to erase the device. Also the details of the previous owner with the Apple ID will be asked, tell them to provide it and make the device disconnect from that Apple ID. Now, you have a brand new phone in your hands.
Solution 3: Change/Reset Apple Password to Remove Apple ID from iPhone
Well, if you want to reset the Apple Password in order to remove the Apple ID then it can be done very easily by changing the password from your iPhone.
Step 1 So, open your Apple ID account page and click on the link called "Forgot Apple ID or Password".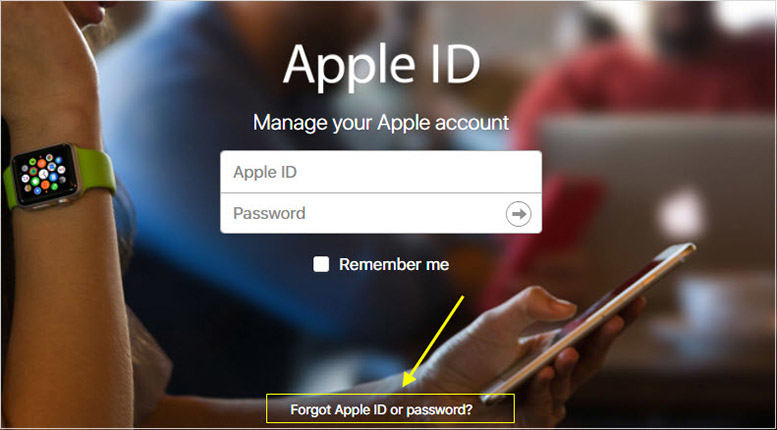 Step 2 Type your account ID.
Step 3 Then select the mode you want to use to reset your password. It can be done via email, or using the security questions if you are asked for a Recovery key then use the Two-factor algorithm method.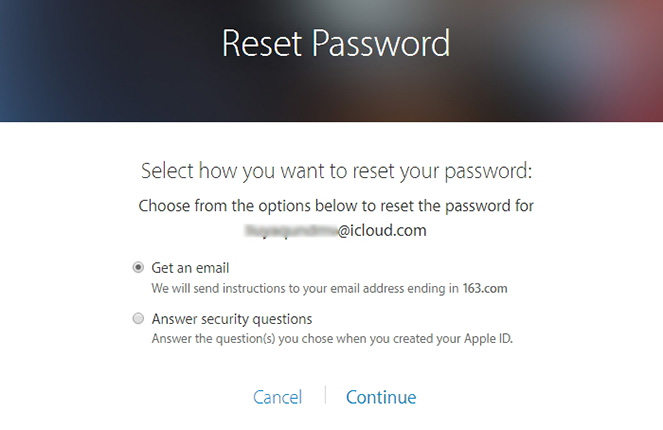 Step 4 After selecting a mode, click "Continue" to proceed.
The password will be reset immediately and you have to use a new password to login.
Conclusion
So, if you have bought a used iPhone or any iOS device at a cheap price but you are just finding out the grim reality that the device is still linked to its old Apple ID, don't panic. The article above has already provided all the necessary information on the problem "This iPhone is linked to an Apple ID bypass"; you just have to use it effectively. Although, we prefer using Tenorshare 4uKey for this procedure as it is effective, easier to operate and highly recommended!