"I am looking for a way to set parental controls on iPad Pro. I am interested in restricting content mostly, but it would be nice to shut down browsing at night too!! I have this with Norton parental control on all the desktops and laptops, so I am looking for something similar!"
-from Official Apple Support Communities

If you have children and an iPad, you will agree that Parental Controls (also known as Restrictions) on iPad is so significant for parents. Without Parental Controls, parents have to worry about whether kids use iPad correctly or not. If the children delete important data, uninstall apps, send message without permission or pay for unnecessary products on shopping websites accidently, it will be a disaster for parents. Therefore, we are about to learn how to set parental controls on iPad Pro/iPad/iPad mini 4/3/2, iPad Air 2, iPad Air, etc. in this tutorial.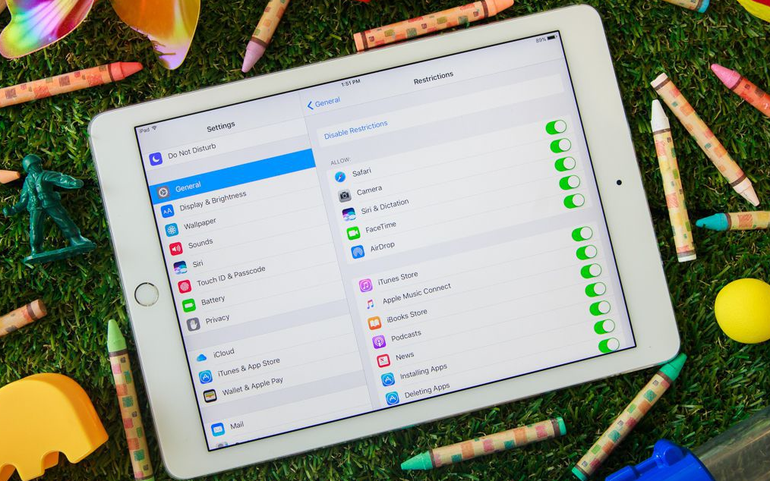 Part 1. How to Enable Parental Controls on iPad
Follow the steps below to make sure your iPad is completely child-proof:
Step 1. In the main interface of your iPad, tap on "Settings" app.
Step 2. Scroll down the screen until you see "General" option. Hit it and then "Restrictions".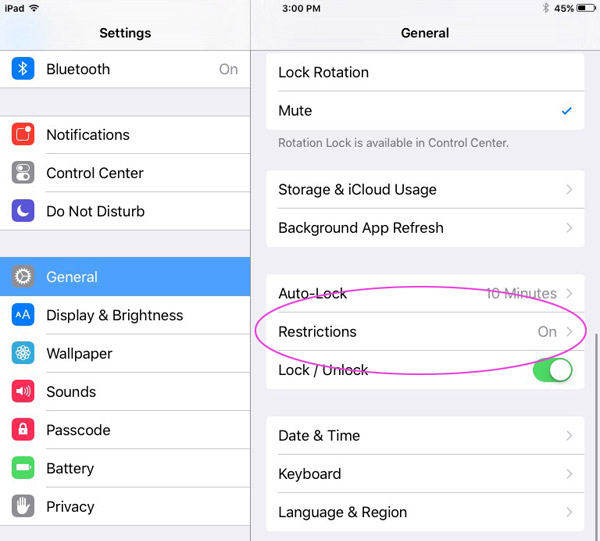 Step 3. Follow the on-screen instructions and select "Enable Restrictions". You are about to prompt enter and re-enter a four-number restrictions passcode if it is the first time for you.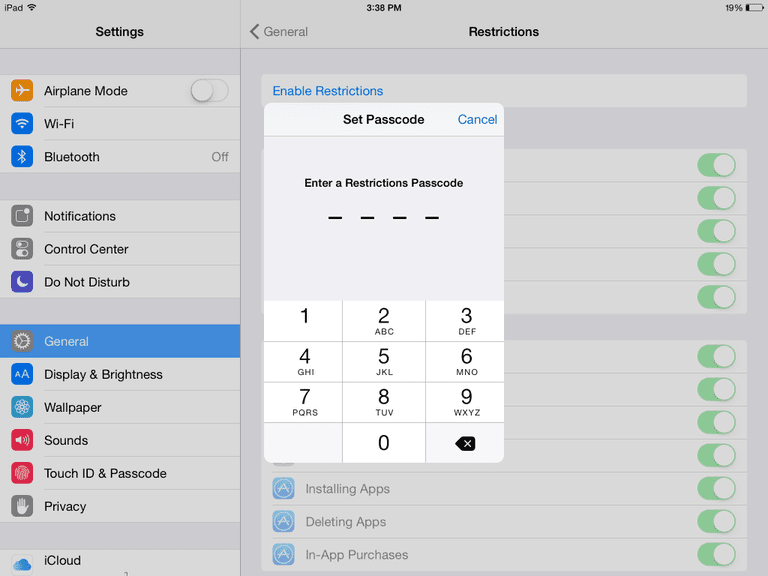 Note: This passcode is totally different from your lock screen passcode. Be sure that you take not of it somewhere but your kid won't figure out. Avoid your birthday, their birthday and easy numbers. If you can't remember the restriction passcode by accident, you'll have to erase your device and set it up as a new device. Restoring iPad from backup won't get rid of the Restrictions passcode.
Step 4. In the next time, you are going to reach a control panel where you are able to alter settings. Finally, ensure the settings are configured the way you hope to.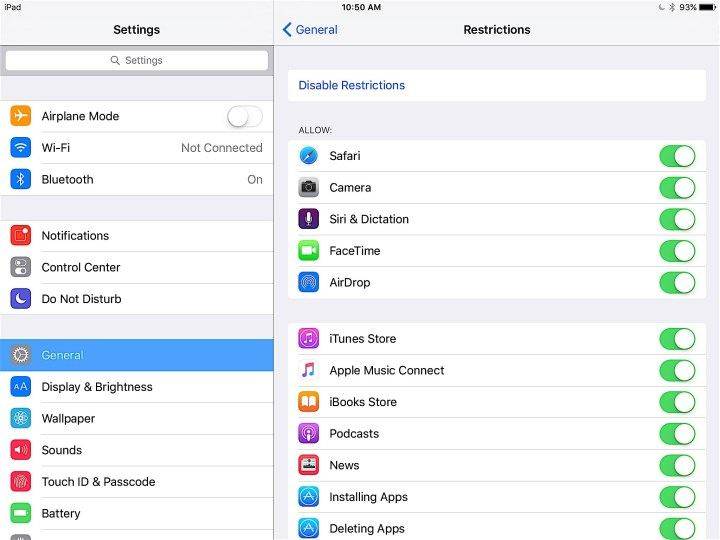 Part 2. How to Configure Restrictions on iPad
The "Restrictions" section of "Settings" app offers a lot of options, you can restrict certain apps, allowed content types and ratings, allow changes, game center, device functions, privacy settings, cellular data use, etc. Just slide the button from green to gray to disable the ones you want to disallow.
For example, if you stroll down the "Websites" sub-option, the default function is "All", which means all the users can visit the web page on this iPad.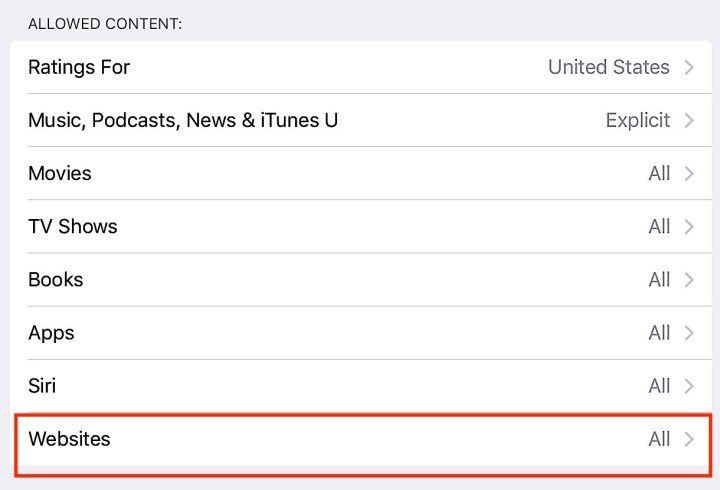 But if you tap and access it, you can set up the resections to allow your child to visit "All Websites", "Limit Adult Content" or "Specific Websites Only".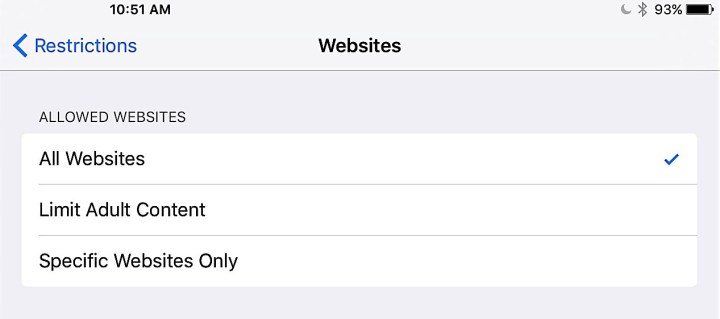 Part 3. How to Disable Parental Controls on iPad
If you need to turn off Parental Controls, just go to Settings > General > Restrictions and hit on "Disable Restrictions". Then type the passcode, you will successfully disable the parental restriction.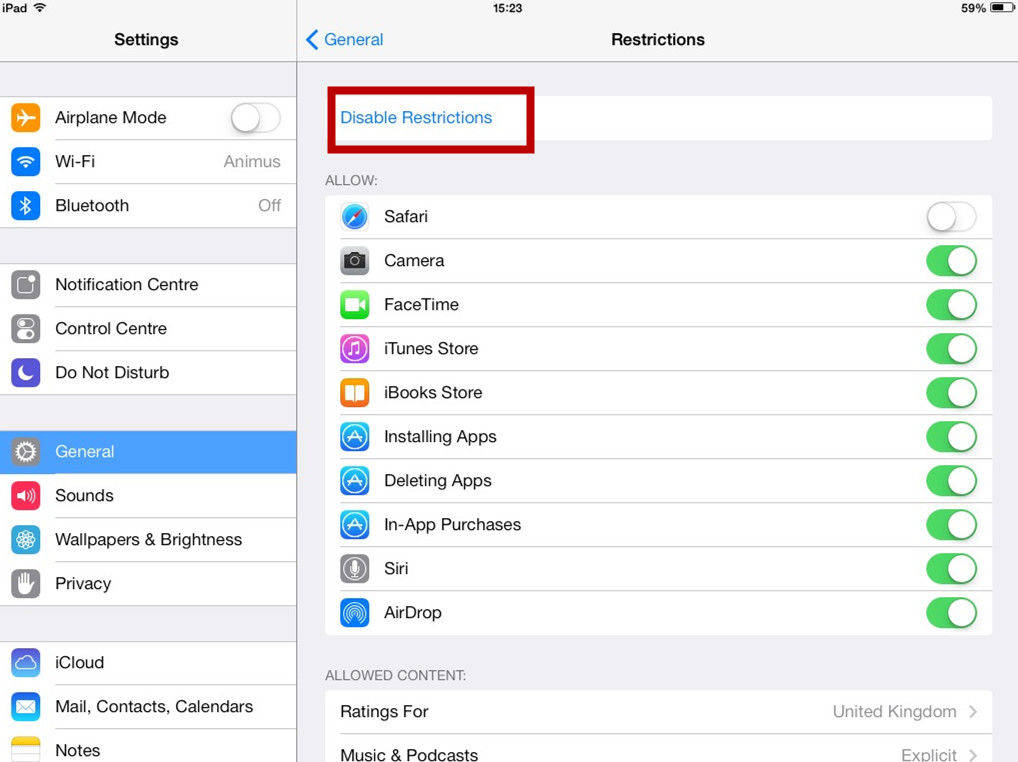 In summary, Parental Controls are a way to block your kids' access to anything and everything you consider improper for them according to their age and sensitivity. Now if your kid would like to play on iPad, you can set up parental controls on iPad at first. After then, Apple iPad will be an ideal device for kids. By the way, if you need to clean up all the data in iPad roundly, welcome to use Tenorshare iCareFone Cleaner, which is an iPhone/iPad speedup software as well as full data eraser software.
Free Download
For Win 10/8.1/8/7/XP
Secure Download
Free Download
For macOS 10.13 and below
Secure Download
Related Articles
comments powered by