WhatsApp, the cross-platform messaging app, allows you to communicate over Internet data or Wi-Fi without having to pay for SMS. To many people, the WhatsApp messages are important. And you may wonder how to save WhatsApp chat history. Then you should read through this post which provides 2 easy methods to export WhatsApp messages for iPhone, iPad and iPod users.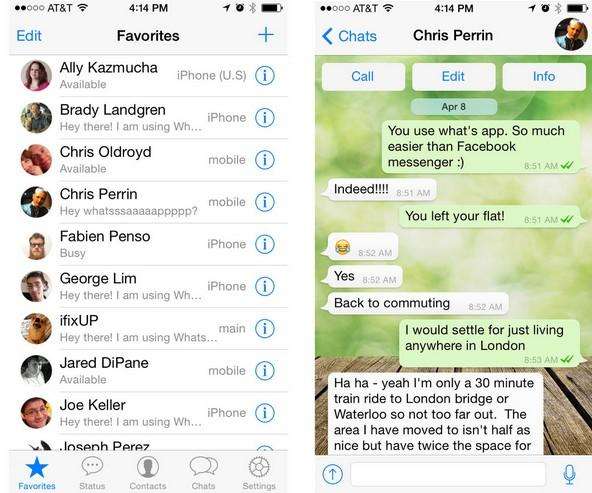 How to Export iPhone, iPad and iPod WhatsApp Messages to PC
Here are the easy and free ways to transfer WhatsApp messages. Both methods can also be used to backup WhatsApp messages in case of data loss.
Method I. Email WhatsApp Messages
If you would like to keep a record of your messages on a computer or in email, you can email yourself individual chat histories with the following steps:
1. Launch WhatsApp and open the WhatsApp Conversation you want to email.
2. Open Tap the contact's name or group subject in the navigation bar.
3. Scroll to the bottom and tap Email Conversation. Remember to select Attach Media if you also want to export to your PC the photos, videos and other message attachments.


4. Enter your email address and press Send.
Note: You may not be able to email your entire chat history due to Windows Mail size restrictions. Or you can go to Method II which has no limit of the exported file size.
Method II. Transfer WhatsApp Chat History to Computer
Before you export WhatsApp messages, download a software called WhatsApp Recovery. This tool could make it easy to export WhatsApp messages to PC. It enables you to extract WhatsApp chat history (including photos, videos and other message attachments) and contacts on iPhone, iPad and iPod. You can choose to extract WhatsApp messages from iTunes/iCloud backup or your devices.
Free Download
For Win 10/8.1/8/7/XP
Secure Download
Free Download
For macOS 10.13 and below
Secure Download
Tenorshare WhatsApp Recovery allows you to export WhatsApp messages to Excel files, XML files and text files. You can choose either for convenient viewing. Moreover, it is able to fix iOS devices by using the "Repair Operating System", you can't miss it!
Free Download
For Win 10/8.1/8/7/XP
Secure Download
Free Download
For macOS 10.13 and below
Secure Download
Related Articles
comments powered by