How to Restore WhatsApp Messages on iPhone
by Anna Sherry Updated on 2023-02-07 / Update for WhatsApp
Our daily chitter-chatter box or the modernized email-box is WhatsApp. Not only do we receive all kinds of messages, but share attachments and what not! Ever cared what will you do when WhatsApp messages gets lost in an unfortunate circumstance. Clueless, don't be. This article throws light over the ultimate ways of restoring WhatsApp chats of your iPhone from your backups. Read on to know how!
How to Restore WhatsApp Messages from iTunes Backup
Restore WhatsApp Message from iTunes Backup with Official Way
The renowned media player- iTunes can process a number of tasks, whether its maintaining the backup, restoring phones or playing your favorite tracks! So, without delving deeper into the details, we are assuming that you have created iTunes backup before and will understand how to restore WhatsApp messages from the iTunes backup! Do ensure to follow the steps order wise.
First of all, make use of the PC/Mac system and open iTunes on it. Then, proceed with establishing a connection using the lightning cable.
After iTunes successfully loads, by default your iPhone will also be detected by iTunes. Press your respective iPhone icon and then click on 'Summary' tab.
Then, select 'Restore Backup' and give due permissions to further actions.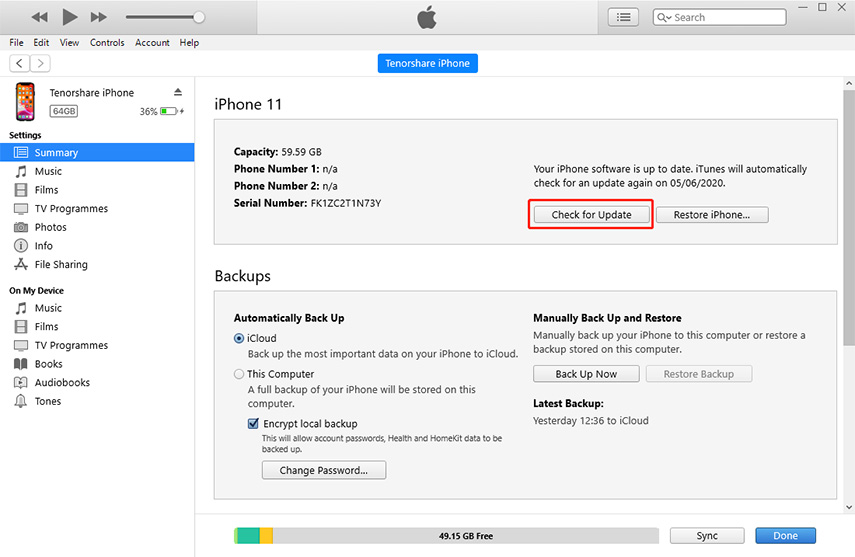 The Defects of iTunes Backup Restore:
While restoring from iTunes backup, it must be borne to the mind of taking care of some considerations. Here is the compiled list of defects of using iTunes:
1. Restoring from iTunes results in loss of existing data since it overwrites it. so, restore through iTunes will only be helpful if you don't want the existing data or there's no data in your device.
2. No matter how hard you try, restoring from iTunes is going to eat a good chunk of time.
3. There is no option for selectively restoring the desired components. One may have to take the pain of restoring the entire device.
How to Selectively Restore from iTunes Backup
If you want to selectively restore your WhatsApp from the backup maintained by iTunes, then Tenorshare UltData may prove to be helpful for you. It has a 100% success rate and powerful features of restoring WhatsApp messages to your iPhone! Designed with being compatible with both the Windows/Mac systems, UltData works excellently in both the systems. Assuredly, Tenorshare UltData covers more than 20 types of data files and ensures one faces no data loss at all.
Let us now get to know how to restore WhatsApp chats on iPhone.
Step 1:Download Tenorshare UltData
First of all, launch the software on your system. Use a USB cable to establish a connection of your iPhone/iOS device respectively. Now, tap on 'Recover from iTunes Backup File' from the program window.
Step 2:Start with Scanning
The list of backups available in iTunes will be displayed. Just, select the apt file for processing restoring from your iTunes backup and tap on 'Start Scan'.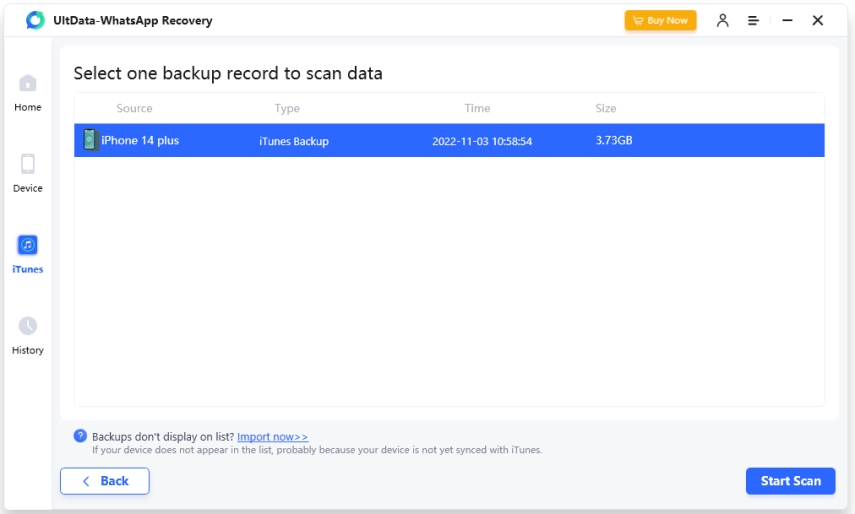 Step 3:Preview Screen
The list of files will be displayed over, tick mark 'WhatsApp Messages' featuring in the left panel. Proceed with 'Recover' button.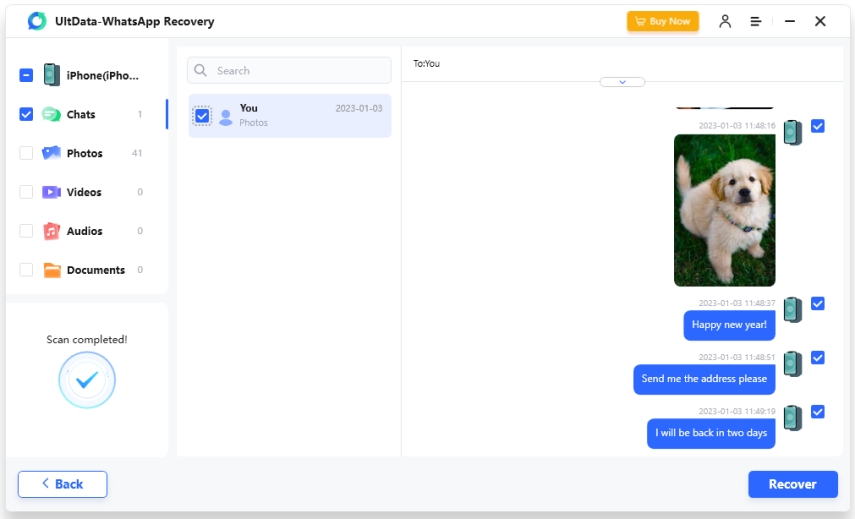 Step 4:Recover Successfully
Now your data is recovered successfully.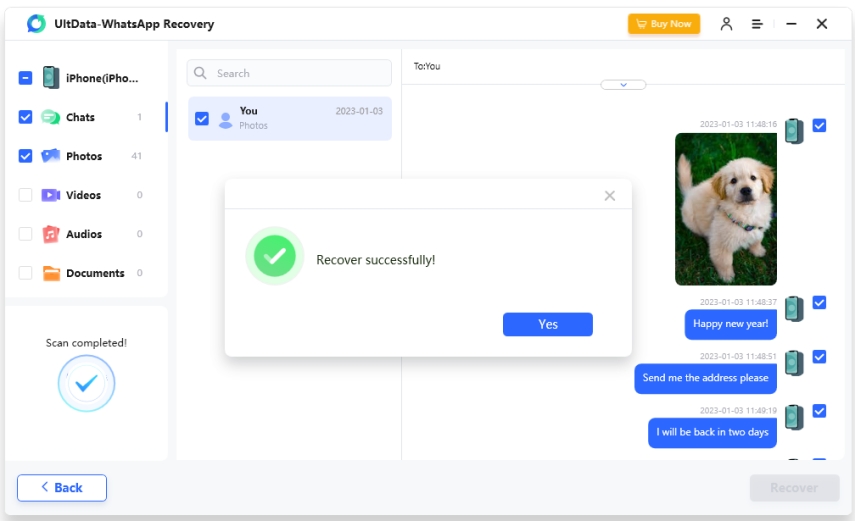 Restore WhatsApp Messages from iCloud Backup
The Regular Way to Restore WhatsApp Messages from iCloud Backup
Restore WhatsApp message from iCloud backup with regular way has very complex operations to do. It requires to backup messages first and then uninstall the WhatsApp if you have no iCloud backup before, only this you can restore from iCloud Backup. Now, let's learn how to restore WhatsApp messages from iCloud backup.
Step 1: Make sure that you have available WhatsApp backup. To verify it, go to WhatsApp > Settings > Chats > Chat Backup.
Step 2: Uninstall and reinstall WhatsApp.
Step 3: Sign in to the app using the same phone number.
Step 4: Tap Restore Chat History to restore your WhatsApp messages just follow the prompts.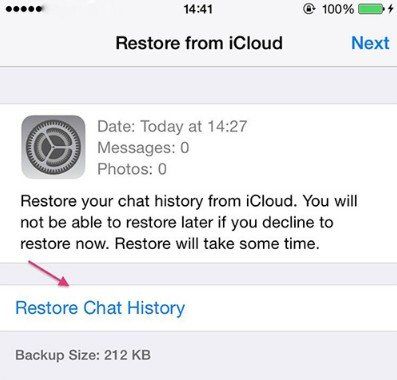 The Defects of iCloud Backup Restore:
As we can see from the above steps, the iCloud backup restore is very complex for common iOS users. It must reinstall the app when restore. Let us see the limitations below:
1. iCloud backup restore can only restore the whole backup to device but not the selectively WhatsApp messages.
2. Uninstall and reinstall WhatsApp is necessary.
You may also interested in: How to Fix Unable to Restore WhatsApp Chats from iCloud
Restore WhatsApp Messages from iCloud Backup without Uninstalling
When you want to get your WhatsApp from your iCloud backup, Tenorshare UltData can carry out the process here too. Hence, you can restore your lost WhatsApp messages in a hassle-free manner but no need to uninstall WhatsApp. We are now going to understand how to restore WhatsApp chats on your iPhone via Tenorshare UltData.
Step 1: Sign in to iCloud
First of all, ensure to launch the software and link your iPhone and PC respectively. From the main screen, opt for 'Recover from iCloud Backup File' and sign in using your iCloud's credentials.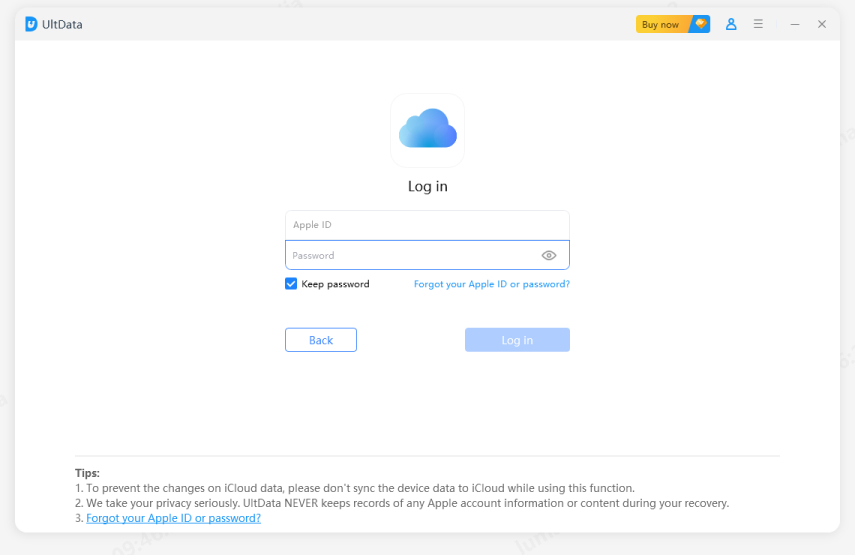 Step 2: Choose the Backup file
Your respective iCloud account will load with a list of available backup files along with its essential details. Just, select the one that stores your WhatsApp messages/chats and hit 'Next'.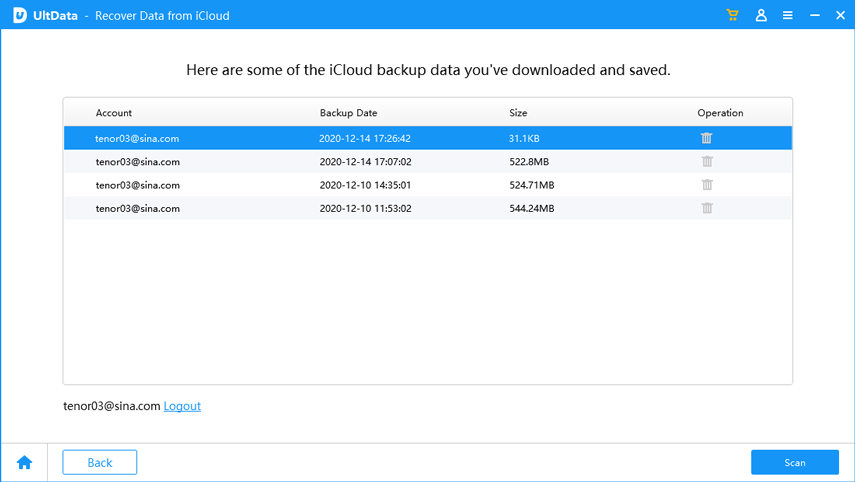 Step 3: Select the required data type
Once the backup file processes, an overview of the enlisted file types will appear on the screen. Ensure to tap on 'WhatsApp & Attachments' or tick-mark the desired files you want and proceed with 'Next'.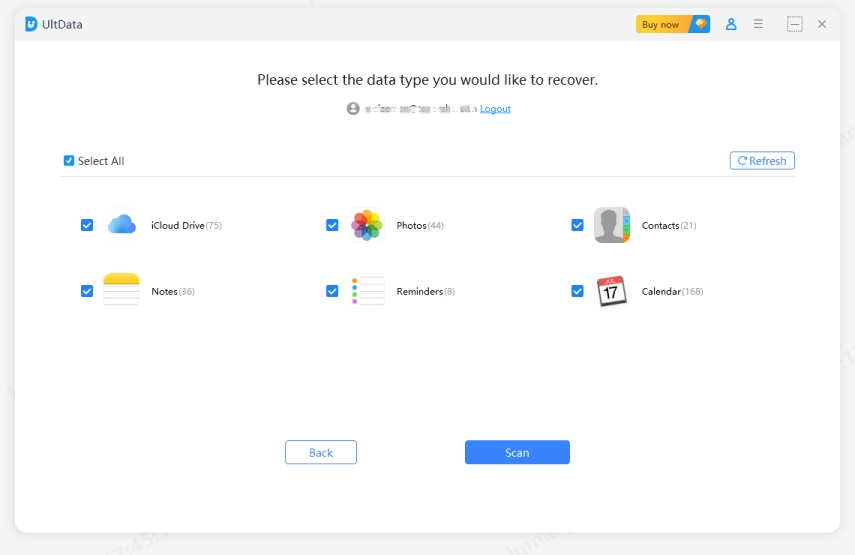 Step 4: Fetch files from iCloud
Your desired selections will be prompted to download from your iCloud backup. The screen will show a progress table.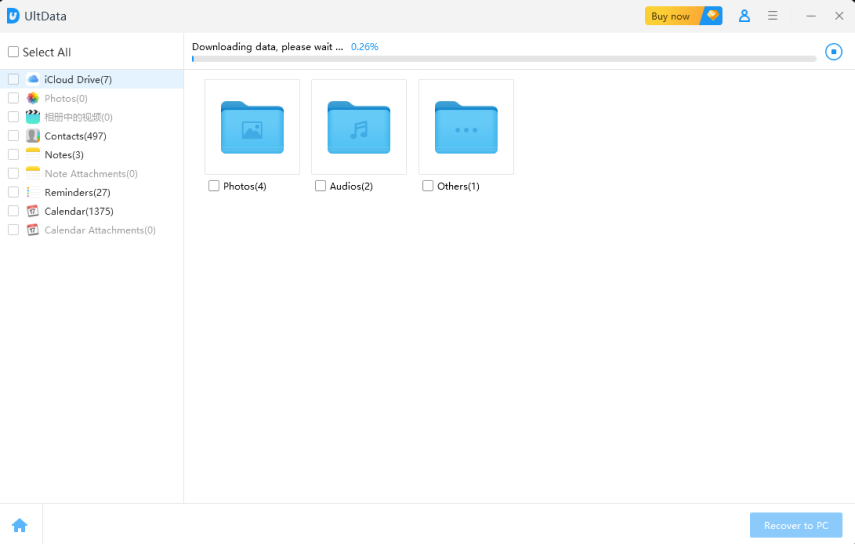 Step 5: Preview and Restore
Your data components will now be displayed on the screen. You can preview the files, tick mark others to add and un-tick or do any other additions accordingly. Once satisfied, tap on 'Recover' and you will be able to restore WhatsApp chats on iPhone.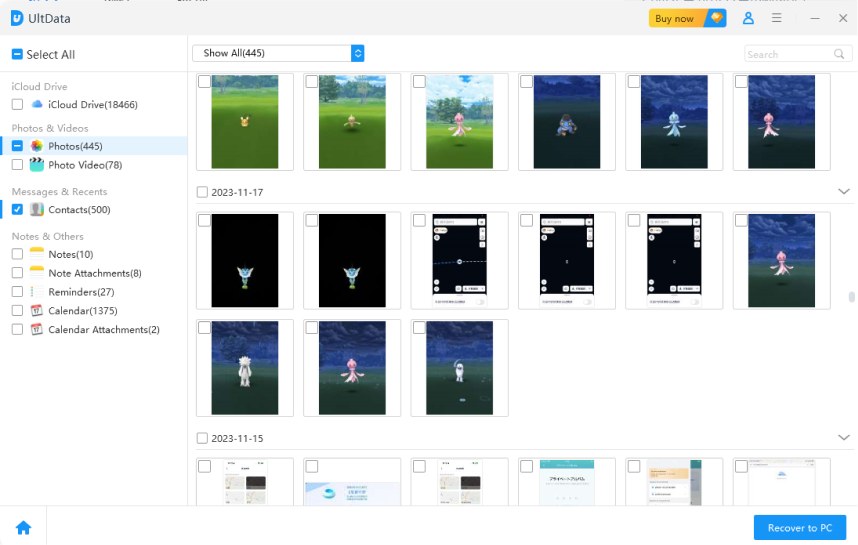 Conclusion
In a nutshell, we've seen the possible ways on how to restore WhatsApp messages from iTunes and iCloud backups respectively. However, if you do not want to undergo the pain of restoring the entire phone, Tenorshare UltData WhatsApp Recovery is a viable option. In a lightning speed, Tenorshare UltData gives the leverage of manually reviving the data and that too selectively!
Your Trustworthy WhatsApp Data Recovery Software
Recover deleted WhatsApp messages from Android devices;
Recover deleted WhatsApp data directly from iOS devices;
Support the scanning and reading of encrypted iTunes backup files;
Support 7+ file types (contacts, photos,chats,voice messages, etc.);
Compatible with latest iOS 17 and Android 12/13.