How to Access WhatsApp Backup
by Jenefey Aaron Updated on 2022-12-07 / Update for WhatsApp Tips
Social media has become a new standard for communication and connectivity with your friends and family. WhatsApp can be ranked very high among the list, It can run on almost every smartphone and allows you to exchange words instantly. You can make calls, text, send pictures, videos and other files too. You can also create groups and stay connected with your friends and family. Good thing about WhatsApp is that it creates backup of every conversation on local storage and cloud storage. You can use this backup file to restore your conversations. In this guide we will tell you methods to access WhatsApp backup on cloud and local space.
How to Create WhatsApp Backup
Before you dive into restoring the backup, you must know how to enable it in the first place, there are two kinds of backups used inn WhatsApp. First one is local backup and other one is Google Drive backup. This is how you make backup on both.
WhatsApp Local Backup
Local backup is automatically turned on, WhatsApp creates a local backup file every day 2:00 am. You can also create it manually whenever you want, just follow these steps: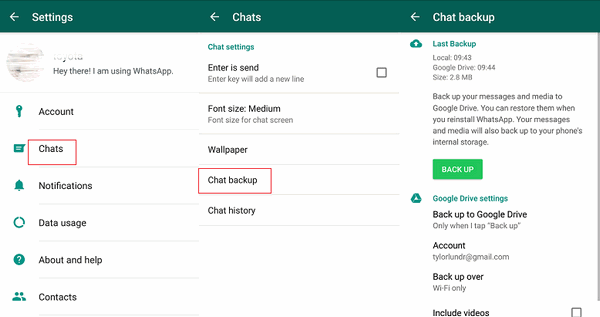 Step 1: Open WhatsApp and tap three dot icon on top right.
Step 2: Now go into "Settings>Chats>Chat backup".
Step 3: Tap green "Backup" button.
WhatsApp Google Drive Backup
Good thing about google drive backup is that you can access it on any smartphone or PC, one thing must be noted here that WhatsApp end to end encryption doesn't work in Google Drive. This is how you backup using Google Drive: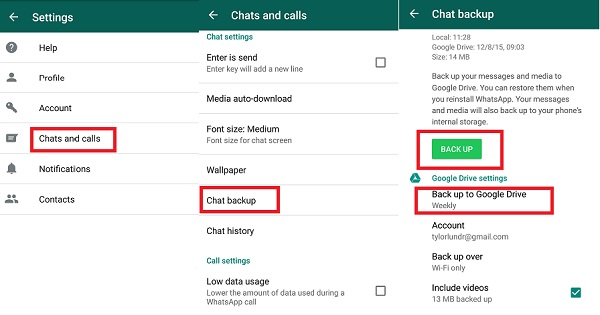 Step 1: Open WhatsApp and tap three dot icon on top right.
Step 2: Now go into "Settings>Chats>Chat backup".
Step 3: Tap "Back up to Google Drive" and select backup frequency anything except never.
Step 4: Select a Google account, you want to use for backup. If you don't have one tap on "Add Account" and enter your credentials.
Now you know how to create backup on WhatsApp, so lets dive into how to access WhatsApp backup for both of the methods.
Method 1: How to Access Local WhatsApp Backup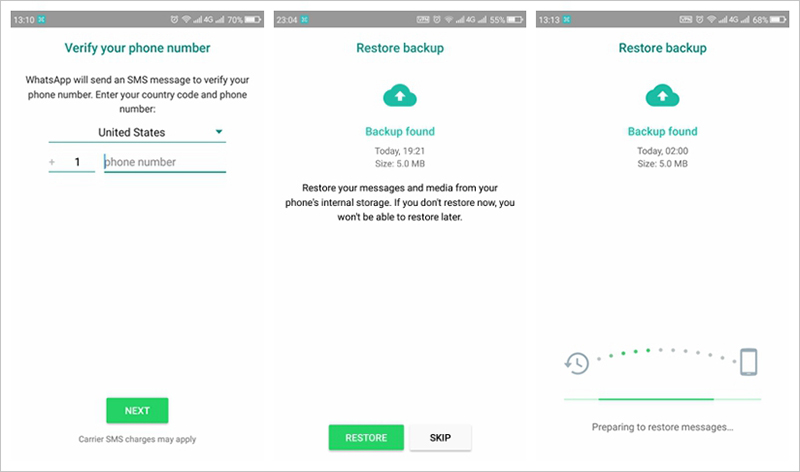 WhatsApp creates an automatic backup on internal storage of your device on 2:00 AM each day, this backup file can be accessed and used to restore conversations easily. Once you install WhatsApp app and verify number simply tap "Restore" when prompted. It will automatically restore all the conversations, for some reason you can't restore than probably your are not logged into Google Drive account, or there is no local backup present in your internal storage or is corrupted. You can also access specific backup by navigating to WhatsApp backup location and renaming the file. If you want to access and restore less recent backup then follow these steps: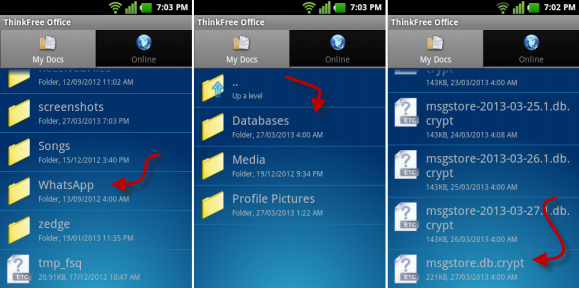 Step 1: Download File Manager App from Playstore.
Step 2: Now navigate to this path "sdcard/WhatsApp/Databases", in case you are not using SD card then it will be "internal storage" or "main storage" instead of "sdcard".
Step 3: Rename the backup file you wish to restore from msgstore-YYYY-MM-DD.1.db.crypt12 to msgstore.db.crypt12.
Step 4: Now uninstall WhatsApp and install it back again.
Step 5: Tap "Restore" when prompted and it will restore the backup.
Method 2: How to Access Google Drive WhatsApp Backup
In order to access Google Drive backup, you must have same number and same account logged in, the process is simple and almost same like accessing and restoring local backup. This is how you do it: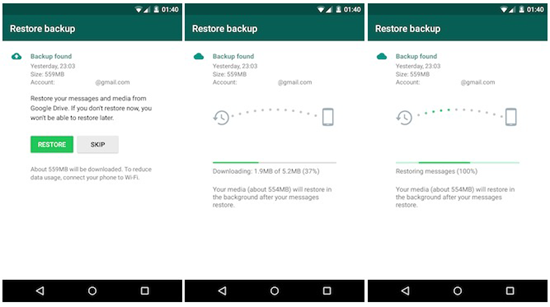 Step 1: Make sure Google Account used for backing up is added and logged in your smartphone.
Step 2: Uninstall WhatsApp app and then install it back again.
Step 3: Open installed WhatsApp app and verify your number.
Step 4: After verification, you will be prompted to restore message and media from Google Drive, simply tap "Restore".
Step 5: Once restoration process is complete tap next, it will display all of your chats.
We have covered solution to question, "Where is my WhatsApp backup" and also covered methods to access them. If you are looking for a tool which can backup your iOS WhatsApp conversation on computer easily then we recommend you to use our personal favorite product Tenorshare iCareFone. It is multi featured awesome iOS tool which you can use for keeping your iPhone healthy.
Extra Tip : Transfer and Backup WhatsApp Messages using Tenorshare iCareFone
Tenorshare iCareFone is all in one iPhone care taker which comes with 6 small tools further sub divided meeting different situations and requirements. It takes care of problems like iOS stuck, performance fixes, data transferring utility and backup wizard. It can fix vast variety of iOS problems and fortunately you can use it to backup your WhatsApp messages, this is how you do it:
Step 1: Download iCareFone on your PC, launch it and connect your iPhone to PC via USB Cable.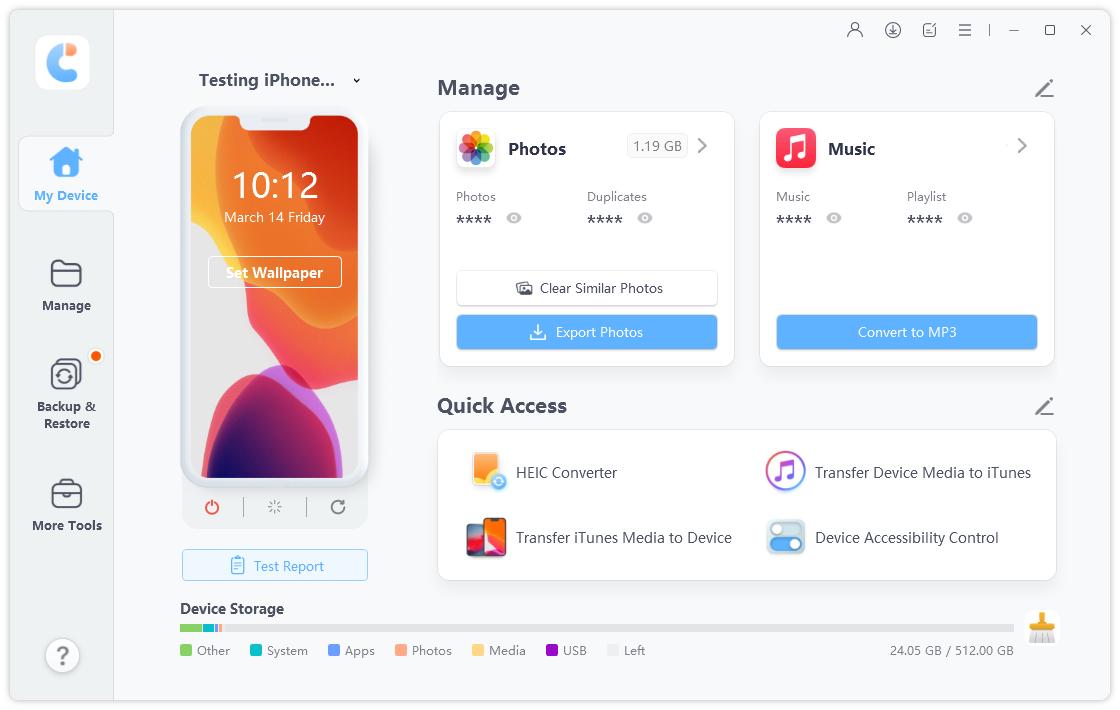 Step 2: Click "Backup and Restore" from main interface.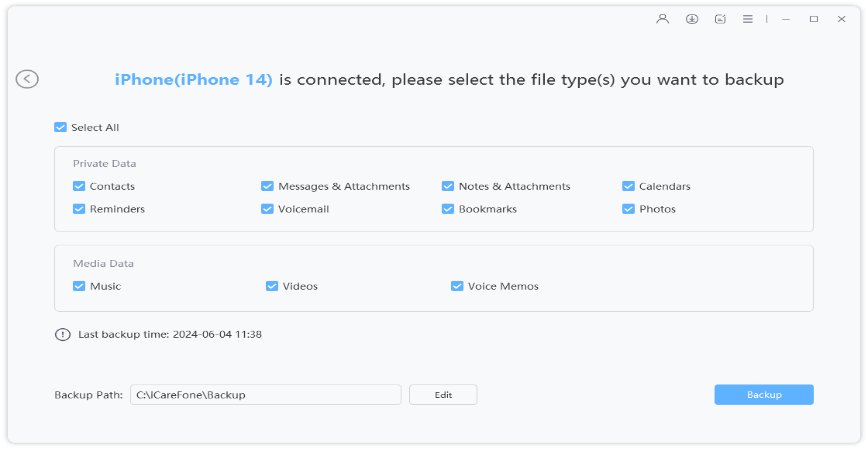 Step 3: You will see several things on interface, select "WhatsApp & Attachments" and then click "Backup" to start the process.
Step 4: Once the process is done click "Export to PC" and save the data on your computer.
We have covered how to backup WhatsApp conversations on your local storage and cloud storage using Google Drive and we have also mentioned some method on how you can access these backups and restore them. In the end we have also discussed a tool which can be used take care of iOS problems and also to backup WhatsApp chat on your PC.