Read this post and learn what to do when iPhone 6/6 Plus touch screen becomes unresponsive after iOS 11/10/9 upgrade.
Since the release of iOS 9.3/9.2/9.1, a number of iPhone 6/6 Plus owners reported they are having an unresponsive Slide to Upgrade screen on iOS 9. Some other users reported that the iPhone 6/6 Plus screen is frozen after iOS 9 update. The device does not respond to touch at all, even to ON/OFF. This issue has grabbed a growing number of users on Apple Communities. beerbrewerbrian is one of the iPhone 6 users who run into this kind of screen freeze:
"i grabbed the update on my iphone 6 yesterday, and twice yesterday, my screen was frozen. it would not respond to touch at all. i had to reset twice. anyone else experiencing this? ---- iPhone 6, iOS 9"
Apple has responded to this issue on Sept 20th with a fix to resolve "Slide to Upgrade" frozen after updating to iOS 9. Nevertheless, this is hard to pacify the disappointment the new iOS brought. The fix suggested by Apple needs to restore iPhone 6 which would cause all data and settings on iPhone.
Before you try the unattractive fix from Apple as the last resort, I highly suggest you use Tenorshare ReiBoot to force reboot your frozen iPhone, iPad, or iPod touch. As a free iOS utility, Tenorshare ReiBoot is just a two-buttons tool to reboot your iPhone from stuck or dead state without data loss.
What Tenorshare ReiBoot Can Fix
Whenever your iPhone, iPad or iPod come across one of the issues below, Tenorshare ReiBoot should be the first thing come to your mind:
iPhone, iPad, iPod touch stuck at Apple logo during or after update iOS 11/10/9/8.4.1/8.4/8.
iPhone, iPad, iPod touch screen unresponsive after iOS 9 upgrade.
iPhone is stuck on recovery mode.
iTunes cannot recognize your iOS device after iOS 9 update.
How Tenorshare ReiBoot Fix Frozen iPhone 6/6 Plus Touch Screen after iOS 9 Upgrade
Download and Install Tenorshare ReiBoot to PC or Mac OS X.
Free Download
For Win 10/8.1/8/7/XP
Secure Download
Free Download
For macOS 10.13 and below
Secure Download
When you open Tenorshare ReiBoot, you can find that there are two buttons: Enter Recovery Mode and Exit Recovery Mode. As we need to get iPhone out of stuck/freeze, Exit Recovery Mode is the choice that can help.
Connect your frozen iPhone to computer, and click Exit Recovery Mode. Wait the Tenorshare ReiBoot to hard reboot your device and get it back to work status.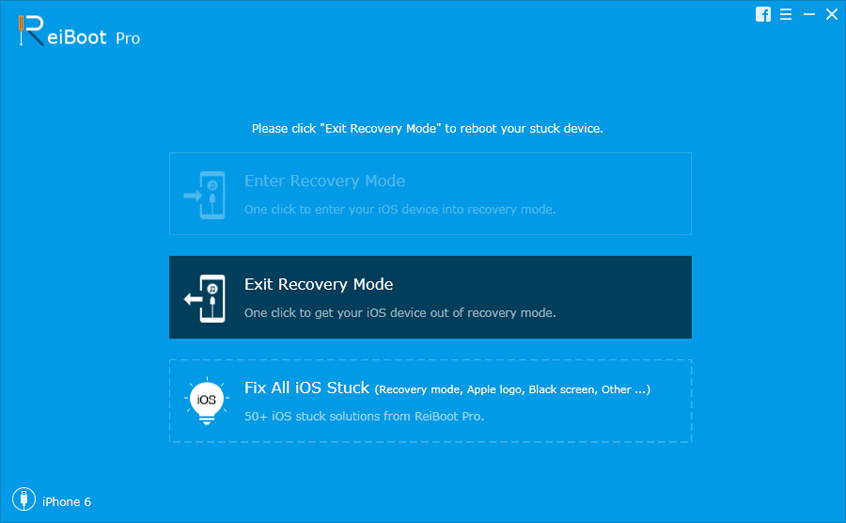 Summary
Tenorshare ReiBoot offers a simple but effective fix for iPhone SE/6/6 Plus screen frozen without restore and data loss. However, if you even cannot use Tenorshare ReiBoot to reboot your device, you may have to restore your iPhone. All data in iPhone will be lost after restore, and you can use data recovery software to get back lost iPhone data.
Free Download
For Win 10/8.1/8/7/XP
Secure Download
Free Download
For macOS 10.13 and below
Secure Download
Related Articles
comments powered by