How to Solve iPhone Crashing after Update iOS 17/16
by Jenefey Aaron Updated on 2023-08-31 / Update for iOS 12
iOS users were very excited about the launch of the new iOS as it comes with a variety of new features. Unfortunately, this celebratory moment faced an awkward halt for some users as their iPhone crashes after iOS 17/16/14/13/12 update. This is not an isolated incident and a lot of users have crashed iPhones in their hands and as this is a newly released iOS, Apple still hasn't been able to address the issue. Without any official solution, you must be in a devastating situation but it would be better for you if instead of sitting with a defective device, try a few of the general fixes to solve the problem.
Way 1: Force Restart your iOS Device
When the new iOS got released you updated your iOS with a lot of excitement but it simply crashed immediately after the update? You are not the only one whose iPhone keeps crashing after iOS 17/16 update. You can try force restarting your iOS device with the hope that it may get fixed when the device starts up again. A very common troubleshooting method that works many times!
For iPhone 8/X/11/12/13/14:
Apple changed the designs of the newer models of iPhones, so the force restart sequence will be very different from the older ones.
You have to press the Volume Up button and then the Volume Down button.
Then find the Side button and hold it until the Apple Logo is visible on the screen.
For iPhone 7 or 7 Plus:
These are the older models of iPhone series but particularly the force restart sequence for iPhone 7 and 7 Plus is very different from the entire series.
Hold the Volume Down button and the Side button together.
Do it until the Apple Logo is visible on the screen.
For iPhone 6 and older models/iPad:
This particular force restart sequence is similar for iPhone 6 and all the previous iPhone models
It is very simple! You have to hold the Sleep button and the Home button together.

When you see the Apple Logo release them.
Way 2: Update Apps to Newest Version
When you updated the iOS to the new iOS, most of the apps on your device are still old. So, it would be better if you simply update all of your apps to their latest versions.
If you want to do that then you have to go to the "Updates" tab in the App Store and download and install any available updates to fix the crashing apps. You can also tap "Update All". Then you can launch the apps, they will work perfectly.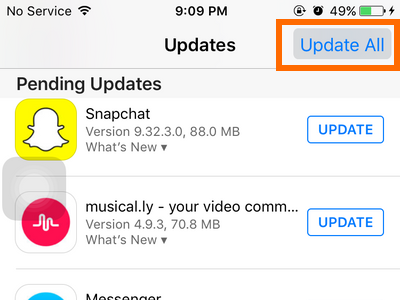 Way 3: Reset All Settings
I'm sure that you won't be comfortable with resetting your iPhone as it will delete all the content from your device but if your iOS 17/16 keeps crashing constantly after the update then it is preferable to reset the device.
Open your iPhone and go to the Settings app.
Then head to "General" and on the next page you need to choose "Transfer or Reset iPhone".
Then click on "Reset" > "Reset All Settings".
After that, a message will appear with the confirmation and you have to choose "Reset All Settings" again.

Now, the OS will ask you again and you have to confirm by providing passcode.
Now, your iOS device will be reset and all of your files and settings will be removed. So, you have to basically start from scratch.
Way 4: Restore with iTunes in DFU Mode
If your iPhone keeps restarting then you can fix it in the DFU Mode using the iTunes app. You can assume this to be the official way to fix iOS system issues as it involves iTunes. This particular method is tried and tested and it has yielded positive results. So, first of all, you need to know how to enter DFU Mode, follow the guide below:
Turn off your device and connect with iTunes. Press corresponding buttons to enter DFU mode.

For iPhone 14/13/12/11/XS/8 or X: Hold the Power button for 3 seconds. Then hold the Volume Down button while you are still holding the Power button. Keep holding them no more than 10 seconds. Let go of the Power button but keep holding the Volume Down button.
For iPhone 7 or 7P lus: Hold the Power button for 3 seconds. Now, you need to hold the Volume Down button on the left while you are still holding the Power button. Keep holding them no more than 10 seconds. Leave the Power button and keep holding the Volume Down button
For iPhone 6/6s/6 Plus/iPad: Press and hold the Power button for 3 seconds. Then, press the Home button without leaving the Power button. Keep holding them for about 10 seconds flat. Let go of the Power switch and keep holding the Home button for about 5 seconds.

If you have successfully enter the DFU mode, iTunes will prompt that it has detected a device in Recovery Mode and requires to be updated or restored.

Tap on "Restore".

Then iTunes will give you a warning that you will be getting a factory reset and all the data will be erased.

Then you just have to tap "Restore and Update".
This will wipe out all your data and settings and restore it with new software. Now, your device will be restored using iTunes in the DFU Mode.
Way 5: Fix iPhone Crashing Problem with iOS System Recovery
Well, all of the above isn't working then it would be better if you stop tweaking here and there and fix the iOS itself. There are few trustworthy programs available that are able to fix any kind of iOS issues. I recommend Tenorshare ReiBoot; it is developed by a third-party company called Tenorshare. The software is free, reliable and capable of fixing any issues with your iOS. It is much easier to use than iTunes and faster as well. So, if your iPhone randomly restarts after iOS 17/16 update then use the following procedure to fix it with ReiBoot,
Download ReiBoot at first and then install it on your computer.

Now, launch the program. Connect your crashing iPhone and on the main page select "Start".

Now, just click on "Fix Now" and then "Standard Repair".

The firmware download page will come next, select a destination for the package and then click on "Download" below.

After the firmware package is saved you can click on "Start Repair" for system recovery.
This is by far the easiest procedure on the list and also the most effective as it is repairing the OS itself with just a few steps.
Way 6: Contact Apple Support Center
Finally, if any of the solutions are not working then you must take your device to the nearest Apple Support Center or just contact them by phone discussing the problem. Most likely something is damaged. There is a high possibility that the battery is damaged. I highly recommend looking for alternate options in the local stores or just contact the official support center!
Conclusion
It is unfortunate for anyone that just after updating to the new version of iOS your device start showing serious problems. The list contains various valid procedures capable of fixing the iOS issue. In my opinion, a sure fix will be to go for Tenorshare ReiBoot. It has proven its worth, it is easy to use and most importantly it is very effective to fix iOS 17/16 stuck and system issues without data loss.