Top 4 Ways to Turn Off iOS 15/13/12 Software Update Notification
by Jenefey Aaron Updated on 2021-08-30 / Update for iOS 12
The newest version of iOS has a feature that automatically reminds you of any available upgrades for your iPhone, iPad or iPod. Naturally, if there are any upgrades available and if you are willing to install it you can do it whenever you want, even at night when you are going to sleep. Unfortunately, the constant reminder of available updates and other notifications can be very irritating. You will be reminded over and over again about the new update and notifications until you install or open it respectively. So, is it possible to completely stop these notifications on the iOS devices? Yes! It is. Here's how to stop iOS 15 beta/13/12 update notification on your iPhone, iPad or iPods.
Way 1: Turn off Automatic Downloads for Software Updates
At first, it may seem impossible to disable iOS 15/13/12 update notification as this version of iOS automatically downloads the update on your iPhone and then constantly prompt you to install them. It is unavoidable and it will only stop once you install the updates. So, now after installing the iOS 15/13/12, if your problem is how to remove iOS 15/14/13/12 update notification, hopefully, you will be able to put a stop to it from Settings.
Step 1: So, open your iPhone and go to the Home screen.
Step 2: Now, navigate to Settings.
Step 3: In the Settings menu you need to find the iTunes & App Store option.
Step 4: On the iOS 12, this option will be listed as App and iTunes Store.
Step 5: Then find the Automatic Downloads option.
Step 6: There will be three options available to you: Music, Apps, Books, and Updates.
Step 7: If you are going to change any one of them then just change the slider to off.
Step 8: You can leave every option in the Automatic Downloads turned on but deactivate "Use Cellular Data".
Step 9: On the iOS 12 it will be labeled as Use Mobile Data and you also have to disable the Wi-Fi Assist.
So, you will be simply turning off the Automatic Download option from your iPhone or just stop using the mobile data from your device, and probably this will fix your problem as whenever you are on your cellular data you won't be disturbed again from installing updates.
Way 2: Remove iOS 12 Software Package
Another way to turn off iPhone update notification is by deleting the installation package itself. It can be performed very easily, just follow the guide below:
Step 1: Unlock your iPhone and tap on the Settings icon.
Step 2: Then, go to General and tap on the iPhone Storage for newer version of iOS like iOS 11 or iOS 13/12. If you are using iOS 11 or earlier devices it will be branded as Storage & iCloud Storage.
Step 3: After you need to manage the storage.
Step 4: So, look at all the options and find the system update package.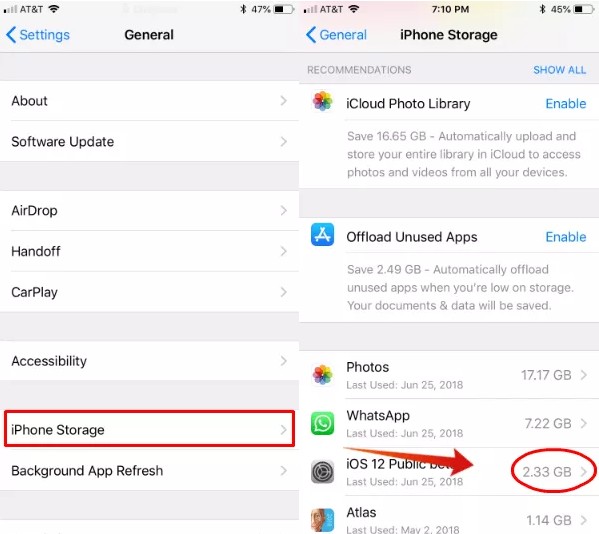 Step 5: After finding it, you have to click on "Delete Update".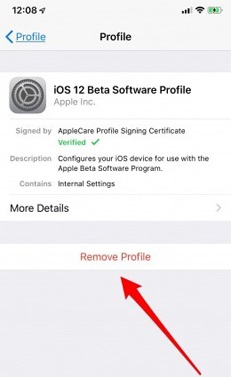 It is a very simple procedure but completely neglecting the cause. So, it is possible that in the next few days your iPhone will download a new system installation package and the notifications will start to irritate you again.
Way 3: Block Apple Software Update Domains
As just discussed earlier, it is very much possible that even after performing all the procedures, you may not be able to turn off iOS 13/12 update notification, the new iOS will download the updates if you stay connected to Wi-Fi.
So, basically, we are asking you to never use Wi-Fi, which is not convenient but is very much possible. So, here the best course of action is to block the domains that are associated with Apple software on your router.
Step 1: Go to the Settings of your Router.
Step 2: The procedure varies depending on the brand of the Router.
Step 3: Now, you need to look for the options in the Router Settings that will allow you to block a few specific domains.
Step 4: Now, you just need to add "appldnld.apple.com" and "mesu.apple.com to the list".
Now, it will be impossible for your device to download new updates when you are using the Wi-Fi. Also, this will also prevent other devices in your house from using those specific domains. One drawback is that if you use Wi-Fi outside of your house then this procedure to turn off software update notification iPhone won't work.
Way 4: Install an up-to-date tvOS Profile
This is the final but very effective procedure that will make your iPhone disable update notification. The procedure is also very simple, you just have to install an up to date TV OS profile.
Step 1: Go to the developer's website of Apple and download the tvOS beta configuration.
Step 2: The Install option will be visible on the top, tap on it.
Step 3: You will be prompted to provide the password.
Step 4: Now, you need to tap on Install when you reach the Consent Screen after that you have to do it again when it pops up.
Step 5: Now, the profile will be installed. It will happen almost instantly but you have to restart the iPhone afterward.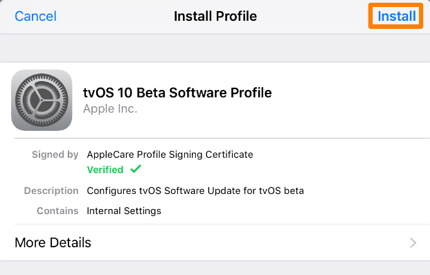 Now, your iPhone won't irritate you with the constant update notifications.
Conclusion
Constantly getting the update notifications is very irritating and over that, the new iOS 15/13/12 can download the update without your consent on your iPhone. It is very troubling! The methods or procedures we have discussed are very effective against such problems. So, it will be best for you to go through these procedures carefully and fix the problem on your iPhone properly. Also if you are having any other problems and stuck issues during iOS 13/12 update, then we highly recommend you to go for an all-in-one system repair tool Tenorshare ReiBoot to fix over 50 types of iOS issues without data loss.
Fix iPhone Stuck Issues without Data Loss