New iPhone 13 Not Activating? Here's The Solution
by Anna Sherry Updated on 2021-12-06 / Update for iPhone Tips
Without a doubt, iPhone 13 pro not activating is a relatively common problem that many iOS users face. In a few situations, it could be waiting for activation iPhone. Nevertheless, this issue could quite frustrating. This is because it will make it difficult for you to use your device for many of its basic functions such as making a call or sending a message.
However, for every problem, there is always a solution. So, this post is focused on showing the solutions when Verizon iPhone 13 not activating.
Could Not Activate iPhone 13? Check the Correct Process
How to Get Rid of iPhone 13 Not Activating Issues
Regardless of the possible causes of the iPhone 13 not activating on Verizon, you can solve the issue. Here are some possible solutions to the problem:
1. Check If The SIM Card Is in the Correct Place
Sometimes, one or both SIM cards of your device are not inserted properly. In other cases, something could be obstructing the SIM cards; hence, preventing the SIM card from working appropriately. Therefore, the first solution is to check if the SIM is in the correct place. If it is not, try to position it properly in the SIM card holder.
2. Restart iPhone 13
The second solution involves restarting your iPhone 13. So, you should do the following to restart your iPhone:
You should start by pressing and holding the "Side" button and the "Volume Up or Down" button. Hold these two buttons until you can see the power off slider on your screen.

Drag the power off slider. Please, wait for about 30 minutes so that the iPhone will turn off. If the device doesn't respond, you have to force restart it.
The last step is to turn on the iPhone. Do this by pressing and holding the "Side" button until the Apple logo appears on your screen.
If the activation problem is just a glitch with your iPhone, restarting the device may solve it.
3. Check Your Network Connection
The activation of the iPhone relies on the network connection. So, in case the network connection is poor, your iPhone 13 will not activate. You should check your network connection to confirm if it is okay or not. Make sure the network connection is good before you try to activate your iPhone again.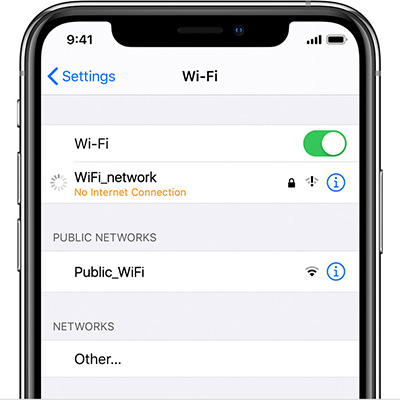 4. Using iTunes to Troubleshoot iPhone 13 Not Activating Verizon
If your new iPhone 13 not activating after trying all solutions above, it is recommended that you use iTunes to troubleshoot iPhone 13. The troubleshooting will determine the right solution to use.
Here are the steps to take for troubleshooting iPhone 13 not activating Verizon:
Foremost, you need to make sure that your computer has the latest version of iTunes. Please, you should also ensure that your internet connection is good.
Use your original Apple USB cable to connect your computer and iPhone. After this, you should look for your iPhone on your computer.
The computer should detect and activate your iPhone automatically. It should be noted that this step can take some minutes.

If you get a message that says "Restore from Backup" or "Set up as New", your device is activated. So, you don't need to do anything about it.

However, if an error message is displayed on the screen, your SIM card may be invalid or incompatible. So, you have to get in touch with your network provider to find a solution.

Also, if you see "activation information could not be obtained from the device" or "activation information was invalid" on the screen, you should restore your device with recovery mode.
The Fastest Way to Fix iPhone 13 Not Activating Issue
Sometimes, you may get an error message that says "activation information was invalid". In this case, you can use recovery mode to restore your iPhone without much hassle. Although you can put your device in recovery mode through different means, Tenorshare ReiBoot will provide the best result. This tool offers a free function to 1 click enter recovery mode.
Tenorshare ReiBoot is also good for fixing any iOS problem that your iPhone may be having. Below are the steps to putting your iPhone 13 in recovery mode with ReiBoot.
Download, install, and launch Tenorshare ReiBoot on your Mac or Windows computer. Connect your iPhone to the computer with a USB cable.

After ReiBoot has recognized your iPhone, the next step is to tap the "Enter Recovery Mode" button. This will put your device in Recovery Mode without any stress.

After some seconds, Tenorshare ReiBoot will put your iPhone 13 in Recovery Mode.
On the screen of your iPhone, you will see a logo that indicates "Connect to iTunes or Computer".
Now, you have put your iPhone in recovery mode successful. With this solution, you should be able to activate your device without any worries.
Still Unable to Activate iPhone 13? Contact Apple Support or Carrier
Has none of the solutions been able to solve the issue? If your iPhone 13 is not activated, contact your carrier. Your carrier could solve the issue. In other cases, they may let you know if their activation system is faulty.
Another solution you can consider is to get in touch with Apple Support. This should be your last resort if you have tried other solutions but your iPhone will not activate.
The Most Common Cause of Verizon iPhone 13 Not Activating Error
In lots of instances, you can experience an "iPhone 13 pro max not activating" error when you travel from one place to another. This could be because of the changes in the network carrier. Nonetheless, other issues could be equally responsible.
Here is a list of the possible reasons for iPhone 13 not activating Verizon:
Poor internet connection could prevent your iPhone from activating.
Your SIM card could be faulty. In other cases, it could be activated and use for some frauds.
The SIM card inside your iPhone is not compatible with the device. This could happen because the device is locked.
The activation systems of Apple or your carrier could be down.
The motherboard of your iPhone could be having a problem.
Conclusion
With the various solutions provided above, you should not allow the activation error to stop you from using your iPhone 13. You just have to take advantage of the solutions and get your device back to life.
Fix iPhone Stuck and Update Issues without Data Loss