4 Methods to Solve Passwords Did Not Transfer to New iPhone 13/14/15
by Sophie Green Updated on 2023-09-25 / Update for iPhone 13
There can be some minor inconveniences that spoil your joy when using new iPhone. One of the most typical troubling the users is passwords do not transfer to new iPhone. There can be numerous reasons for the issue, but you can resolve it by trying some simple methods that we listed in this article.If you have the same questions on iPhone 14, the fixes are similar.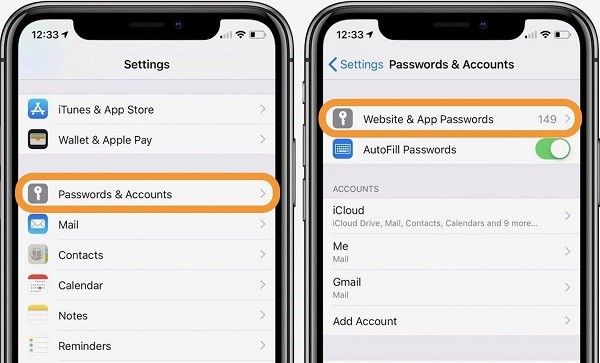 Method 1: Sync iPhone 13/14/15 Passwords with Encrypted iTunes Backup
If you are sitting back and wondering, "Why did my passwords not transfer to new iPhone" , here is the first method you can opt for. You can transfer your passwords to your new iPhone by doing a complete iPhone migration with the help of iTunes. 
Download the latest version of iTunes and install it on your device.
With the help of a USB cable, connect your old iPhone to computer. 
Click on the device icon on the iTunes interface.
Check the Encrypt Local Backup and create a password.
Click on Back up now and wait while the process gets completed.
Once the process is completed, disconnect the old iPhone.
Connect your new iPhone 14/15 to iTunes and press on the device icon.
Select Restore Backup and click on your encrypted backup.

Enter the password and transfer all your passwords to your new iPhone. 
Method 2: Sync iPhone 13/14/15 Passwords with iCloud Keychain
iCloud can solve many of your problems, including the instance where your passwords did not transfer to new iPhone. It lets you upload your iPhone data to a cloud and access it on all your iOS devices. This data includes passwords, and therefore iCloud Keychain is one of the methods you can use to sync your iPhone 13//14/15 passwords.  
Make sure your old iPhone is connected to the internet.
Open the Setting > iCloud > Keychain .
Turn on the settings for iCloud Keychain and enter your Apple ID password or passcode. 
Connect your new iPhone to the internet and open iCloud Keychain. 

Wait for some time before downloading your passwords to the new iPhone. 
Method 3: Transfer iPhone 13 Passwords with AirDrop
My passwords did not transfer to new iPhone! What do I do? If the methods stated above did not help, you could use AirDrop. However, you can only use AirDrop if you have previously used an iOS device to store your data. It stores media, documents, account details and even passwords that can easily be shared with your new device.
Turn on the Wi-Fi and Bluetooth options on both your new and old iPhones.
Select the password that you wanted to be transferred.
Click on the password and hold it for a while. An AirDrop option will appear. Select that option.
Select Another Device as the data recipient. 

Receive the shared password on your new device. 
Disadvantages of using AirDrop:
While on the one hand, AirDrop does seem to be pretty convenient, on the other hand, it comes with many drawbacks. In order to use AirDrop, both your devices must have an iOS 11 or the latest versions. Your devices must be placed within a specific range. In contrast to this, Tenorshare 4uKey-Password Manager works perfectly as a password manager that offers flexible and user-friendly solutions. 
Method 4: Simple Way to Solve Passwords Did Not Transfer to New iPhone
Tenorshare 4uKey-Password Manager is a perfect solution for you when you need to manager or transfer passwords. It offers prompt and straightforward assistance to detect and transfer passwords across your iPhone, Windows or Mac.
Download 4uKey Password Manager and launch it. Click "Import passwords" and "Start".

Select the source of the password you want to import to iPhone.

Follow the instruction to export the password file which is used to import to your iPhone.

Tap "Import file" and choose the file we just exported lately on PC and click Next.

You can view all your passwords and import them to the device.

Click "Import to Device", it will require you to enter the backup password on your device. The default password is "a".

After entering the password "a", 4uKey Password Manager will begin to transfer password files to your new iPhone 13/14/15.
Why Did My Passwords Not Transfer to New iPhone 13/14/15
One is that your passwords are not saved on your 'download from media' space until you have an encrypted backup. Another reason might be the security perquisites that your system follows in order to prevent any harm to your data. In any case, you can try to transfer your passwords or seek expert assistance. 
Conclusion
The issue where passwords did not transfer to new iPhone 13/14/15 is not rare. It often occurs due to backup errors, and you can recover your passwords and transfer them to your new iPhone with the help of the methods stated above.