How to Transfer to New iPhone 13 via Temporary iCloud storage?
by Jenefey Aaron Updated on 2021-10-11 / Update for iPhone 13
Hey, I jusr used the temporary iCloud storage service this morning but now it says I have only 20 days; otherwise, my data will be deleted. So, my question is, will my phone won't have the backup? Or is it just an error?
When you purchase a new iPhone or iPad, you get free iCloud storage that allows you to transfer data from one device to new iPhone 13. At first, it seems a good idea, but you have to face many issues. In this post, we will discuss everything about iCloud free storage and how it works. Also, we will guide you on how to get temporary storage by following a few simple steps. Let's dive into the details.
Part 1: What is Temporary iCloud Storage?
Transferring the data to a new iPhone 13/13 mini/13 Pro (Max) can be painful and time-consuming. However, Apple is introducing new ways to make it easier. Yes, we are talking about Temporary iCloud storage that you will get with each new iPhone or iPad. So, whenever you purchase a new device, you can easily create a full backup.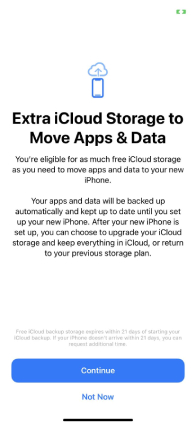 However, you have to restore this backup within 21 days because it will be deleted once the time is passed, and you can't get the details back.
Part 2: How Can I Get Temporary iCloud Storage?
There are some terms and conditions that you have to fulfil before you get this option.
You will be eligible to get iCloud free storage when you purchase a new iPhone or iPad. Also, make sure your current device is using iCloud backup.
Make sure you have accepted the new iOS 15 update.
You must remember your current Apple ID and password.
If you have fulfilled all these things, you will be able to get Temporary iCloud storage. But the question is should I use Temporary iCloud storage? We have answered this below.
Part 3: Should I Use Temporary iCloud Storage for 21 Days?
This iCloud Free Storage option was not available on other devices till now, so people are confused about whether they should accept it or not. The answer is No because there can be many drawbacks to doing that. In the below section, we have explained it very well, so don't forget to read it.
3.1 It's Totally Up to You
The reason why we don't recommend it is because it is difficult to set up and also, you don't get much space to transfer all your information. However, it has some advantages as well. Let's discuss them.
Advantages of Temporary Cloud Storage
It is cheaper than physical storage, which means you don't have to spend money on anything when you have iCloud storage.
You can get access to all the files from anywhere. However, make sure that your internet connection is stable.
It is easier to recover the files during hard drive failure.
It is more secure than other options available. You don't have to worry about data loss as well.
Disadvantages of Temporary Cloud Storage
If you don't have a strong internet connection, you won't be able to use it.
They ask for additional costs for downloading and uploading the files
You have to restore the data within the limited time
You can't move all the files. Most people complaint regarding the missing files
3.2 How to Backup My iPhone? Is There Any Alternative?
If you want to backup your data and don't want to use iCloud storage, here is another program that you can use. We are talking about Tenorshare iCareFone. It is a perfect application that allows backing up and restoring the data by following a few simple steps. Besides, it is user-friendly and works with all devices. Let's see how it works.
Download and install the latest version from the website. Once you have connected your device with the PC. Click the "Backup & Restore" option from the dashboard.

You will see different files on the screen; select the ones which you need to backup. After choosing the files, click the "Backup" option. You can also view the backup list after creating it.

Now, connect your iPhone device with the application and click the "Backup & Restore" option. Once you are connected, you will see different files on the screen. Cross verify them before restoring .
After that, choose the files you are planning to restore. Make sure to choose the location where you want to restore them. You can either select a PC or mobile device. The benefits of using this tool are as follows:
All the backed up files are accessible and readable as well.
You don't have to worry about data loss, and it is totally free.
Like iCloud storage, you don't have to restore the data within 21 days. It can be restored anytime you want.
No need to worry about the storage limit.
Part 4: How to Use Temporary iCloud Storage to Transfer Data to New iPhone 13
This is how you can use temporary iCloud storage to transfer data to your new iPhone 13/13 mini/13 Pro (Max). This method is simple and doesn't require technical expertise. Let's see how it works.
Open Settings and click the "General" option.
Scroll down a bit and look for the Transfer or Reset iPhone option.

Read the instructions on the screen and click the "Get Started" option.

You will be moved to a new screen, where you can see all the applications. If you want to transfer the data of those apps, click the "Move all App Data With iCloud" option.
After that, click the "Done" option, and your backup will be created. Now, you can easily transfer the data to your new device.
FAQs about iCloud
Q1. Does an iCloud backup everything?
Yes, you can backup everything, including images, videos, documents and much more. However, the free version only provides 5GB of free storage.
Q2. Why Should You Not Use iCloud?
You have to restore the files within 21 days, and also, the continuous upgrade notifications are annoying.
Q3. How to Restore iPhone From Backup?
To do that, go to your new device and click the Apps & Data screen option. After that click " Restore from iCloud Backup". Add your login details and select the recent iCloud backup. Your data will be restored soon.
Q4. How to Clear iCloud storage?
If you are using a PC, go to iCloud, click the "Storage" option. Now select the backup. You will be asked to select one device, so do that and click the "Delete" option. Your storage will be cleared.
Q5. How to buy more storage on iPhone
You can easily select the storage plan by clicking the manage storage option. There you will see different prices and plans. Select the package according to your requirements.
Final Thoughts
Temporary iCloud storage is a cool option for iPhone users, but it can be annoying at the same time. So, if you plan to backup your data, we recommend iCareFone because it can back up the files without any limitations. It is simple and can be used by anyone.