[New Update] Fix iOS 17 Stuck On Preparing Update
by Jenefey Aaron Updated on 2023-08-15 / Update for iOS 15
The highly anticipated iOS 17 beta is finally released. Whenever Apple unveils a new version of iOS, people around the world flock to download it and be among the first users. What if our iPhone get stuck on the "Update Requested" screen for a while. Firstly we will learn about what it is and why it appears, and then how to fix it in several ways.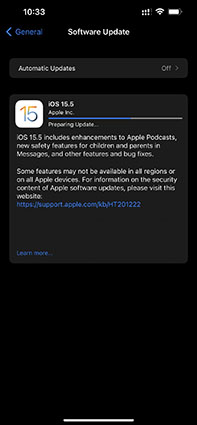 Why Is My iPhone Stuck on Preparing Update iOS 17
There are several reasons for iOS 17/16 preparing update stuck. It should be analyzed from two aspects: server issue and software glitch.
Server issues:
One of the main causes of this problem is the failure of the Apple Servers, which stores and provides the iOS update for all iOS devices. Sometimes these servers can go wrong, especially if too many iOS device owners request the update at the same time.

Sometimes, the activation and update roll out servers can go down in certain regions, causing massive delays and errors like this. So if you repeatedly get this message while trying to update your iPhone, you should try again a few hours or even a few days later.
Software or hardware problems:
Software or hardware issues are another major cause of this problem, as they can effectively interrupt the update process. This is the most common cause of this problem. The following solutions should help you overcome some of the software and hardware issues that could be the cause of iOS 17/16 Stuck On Preparing Update.
The Fastest Way to Fix iOS 17 Stuck on Preparing Update
Last but not least, if all else fails, you should use Tenorshare ReiBoot to update your phone. ReiBoot can directly update your iPhone without data loss in just few clicks. Tenorshare ReiBoot is a powerful tool for fixing relevant iPhone update and system issues. It is specially designed to solve these problems and help you update your iPhone in an easier way. It has several functions, such as one click to put iPhone into recovery mode, show you how to enable DFU mode and so on. Today, we can use the "Standard Repair" to fix the iPhone stuck while preparing the update.
Download and Install Tenorshare ReiBoot on PC. Click the bottom and download ReiBoot on PC, connect iPhone to PC via USB cable.

Click 'Standard Repair' and Go on

Follow the instruction and download the firmware package.

The reason we choose Standard Repair is that this function will not cause data loss during the process, so don't hesitate to go on.

Standard Repair Completed
7 Ways to Fix iOS 17 Stuck On Preparing Update
Way 1: Force Close All Running Apps
It is quite possible that the settings app is not working properly. Therefore, if you experience problems while updating your device, the first thing you should do is force quit the settings app.
For devices with a Home button:
Double-tap on the home button
Find the Settings app from this list
Swipe it up and off the screen

Force close it
For devices with Face ID:
Swipe up from the bottom of the screen
Pause in the middle to bring up the apps
Simply swipe up on the Settings app

Force close it.
Way 2: Check Your Wi-Fi Connection
Make sure your wifi is working well and has a high network speed. This will ensure connectivity and make downloading iOS 16 easier and faster.
Also, make sure you have VPN turned off on your iPhone. If that does not help, connect your iPhone to a different wifi network. The new network will most likely allow your iPhone to start downloading the new iOS.
Way 3: Clear Up Space
If your iPhone stuck on preparing update iOS 17, the reason may be that your iPhone is low on storage space. At this point, you should clean up the storage to free up more space for iOS 17 installation.
Go to Settings>General>iPhone Storage>Clear Up Data Unnecessary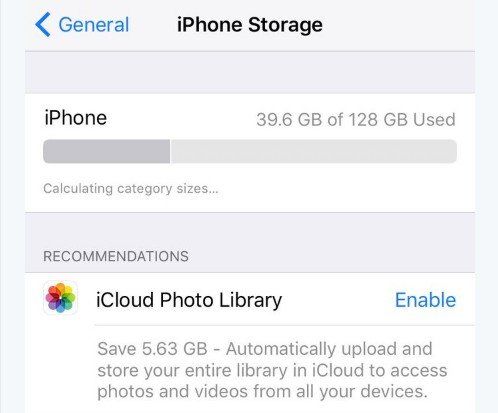 Way 4: Delete Update And Try Again
Another way to restart the update process is to delete the update from the iPhone shop and then try to update the device again. This is especially helpful if the update package is incomplete or corrupted for unknown reasons.
Go to Settings>General>iPhone Storage, select the update, and then tap "Delete Update" delete it.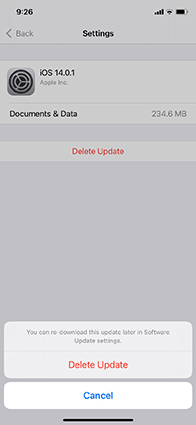 After it is deleted, go to Settings > General > Software Update to download and install the update again.
Way 5: Force Restart Your iPhone If Stuck on iOS 17 Preparing Update
It is an especially helpful solution when your iPhone get stuck on iOS 17/16 Preparing Update, or some software that make your iPhone frozen.
Learn how to force reset your iPhone here:
Froce Restart iPhone8 or Later Model
Press the Volume Up button and release it.
Press the Volume Down button and release it.

Press the Power button for a few seconds until the Apple logo appears.
Way 6: Update Latest iOS Version via iTunes/Finder
There is also a useful method, which is to update to iOS 17 via your Mac or PC. Besides the simple method of updating over the air, you can also use a computer to bring the latest iOS 16 or iPadOS 16 to your devices.
Connect your iPhone or iPad to the computer via an appropriate cable.

Open iTunes, click on the device icon. In Finder, click on the device name from the left sidebar. Click Trust.

Next, tap Trust on the iPhone and enter iPhone's passcode.

From the Summary tab in iTunes and General tab in Finder, click on Check for Update or Update.

Click on Download and Update. Follow the instructions on screen.

Click on Next > Agree > Enter the passcode on the iPhone when asked.

Now the process of downloading iOS begins. The duration depends on your device and internet speed. It may take some time to download the package, prepare the update and install it. Be patient and do not disconnect the device halfway.