iPhone 13/14 Won't turn on, How to Fix 2023
by Anna Sherry Updated on 2023-09-14 / Update for iPhone Tips
It's a nightmare to know your recently bought iPhone 13/14 won't turn on. This is an unavoidable occurrence, which is common among most electronic devices. Here, you will learn how to fix an iPhone if it isn't turning on. We will talk about a wide range of solutions to such an issue. So, if your iPhone won't power on and you need a solution, this is the post for you.
Also Read: How to Fix iPhone 15 Won't Turn on
Part 1: Why iPhone 13/14 Won't Turn on
There are numerous factors, which stop your iPhone from turning on. Possibly, the battery may have died. Thus, the lack of power might be the problem.
However, if even your iPhone 13 won't turn on after plugging into a charger, it might be facing a system glitch. In addition, corrupted software is another reason why your iPhone won't power on. A software glitch or a failed iOS update can cause your iPhone to not turn on. Try connecting your iPhone to a computer and using iTunes to restore the device to its factory settings.
If there's a problem with your iPhone's hardware, such as a faulty power button or a damaged charging port, it may not turn on. In such cases, you may need to take your iPhone to an authorized Apple service center for repair.
Maybe your iPhone has been exposed to water or other liquids, it may not turn on. In such cases, you should immediately turn off your iPhone and take it to an authorized service center.
Make sure your iPhone whether has suffered physical damage, such as a cracked screen or a bent chassis, it may not turn on. In such cases, you should take your iPhone to an authorized service center for repair.
Part 2:Money-saving Tips to Fix iPhone 13/14 Won't Power on
Here are some of the money-saving tips to fix your "iPhone 13 won't turn on" issue.
1. Charge Your iPhone 13
If the battery of your iPhone is dead, your phone won't turn on. Although the phone indicates the low battery sign, yet you won't be able to notice it if you aren't using your phone.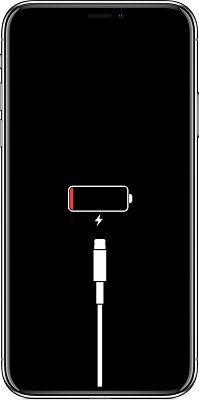 In this situation, a dead battery might be the possible reason why your phone died and won't turn on. So, grab the charger and plug in your phone. After plugging the charger into a wall socket, just leave the phone for half an hour. Avoid turning on your phone immediately after plugging it into the charger.
Besides, also make sure that your charger isn't broken. Also, ensure that the cable or charging wire is in good shape.
2. Simple Restart / Force Restart iPhone 13/14
You can try a simple or force restart to fix the iPhone won't turn on issue. Below is the procedure to force restart your iPhone:
Press the "Home" and "Sleep/Wake" buttons simultaneously.

Continue to press these buttons unless you see an Apple logo on your phone's screen. If the Apple logo appears, it's a sign that your iPhone is turning on.
3. Restore to Factory Settings via iTunes (Data Loss)
A frozen iOS prevents the iPhone to turn on. This happens due to the malfunctioning of the operating system. In most cases, iOS tends to be corrupt.
In this situation, the best way to fix the "iPhone 13 won't power on" problem is to restore your device to factory settings. To perform this task, you need access to iTunes via your Windows or Mac device. The procedure involves the following steps:
Connect your iPhone to a computer that runs iTunes.
After that, iTunes will auto-detect your device in recovery mode.
Next, iTunes will diagnose an issue and suggest either an update or factory restoration.

Since you need to restore your iPhone, select the 'Restore' option.

iTunes will start the restoration procedure by downloading the software.
Once the software is downloaded, iTunes will install it on your iPhone.
During this process, you will lose the data that was previously saved on your device. In fact, it isn't a loss, as you won't otherwise have access to such data as your device wasn't turning on.
4. Contact Apple Support If iPhone 13/14 Died and Won't Turn on
The tips mentioned above should fix your "iPhone 13 won't turn on" issue. However, if nothing works, your device is having a hardware-related problem.
If this is so, the most viable option is to contact Apple support. When possible, you can visit the nearest Apple store. If your device is under warranty, you can get it fixed without any charges. On the contrary, you have to pay a certain fee for getting your phone fixed.
Part 3: iPhone 13/14 Still Cannot Turn on? Get ReiBoot to Run A Diagnosis
In most cases, you can reboot your device or restore it through recovery mode. However, certain iOS related issues aren't easy to fix. So, if your iPhone died and won't turn on while charging, fixing it with Tenorshare ReiBoot is your best bet. Discussed below is the complete procedure of fixing your iPhone with ReiBoot.
Download the software on your computer. After installation, connect your iPhone to the computer. Once your device is recognized, click the 'Start' button.

After a new interface appears, just choose the "Standard Repair".

The next interface will ask your permission for downloading the latest firmware. Just hit the "Download" button and wait, as it will take some time to complete the downloading process.

Start the standard repair procedure once the firmware package is downloaded.

Once the repair procedure is complete, the iPhone will restart. Now your iPhone is ready to use.
Conclusion
This guide is compiled with a view to help you find a viable solution to fix your "iPhone won't power on" problem. With Tenorshare ReiBoot, you can easily fix the "iPhone 13 won't turn on" problem within a few minutes.
Fix iPhone Stuck and Update Issues without Data Loss