iPhone 13 Stuck in Recovery Mode, How to Get Out of It?
by Jenefey Aaron Updated on 2022-02-21 / Update for iPhone 13
Is your iPhone stuck in Recovery Mode? Don't know how to fix this issue? There can be many reasons why your iPhone is stuck in recovery mode, and we are here to explain all the possible solutions. Let's see how to get out of the Recovery Mode by following a few simple steps.
Part 1: Why My iPhone 13 Stuck in Recovery Mode?
Before you fix this issue, it is important to understand the main cause of it. In this section, we will explain what Recovery Mode is and its possible causes.
1.1 What is Recovery Mode?
If your device is not working properly and you are facing critical issues, Recovery Mode is here to help. Sending your iPhone into Recovery Mode can fix many issues. Furthermore, it also helps the PC to easily connect with your iPhone. Other than that, it performs various functions, including data cleaning, installing updates, restoring your data, and much more. However, it is recommended to backup your data before you use the Recovery Mode Feature.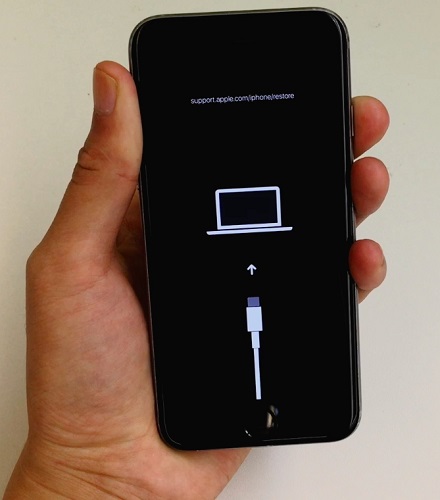 1.2 Possible Reason Why iPhone Stuck on Recovery Mode
There are many reasons why your iPhone is stuck on Recovery Mode. Some of the possible reasons are mentioned below.
It is stuck when you try to update the latest version.
You have activated the Recovery Mode, and it didn't work properly
It can also be stuck after the failed attempt of jailbreak
These were the common reasons why your iPhone stuck on the restore screen. But don't worry, we have found the possible solutions below. Let's discuss them one by one.
Part 2: [Editor's Choice]One-Click to Get Out Of Recovery Mode iPhone 13
You could download Tenorshare ReiBoot if your iPhone is stuck in Recovery Mode. It is one of the best iPhone recovery tools that work for almost all devices. It can repair 150+ issues, and it is easier to get out of Recovery Mode using this application.
Step 1: Exit from Recovery Mode iPhone 13
Want your iPhone to exit from Recovery Mode? Here are some simple steps that you can follow.
Download and run the latest version of Tenorshare ReiBoot. Make sure your iPhone is connected to a PC using a USB cable.

Launch the tool, and you will see two different options on the screen; Enter Recovery Mode and Exit Recovery Mode. Since you want to exit Recovery mode, so select the second option.

Within a minute, your device will be exited from Recovery Mode.
In case you want to repair your iOS device, you can read the section below.
Step 2: How to Repair iOS with ReiBoot?
Here are a few simple steps that you can follow to repair iOS using ReiBoot. Let's discuss them.
Download the ReiBoot application on your computer and connect the iPhone with a USB cable. After launching the tool, click the "Start" option.

You will see two repairing options; select the "Standard Repair" one because it doesn't cause data loss and fixes common iOS issues.

Now, download the Firmware Package. And for that, select the location and click the "Browser" option. It will take a few minutes to download because the file size is large.

Once the firmware package is ready, click the "Start Standard Repair" option and let the application handle the repairing process.

Within a few seconds, your iOS issues will be resolved.
We have also mentioned below some of the easiest ways to fix the iPhone stuck on the Recovery Mode issue.
Part 3: 5 Normal Ways to Fix iPhone 13 Stuck in Recovery Mode
If you don't want to use any third-party application, don't worry because here are some ways you can follow to fix this problem. All these methods are 100% tested and will solve your problem in no time.
Way 1: Force Restart Your iPhone 13
Press and hold the volume button and volume down button at the same time. Now, hold the side button and quickly release it when you see the Apple logo. This process will restart your iPhone 13. Now, check if your iPhone is working fine or not. In case the issue is still there, we recommend trying method 2.
Way 2: Restore iPhone 13 Using Finder or iTunes
Here is how you can restore an iPhone 13 on Mac and PC.
#1. For Mac:
First, connect your iPhone with your Mac. You can do it using a USB cable.
Now, open Finder on Mac and choose the device option from the sidebar.
Click General and Hit the "Restore Backup" option.
Now, select the backup that you want to restore and click the "Restore" option.
#2. For Windows or Early Version of iTunes:
Here is how you can restore your iPhone from Windows or the Early version of iTunes.
Launch iTunes on Windows and connect your iPhone with the PC.
Once iTunes is recognized, click the "Device" option on the left side.

From the summary window, select the "Restore iPhone" option.
Way 3: Delete Corrupted Update Files and Reinstall Again
Sometimes having corrupted files can also be the reason why your iPhone is stuck. So, the best way to fix this problem is to delete all the applications that are not good for your device and reinstall them again.
Way 4: Put Your iPhone 13 into DFU Mode and Restore
Putting your iPhone 13 into DFU mode will also fix your issue. To do that, press and hold the volume down and on/off button for about 10 seconds. When you see the Apple logo release both of them, you are finally in DFU mode.
Way 5: Contact Apple to Fix iPhone Stuck on Restore Screen
If your iPhone is still stuck on the Restore screen, it means it's not a software issue. Hence, it is recommended to contact Apple customer support to fix this problem. You can tell them the problem, and they will fix it for you.
FAQs about iPhone Recovery Mode
Q1. How do I force my iPhone into recovery mode?
This procedure is different for all the devices, but you can press and hold power and volume buttons simultaneously to send your device into Recovery Mode.
Q2. How long does an iPhone take in recovery mode?
It depends on your internet connection and location. But the time required is 1 to 4 hours.
Q3. Can you restore the iPhone in recovery mode?
Yes, you can restore your iPhone in Recovery Mode. The restoring process can take up to 15-30 minutes.
Q4. Is recovery mode bad for the iPhone?
No, because it helps fix many iPhone issues that are difficult to solve using any other method. But you can lose your data which can be a big disadvantage of using this mode.
Q5. Does recovery mode delete iPhone data?
Yes, it deletes everything from your device, so it is recommended to backup your iPhone to avoid missing important information before sending your iPhone into Recovery Mode.
Conclusion
In conclusion, these were the possible ways that you can use to solve the Recovery Mode issue. Plus, if you feel that nothing is working for you, don't panic because you can use Tenorshare ReiBoot to exit from the Recovery Mode. We have also mentioned the ways how you can use this software, so follow the steps properly.