How to Unlock iPhone 7/7 Plus for Different Carriers
by Jenefey Aaron Updated on 2021-08-25 / Update for iPhone Tips
Transferring carrier service on an iPhone 7 can be challenging if you use a GSM only model. Sprint and Verizon variants can be used on any unlocked iPhone 7 because they accommodate both GSM and CDMA sim card technologies, while the AT&T & T-Mobile versions lack CDMA chips. If you want to use your iPhone without carrier restriction, below you will find how to change carrier for iPhone 7/7 Plus.
Part 1: Official way to switch carriers on iPhone 7 (Plus)
Most carriers use GSM (Global System for Mobile Communications) SIM card technology. Unluckily for iPhone 7 users, you cannot use a Verizon or Sprint SIM card on a GSM iPhone 7 or 7 Plus. Other iPhone models like iPhone 6 and 6s can take all cards. Carriers in the U.S lock iPhones to their SIM cards, and you cannot freely change iPhone to another carrier without unlocking, e.g. an AT&T iPhone rejects a T-Mobile card. This is common for phones bought on contract to ensure the carrier recoups the subsidized prices.
You can try unlocking your iPhone by directly calling your carrier and telling them you're having trouble switching iPhone carrier. Most carriers will unlock your iPhone if the contract has already expired. Request it to be unlocked if the contract is null and all bills have been paid in full. If you are travelling and will need to change carriers, inform them on the call to have it unlocked. You might be charged a fee, but it is worth paying. It is also possible to unlock the iPhone yourself.
Tip: You might receive a message saying "The SIM card inserted in this iPhone does not appear to be supported." after unlocking. If so, please restore your iPhone to factory settings or consult your carrier to confirm whether the unlock process is successfully applied.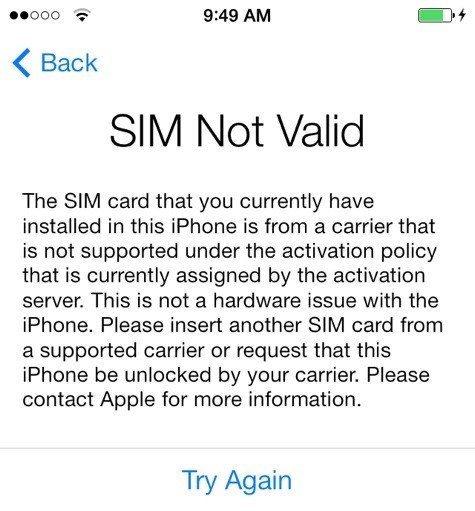 Part 2: Other possible ways to unlock iPhone for different carriers
If you decide to go the DIY route, especially for recent iPhone versions which are locked to carriers, you need to know how to switch carriers on iphone 7 by removing IMEI lock or changing hardware.
IMEI unlocking
IMEI unlocking is less risky than unlocking using the software. This is because most carriers put all kind of stops to make it impossible to change the firmware. It also makes your warranty void and can turn the phone into a brick. Use iPhoneIMEI.com to safely and reliably remove IMEI lock for only $30. Here is how to do it.
1. Visit the site iPhoneIMEI (+no follow) and follow the free guide.
2. You'll be asked for your iPhone IMEI number. To locate it, open Settings > General > About and view the IMEI number from there.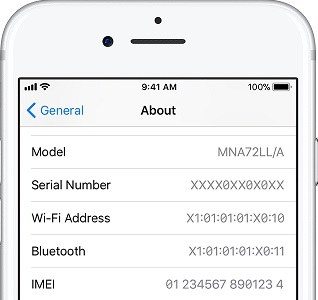 3. Use the IMEI number on the form which requires you to select the iPhone version and the IMEI number to unlock iPhone 7 IMEI.
4. Pay when prompted to and wait for them to generate the unlocking code.
5. After getting an email confirmation, change the SIM card and insert the new one.
6. Turn on the device, and after detecting a new SIM card, the iPhone will ask for a code. Use the code sent to your email to unlock the device.
Hardware unlocking
Changing the hardware of the phone was popular in the past. However, it is riskier nowadays with advanced iPhones whose hardware is intricately deigned and positioned. This is the most risky method of unlocking an iPhone with the highest likelihood of ruining your phone. It will also definitely devoid the phone warranty. You have to remove the hard disk, flash storage (which stores serial number) and the baseband chip. Change the baseband data, return it to original position and reboot with new settings.
Conclusion
To sum up, the best way to change carrier is the IMEI unlock since it is safe, legal and stress-free. Each method, however, has its perks and downsides. For instance, the physical hardware change can be used to unlock a lost Apple ID/ password. Before attempting iPhone carrier unlock by IMEI, software or hardware modification, it is important to backup your iPhone first. Tenorshare iCareFone is a great PC and Mac program that helps you quickly backup and restore data from your iOS device, or even restore the corrupted iOS system back to normal if it suffers unexpected crashes during IMEI unlocking.