Best Tips on Vodafone Unlock Phone You Should Know
by Jenefey Aaron Updated on 2023-01-05 / Update for SIM Unlock
Hey Team. I have recently bought a second-hand phone from eBay. The phone was working fine until I realized that I had accidentally bought a carrier-locked phone. Yes, my iPhone had a Vodafone lock on it and now I cannot use another SIM card on it. I cannot sell it to someone either. Help me get out of this weird lock? I don't want to use Vodafone either so please tell me the complete guide to unlock this Vodafone lock barrier. Thanks!"
Yes, you have guessed it right. A Vodafone lock would also lessen your phone's resale value, so we will tell you everything about how to get out of that lock first. Continue reading to find out all the details.
Part 1: How to Know If My Phone Locked to Vodafone?
There are many ways to tell if your phone is locked. Let's talk about the Vodafone lock first, then we will guide you how to check if the Vodafone lock is active or not. Vodafone Lock:
What is Vofone Lock?
A Vodafone lock, just like any other handset lock, refers to when a particular carrier only allows their SIM to be used on the purchased phone. You cannot use any other SIM card or carrier on a Vodafone-locked phone.

If you want a Vodafone unlock phone, you have to wait for the contract period to expire and then ask your carrier to unlock your phone. There are other restrictions too that we will discuss below.
How to check if Vodafone Lock is active?
If you want to check if the Vodafone lock is active or not, then you can perform a simple test. Remove the Vodafone SIM card from your phone and insert another SIM card from a different carrier. If the name of that new network appears on your phone then your phone has already gotten out of the Vodafone lock.
If it does not show anything, then the Vodafone lock is still intact, and you have to unlock it first.
Part 2: Can I Unlock My Vodafone for Free?
If you want the Vodafone unlock my phone feature for your phone for free, then you have to wait a little time.
The Vodafone customers provide monthly, and pay-as-you-go services to the providers, and they lock the phones in both.
Pay as you go customers can avail the phone unlock for free. But, if you want to be eligible for unlocking your phone for free, you have to use the number on the headset for thirty days. Vodafone would take about ten days to unlock the phone. If you are paying monthly customers, then you can also get your phone unlocked free of charge. 
To unlock your Vodafone handset, you have to call 191 from that locked Vodafone headset or 03333040191 from any other mobile.
Part 3: 2 Workable Ways for Vodafone Unlock Phone
Let's discuss the two best ways to unlock your Vodafone lock. 
Way 1: Get Vodafone Unlock Code (NUC)
The Vodafone Network Unlock Code or NUC is a code that allows your Vodafone locked phone to use other networks as well. Once you get this code, you can remove the existing SIM and try another one.
You have to request a NUC from Vodafone to unlock the phone. Without the code, you couldn't open the locked headset.
Follow these steps to unlock:
Contact Vodafone by going to their official website. Go to the unlock code request and check the boxes of the questionnaire that asks for your details.
Then you have to fill in the request form with your contact details, phone number, email, phone manufacturer, and the IMEI number to avail of the Vodafone SIM network unlock pin code.
Wait for Vodafone to contact you. You will receive a Vodafone NUC code within the next 48 hours. It might even take ten days to send the code, so be patient. After you receive the NUC, enter it and enjoy an unlocked phone.
Way 2: Vodafone SIM Unlock via Third-party Service
Let's talk about some Vodafone SIM unlock services.
1. iPhoneIMEI.net

iPhoneIMEI.net is a popular way to unlock iPhone. Vodafone locked iPhones like iPhone 12 and all previous models can be easily unlocked.
Go to their site and enter the unlocking form. Also, enter your IMEI number and click on Unlock Now. Enter your payment, and your iPhone will come out of the Vodafone lock soon.
Pros: Faster and hassle-free.
Cons: Charges money.
2. DoctorSIM Unlock Service

DoctorSIM unlock service is also a legitimate way to unlock Vodafone's locked phone. It ensures that you receive the NUC timely while remaining your security intact. First, you go to their site, choose your model, select Vodafone service and country, enter the IMEI code, and receive the unlock code.
Pros: Legal and superfast.
Cons: Unnecessary.
3. DirectUnlocks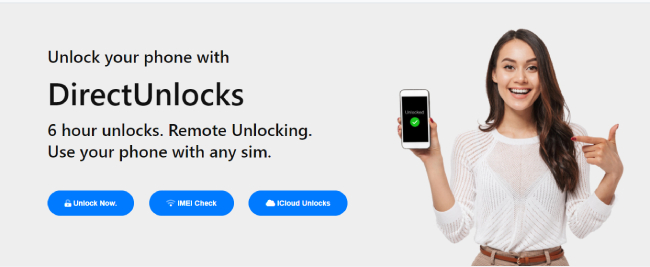 DirectUnlocks is an instant way to unlock your Vodafone phone from any carrier. Just go online, enter the details and pay the fee. Your phone will unlock soon.
Pros: Automatic detection and legal.
Cons: Pricey
Useful Tip: Best Way to Remove iCloud Activation Lock 2023
If your Vodafone-locked phone has an iCloud Activation lock turned on, it is impossible to unlock it. We can use Tenorshare 4MeKey to unlock the iCloud Activation Lock. This program is used by many users and has effective results as well. Within a few seconds, you can easily remove the iCloud activation lock. Also, it is compatible with all the old and latest devices, including Windows 11.
Launch the 4MeKey application on a PC, select "Remove iCloud Activation Lock," and agree to Jailbreak the device. Connect your iPhone too.

Connect your iPhone and start the Jailbreak. Please do not disconnect your device during the jailbreaking process.

Once the Jailbreak is complete, 4MeKey will ask to confirm the device's information.

iCloud Activation lock will start removing. The device will restart fresh when done.
Conclusion
The Vodafone SIM unlock procedure is not difficult. You have to wait for the NUC to come so you can unlock it. If your iPhone has an iCloud activation lock on, then use 4MeKey to remove it first. This application doesn't require any password that means you can easily unlock Apple ID without using any password. Plus, you can easily turn off Find My iPhone without wasting any time.