Is an iPhone Unlock Chip Really Helpful?
by Anna Sherry Updated on 2021-10-22 / Update for SIM Unlock
You purchase a supposedly "unlocked" iPhone from a shady online seller because it was at a discount. You excitedly open the box; the iPhone looks gorgeous. You rush to put your sim card in it and set it up as your new daily driver. However, to your surprise, you cannot connect to internet when you insert the sim card in.
You're confused and afraid at the same time. Have you been scammed? Is the phone not unlocked? That's a possibility you can't ignore.
You can't afford to get an unlock code for your iPhone right away, but you need to use your sim card nonetheless. How do you do it? By using an iPhone sim unlock chip. Interested to know what an unlock chip is and how it works? We've got you covered.
Part 1: What is an iPhone Unlock Chip?
An iPhone sim unlock chip does exactly what it sounds like, it unlocks iPhones. However, it's not that simple and there are some complications you should know about. A sim card unlock chip is a thin wrapping that's wrapped around an actual sim and then inserted into the iPhone. Simply put, an unlock chip modifies the working of the sim tray to support unsupported sim cards. However, bear in mind that an unlock chip is, by no means, a permanent solution — it's just a temporary "hack" to use your sim card while you wait for an actual unlock code.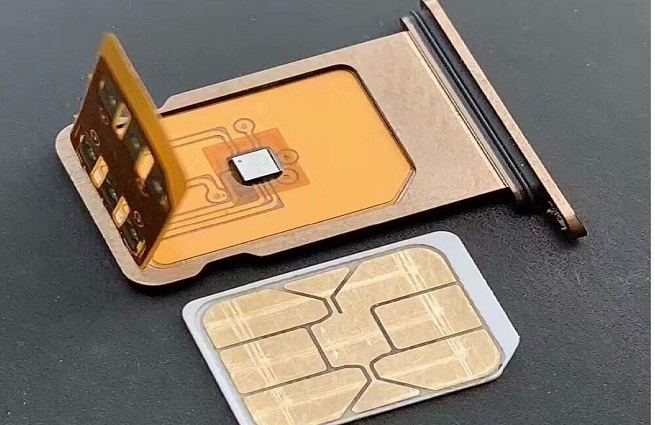 Even though you can use the unlock chip to use your sim card, there are some limitations.
For example, you have to enter the country code while saving new contacts to make successful phone calls. If you're in the US, you have to enter +1 at the beginning of the number, +44 for the UK. To find the exact country code for your area, a quick Google search will be enough.
Furthermore, iOS updates are a challenge as well. That doesn't mean you can't upgrade your iOS version if you're using an unlock chip, you can. But you probably won't, as the new iOS version may or may not support the unlock chip.
Last but not least, you won't be able to dial common USSD codes for various common features like checking your balance, subscribing to offers, and more. There are some alternatives as well. For instance, you can also use free unlock services that claim to unlock your locked iPhone for free — or you could use something called a "JV" sim card. But all these methods are shady and not recommended for long-term usage.
Part 2: Are iPhone Unlock Chips Illegal? Where can I Get One?
Yes, iPhone sim unlock chips or r-sim chip are illegal in the US and you should not use them. We never recommend opting for an unlock chip for long-term usage; only use one if you're in an emergency and can't access your sim card
Even though using an unlock chip is illegal, many sellers are selling them online. If you're in urgent need of unlock chip for iPhone 11/12/13, you can get it from eBay, Amazon or Slick2Buy. Furthermore, you could also order from stores like AliExpress and Alibaba — however, the delivery time for these services would be comparatively longer. However, many users are confused about sim unlock chip Walmart. You cannot get any sim card unlock chip in Walmart or other supermarkets.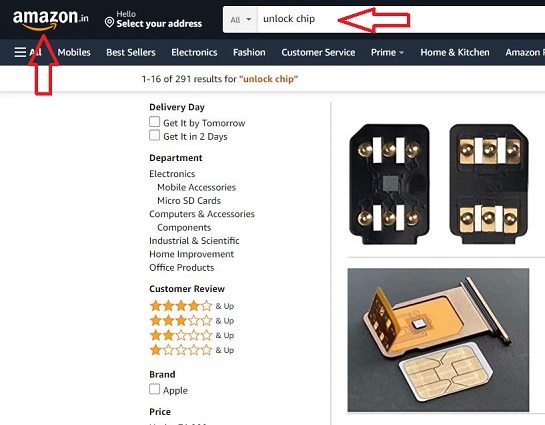 Part 3: How to Use an iPhone Unlock Chip
If you've got an iPhone unlock chip at hand and wondering how to use it now, don't worry, here's how you do it. The following method is used for a Slick2Buy unlock chip, but the method should be the same for most of the unlock chips. You can use the unlock chip for iPhone XR.
Follow the below-mentioned steps carefully.
Update your iPhone to the latest version of iOS 15. To do that, open your system settings, tap "General", then select "Software Update".
Remove your sim tray. Take your sim and put it inside the iPhone chip unlock chip. Make sure the chip wraps the sim correctly.
Put the chip inside your sim-tray, then insert it into your iPhone.
A popup will appear on your screen, select the option "iChip + Perfect Unlock".
When asked for an ICCD, type in the latest ICCD from Slick2Buy's official website.
Click "Send", then select "Accept". Your iPhone should now be unlocked and the sim ready to use.
Bonus Tip: Can I Use an iPhone Unlock Chip for Activation Unlock?
No, you can't use an iPhone sim unlock chip to bypass the activation lock on an iPhone. However, you can do that task using Tenorshare 4MeKey.
4MeKey is a professional tool built to remove activation locks without a password. Besides, 4MeKey can also turn off "Find my iPhone" and unlock your Apple ID without password. If you've forgot your Apple ID password, 4Mekey will help you to unlock it, and then you can set a new Apple ID. The same, you can use 4Mekey to remove your activation lock within several steps.
Here's how to do it.
Download and install Tenorshare 4MeKey on your computer by visiting the official. Then, launch 4MeKey. On its interface, click "Start to Remove".

Now you need to connect your iPhone to the computer using a digital cable. And 4MeKey will detect your iPhone. Then 4MeKey will download the jailbreak tool for you. You need to follow the instructions to jailbreak your device.

After the jailbreak process is completed, you need to confirm your device information and then click "Start" to move your activation lock.

After several minutes, the activation lock will be removed successfully. Then you'd be able to turn on your iPhone and set it up like it's a brand new device.
Conclusion
A Sim unlock chip for iPhone can be used as a temporary solution to bypass the carrier lock and use your sim anyway. However, you should be aware that these chips aren't a reliable long-term solution; you'd have to get an unlock code later on. By the way, if you have difficulties unlocking Apple ID or activation lock, try Tenorshare 4MeKey.