TOP 8 Ways to Fix Cellular Update Failed iOS 16/15
by Jenefey Aaron Updated on 2022-09-01 / Update for iOS 13
Apple is very regular in providing updates to its iOS devices. Every update brings new features and enhancements for the iOS devices. Whenever a new iOS update is available, you can update the device by going to the update section inside settings. Most of the times, the update process goes fine and the phone updates without any error, but in rare cases, if you are getting cellular update failed error message it might be the software or hardware issue on iPhone, follow the 8 best solutions below. Hopefully, you will be able to fix cellular update error.
Part 1: What Does Cellular Update Failed Mean on iPhone 7/8/X/11/12/13/14
Cellular Update failed is a situation of getting iPhone cellular data update failed notification after updating your iPhone's iOS version. In iPhone, "No service" is seen instead of the signals of the cellular network. It disables the iPhone to use cellular services such as making and receiving calls, text messages and even using mobile data is also not possible.
Part 2: How to Fix Cellular Update Failed on iPhone
In this guide, we will present 8 different fixes for Cellular Update problem for iPhone running on iOS 15/16. For the first method, Tenorshare ReiBoot will be used to fix cellular update problem. Rest of the methods are pretty simple and any of the method can work for you, so, follow all the guide in sequence.
Way 1.The Most Effective Way to Fix iPhone Cellular Update Failed
Tenorshare ReiBoot is a pretty easy to use and effective software to repair iPhone and iPad issues related to software. Follow the steps below to repair iPhone cellular data update failed issue using this tool. Download this software from the button below for Windows or Mac.
After downloading the software, open the downloaded file and follow the on-screen instructions to install it in your PC. After successful installation, open it and go through the steps below.
Connect your iPhone to the computer, and then click on Start.

Click on button saying "Standard Repair".

Select the path where you want to download iOS latest firmware. Wait for the downloading process as it may take some time depending on the speed of your internet.

After downloading or selecting Firmware file, Click on "Start Standard Repair".
Wait for the repair process to complete and click on "Done". To ensure that the cellular failure is repaired or not make sure the cellular signals appears and Cellular Update Failed Message does not appear.
Way 2. Turn Off and On Airplane Mode Off If You See A Cellular Update Failed
Below are the simple steps to fix iPhone cellular update failed by toggling the Airplane mode on and off.
Step 1. Go to settings app. You can find it from the hope screen apps. It looks like gear icon.
Step 2. Turn on the switch in front of "Airplane Mode" menu. You will see Aeroplan icon at the signal bar place indicating that all the wireless connections are disabled.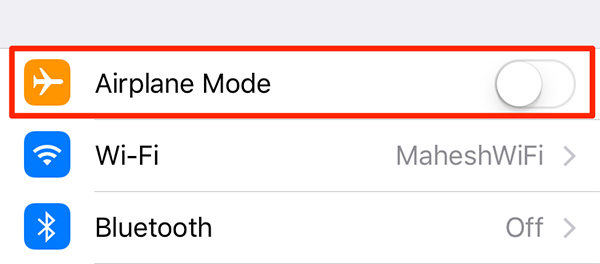 You can also turn on Airplane Mode directly from the Control center.
Swipe up from the home Screen or Lock Screen.
Force restart your iPhone or iPad/iPod touch.
Here you can easily enable and then disable the Airplane mode on iPhone.
Cellular update fail iPhone can be fixed by enabling and disabling Airplane mode. This will disconnect all the wireless services and reconnect them.
Now, check that if the "No service" has gone and signal dots appear, if yes, then you can now use cellular network.
Way 3. Restart iPhone to Fix Cellular Data Update Failed
Sometimes restarting iPhone resolves cellular network issues.
To restart iPhone 8/7, keep on pressing the power button until you see power off slider on the screen. Drag the slider and wait for 30 seconds. Now, again press the power button until you see Apple logo.
To restart iPhone X/11/12/13/14, press volume button (up or down) and power button at the same time and keep them pressed until you see power off slider on the screen. Drag the slider and wait for 30 seconds. Then again press the power button until you see Apple logo.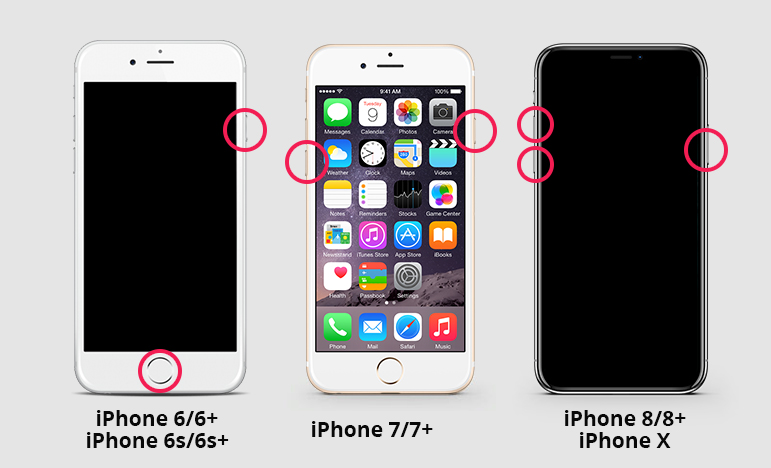 After restarting iPhone if you don't see cellular update failed error message again, and network signals appears, it means, this fix for iPhone cellular update failed has worked.
Way 4. Check & Install Cellular Carrier Updates
Cellular carrier updates are not released as frequent as the iOS updates, but these updates are released by Apple or the carrier and enhance the cellular connection of your iPhone.
Open Settings.
Go to "General" from the settings.
Go to "About". If Carrier updates are available a pop-up will appear within 10 seconds. Tap on "Update".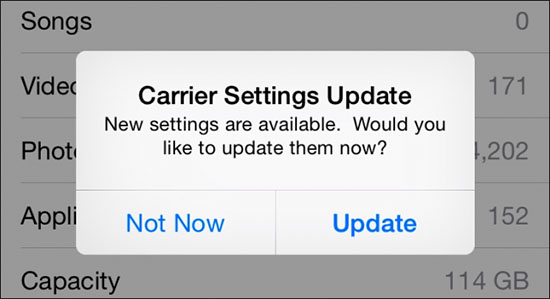 Carrier update can remove cellular update failed error message. Check your cellular connection to verify it.
Way 5. Update to The Latest iOS 15/16
Apple latest iOS 15/16 is ready to download and install on iPhone and iPad devices. This section will fix iPhone cellular update failed problem. Follow the steps below to update iPhone and get rid of cellular update fail error message.
Open settings app from the home screen.
Go to General.
Go to Software Update.
If the new software is available, tap on Install to update to the latest iOS version.
After completing Update process, check if the cellular network is working or not. If no cellular update failed message appears and cellular network signals appears on top, this means updating resolved cellular update fail iPhone problem.
Way 6. Remove and Reinsert The SIM Card When Cellular Update Failed No Service
If the above methods do not work, try to remove and reinsert the sim card. For this, eject the sim tray using a pin and again push back it into the iPhone. Wait for 10-20 seconds and make sure cellular Update failed iPhone message does not pop-ups again.
Way 7. Reset Your iPhone's Network Settings
Reset iPhone's network settings to fix cellular data update failed issue. To reset network settings, follow the steps below.
Open settings.
Go to "General".
Scroll down and go to "Reset".
Tap on "Reset Network Settings".
Wait for iPhone to reload the screen and make sure the cellular update failed message does not appears again.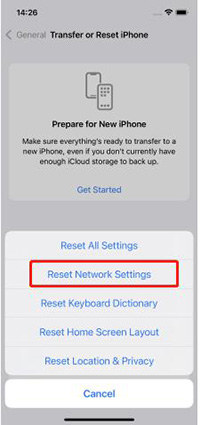 Way 8. Contact Apple Or Your Wireless Carrier
Instead of applying unknown hardware and software fixes, it is a better practice to seek help from officials. For the Cellular Update Failed error, both Apple care centers and your Carrier can help you. Call on your Carrier's helpline number and describe them the issue. On the other hand, if you want Apple to help you, visit to their care center and they will surely fix cellular update issue.
Conclusion
Cellular Update Failure is not totally an software issue, some iPhone users reported that Apple care centers stated that it is an hardware issue. that cause cellular network disability in iPhone but the Wireless network works fine. The methods described in this guide are the software fixes, and they might help you to get rid of the cellular error. For the hardware issues try to get it repaired from the Apple care centers instead of local repairing shops.