How to Fix iCloud Error Code 2343 When Uninstalling or Upgrading iCloud
by Jenefey Aaron Updated on 2020-03-16 / Update for iCloud Tips
One of the secrets of Apple's success that everyone is trying to copy is its ability to create an environment where all of its products co-exist naturally and complement one another. For example, you can work on a document on your Mac at home and flawlessly continues from where you left off on your iPad on the road. Or how your iPhone experience can be complete if you have an Apple Watch. This environment invokes users desires to acquire more Apple products.
But how do everything connects? All thanks to the cloud hub better know as iCloud. It's more than just a tiny space of remote storage that you can access from multiple devices. iCloud save, connects, and sync your data and preferences.
If one can argue, iCloud might be the most important product from Apple in the term of building and maintaining the Apple environment. So you can imagine the trouble if this hub in the cloud is broken. And one of the most common error that iCloud users come across is 2343.
The common message they receive is:
"The installer has encountered an unexpected error installing this package. This may indicate a problem with this package. The error code is 2343."
What is iCloud Error Code 2343 and how do you fix it?
The Cause of iCloud Error Code 2343?
The one that we know as "iCloud Error code 2343" happens under Windows operating system. It usually appears when you attempt to remove, uninstall, install, or upgrade iCloud on the computer. Users reported that the error causes iCloud to stuck and can't be removed or upgraded.
One of the causes of error is the incompatibility of Microsoft Office 2016 on the computer and can be solved by uninstalling Office 2016 and installing the older version of it.
If you are using the newer version of Office, you won't be likely to encounter the problem, as it would have been fixed. But many Windows users are still stuck in the past - I even know some who are still using XP and happy about it. If you are one of those who still encounters iCloud Error 2343, read on.
Steps to Fix the iCloud Error Code 2343?
Now let's get our hands dirty. To fix the error, follow these steps.
1. Open Control Panel by right-clicking the Windows icon and then choose Control Panel.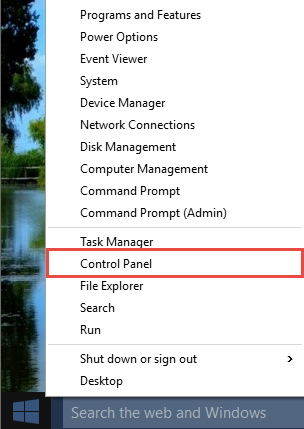 2. Click on Programs.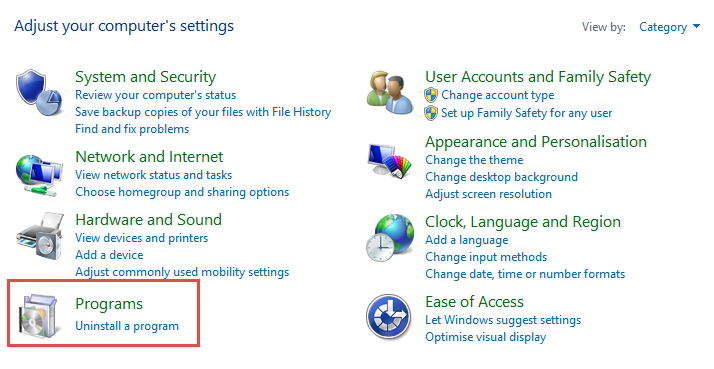 3. Then under Program and Features click on Uninstall a Program.
4. Find Microsoft Office 2016 or Microsoft Office 365, then right-click it and choose Uninstall.
5. Wait for the uninstallation process to complete, then reboot your computer.
6. After Windows has rebooted once again go to Control Panel > Programs > Program and Features > Uninstall a Program and then uninstall iCloud from your computer. If you wanted to install or upgrade iCloud, then try to install iCloud again.
From this point on, the problem is resolved, and you should no longer receive the error message anymore. And if you encounter some errors on iOS device caused by iOS-related files corrupted, you can use a professional iOS repair tool like Tenorshare ReiBoot to help you repair operating system and start over.