[Solved] How to Fix iTunes Error 9006 on Windows/Mac
by Jenefey Aaron Updated on 2020-09-19 / Update for iTunes Tips
When downloading the update for my iPad in recovery mode, after thirty minutes of download, it tells me stopped (err = 9006). "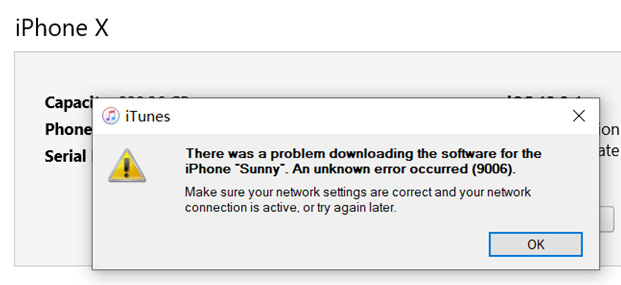 At times, some users complain that they also meet with this "there was a problem downloading the software for the iPhone 9006". What should be the reasons and how to fix iTunes error code 9006 While updating/restoring iPhone or iPad? Here we list some possible answers.
Part 1: What is Apple Error 9006 on iTunes
Error 9006, which appear in the recovery or updata process, is caused by the failure of IPSW file download. When using iTunes restore iOS device, it requires downloading the corresponding IPSW file version. Usually this error error 9006 doesn't mean hardware damage or problemetic softwares. Let's find out how to fix error code 9006 iTunes.
Part 2: The Easiest & Quickest Way to Fix Unknown Error 9006
So are you wondering is there a simple way to solve the headache? If you're flooed with numerous guides and fixes online, and still don't have a clue about it. Then you can try to use Tenorshare TunesCare to get the problem resolved. This tool is especially designed to repair iPhone update error 9006. It doesn't take you long time to repair, just some clicks on the computer screen.
Launch the program and click "Fix All iTunes Issues" on the main interface.

Pic 1. Start to use Tunescare

Tenorshare TunesCare will automatically detect the performance of your iTunes.

Pic 2.Tunescare detects iTunes problem

Then Tenorshare TunesCare starts to repair iTunes 9006 error Windows 10/Mac

Pic 3.Tunescare is repairing iTunes problem

Now you can the iTunes 9006 error is perfectly fixed.

Pic 4.Tunescare successfully repairs iTunes 9006 error Windows 10/macOS
Now you can connect your iPhone to iTunes and check if the problem is fixed.
Part 3: iTunes Error 9006 Fix with Basic Ways
Apart from the first method, you can also try out some other ways to solve this issue.
Resart your iPhone and Computer
This is the most common way and we couldn't make sure it will work 100%. Here is a detailed guide on how to reboot iPhone, if you're a new iPhone user. If you're a macOS user, just navigate to the Apple icon on the home screen and choose Restart. Then your computer will reboot normally.
Change A Different USB Cable and Port
If you find it doesn't work via of rebooting, you can try to reconnect your iPhone or connect with another official-brand cable. Or you can change a port to connect and see if there is something wrong with that kind of thing.If you still can't fix, please move on to the next one.
Check Network Connection
Sometimes the network connection is timeout. First you can choose to reconnect to the network then restart your Windows/Mac again, and reopen iTunes on your computer. This maybe work if you try.
Keep Your iTunes Updated to the latest Version
For macOS: Launch iTunes on your computer and then choose iTunes > Check for Updates.
For Windows: Open iTunes on your computer and then select Help > Check for Updates.
After you have installed the newest iTunes on computer, please reconnect your iPhone to iTunes again to check if the problem is fixed. If not, please continue to read the last method below.
Disable Firewall and Anti-virus Software
Lastly, it's possible that various firewall and anti-virus software may block your connections to Apple's servers. How do you fix error 9006 on iunes? You can check whether those applications have disabled the connection. If they do, please disable them and attempt the iPhoe update or restore again.
Repair iOS System with Tenorshare Reiboot
What if you still cannot fix the iPhone error 9006? Sometimes, it's probably brought in with iOS bugs and you can try to use Tenorshare ReiBoot to repair iOS system without any professionl tech. ReiBoot targets to fix vavirous iOS problems apart from the error 9006, such as black screen, stuck on apple, and more.
Downloadd ReiBoot and start to run, then choose "Fix Repair Operating System".

Image 1. Launch ReiBoot to the process of iOS system repair

Click "Fix Now" and wait for the ReiBoot to download firmware package.

Image 2. ReiBoot is downloading firmware package

After the firmware package is downloaded successfully, your iPhone starts to be repaired.

Image 3. Repairing process is undergoing

Image 4. The last step comes to successful iOS repair
Now you can connect your iPhone to iTunes and check if there is "iTunes 9006 error Windows 10/macOS".
Final Words to Say
We introude 7 ways to help you fix the "there was a problem downloading the software for the iphone 9006" on iTunes when you update or restore iPhone. You can try one by one, but the most effective way is to use a third-party tool Tenorshare TunesCare to quickly fix the issue. If you also have the iTunes sync problems, that works at the same time.
FAQs about iTunes Error
1. What is iTunes error code?
According to Apple's official claims, there are probably various kinds of error codes when you connect the iOS devices to iTunes: 4005, 4013, 4014, 4037, 3002, 3004, 3013, 3014, 3015, 3194, 3200 and a lot more. They are usually caused when you update or restore iPhone using iTunes and could be fixed properly.
2. What to do when iTunes says un unknown error has occurred?
There're so many ways for you to figure it out.
Firstly, you can check the connection. Change another USB cable or port.
Secondly, restart your iPhone or iPad and computer to hava a try.
Thirdly, check out whether you have the newest iTunes on your computer. If not, please update it.
Fourth, disable those firewall and anti-virus softwares.
Fifth, if you still can't fix the issue, you can take advantage of third-party tool to help you out.
Lastly, if all methods above can't help you with the error, please turn to professional center to see if hardware problem.