Top 4 Ways to Fix iTunes Error 21 and All iTunes Problems
by Jenefey Aaron Updated on 2019-11-30 / Update for iTunes Tips
A number of iPhone/iPad users complained about iTunes error 21 from time to time when they are trying to restore or update their device in iTunes. If you've encountered error 21 in iTunes and are looking for a way to fix it. In this article, we will show 4 methods that are most likely going to work and fix iTunes error 21 or iPhone error 21 when restoring or updating your iPhone/iPad in iOS 12/11/10/9/8.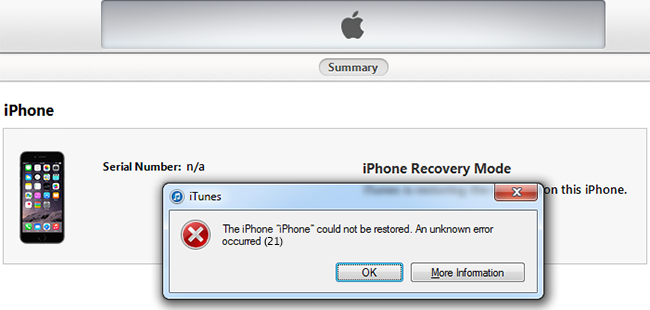 Common Causes of iTunes Error 21 or iPhone Error 21
Connectivity failure between your device and the servers.
Corrupt download or incomplete installation of iTunes software.
Corruption in Windows registry from a recent iTunes-related software change (install or uninstall).
Virus or malware infection that has corrupted Windows system files or iTunes-related program files.
Another program maliciously or mistakenly deleted iTunes-related files.
Hardware error.
Runtime Errors such as "Error 21" can be caused by a variety of factors, so it is important that you troubleshoot each of the possible causes to prevent it from recurring.
How to Fix iTunes Error 21 When Restoring or Updating iPhone, iPad and iPod
There are several things you can try on fixing itunes error 21. Below will show you 4 out of the most effective ways. Now let's take a look.
Method 1: Use Free Tenorshare TunesCare--Only 3 Steps
Most of time the problem occurred due to the problem with iTunes. Hence, we suggest you to get your iTunes error fixed first with the help of Tenorshare TunesCare, which is an all-in-one iTunes repair tool to fix all iTunes syncing problems and iTunes errors for free.
Step 1: First of all, download Tenorshare TunesCare and click "Fix All iTunes Issues" to fix your iTunes on computer.
Step 2: If your iPhone performs abnormally, then just click "Repair iTunes" to start downloading iTunes drives for repairing.
Step 3: After downloading the repairing drives for iTunes, Tenorshare TunesCare will automatically start to repair your iTunes.
Step 4: After repairing, Tenorshare TunesCare will prompt you that iTunes is repaired successfully and your iTunes will automatically restart.
Method 2: Disable/Remove Security Software
In some cases, your security software such as antivirus may cause the issue with your computer's connection with iTunes. To fix the issue, you'd better disable any security and antivirus softwares temporarily or remove them. As for those cannot be uninstalled completely security programs, you will need a cleanup software to help you remove them thoroughly. It's also a good idea to temporarily disable Firewall to see if it fixes the issue.
Method 3: Check Hosts File
Your host file might be preventing iTunes from contacting Apple's update server. In such a case, make sure that it is not blocking the communication. This can be done by removing the 'gs.apple.com' line in the hosts file. Go to Microsoft support site to see how you can check the host file on Windows or if you're on Mac, follow the steps below:
Step 1: Launch Applications and go to Utilities folder
Step 2: Open Terminal
Step 3: Type in the command: sudo nano /private/etc/hosts
Step 4: If it asks for a password, type in the password you use to sign into your Mac and then press the Return key
Step 5: Terminal will now display the hosts file as shown below. Scroll through the file and see if you can find an entry containing "gs.apple.com". If you don't find this then the host file isn't creating any issues. Otherwise if you find this entry, then remove the entire line that contains "gs.apple.com".
Method 4: Fix iPhone Error 21 with Tenorshare ReiBoot--Ultimate Tool
Sometimes you receive the error 21 in iTunes because there is system glitch with your device. If it is the case, you'll need to repair iOS system to fix the error. Tenorshare ReiBoot is recommended to recover iPhone system and restore iPhone without iTunes. This powerful tool supports to various 50+ iOS system problems without data loss, such as iPhone stuck on DFU mode, recovery mode, black screen, apple logo, etc.
Step 1: When iTunes pops up error 21 during iPhone update, and iPhone gets stuck on recovery mode (iTune logo and usb cable on iPhone screen), or white screen with black apple logo, please rurn Tenorshare ReiBoot, and choose Repair Operating System (Fix All iOS Stuck) feature.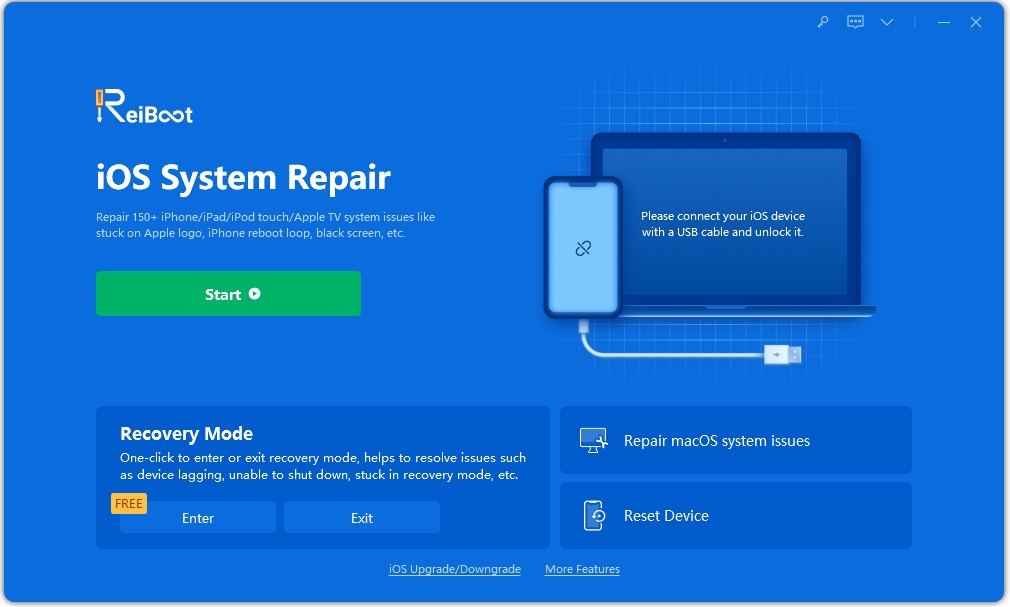 Step 2. Click Start Repair to continue.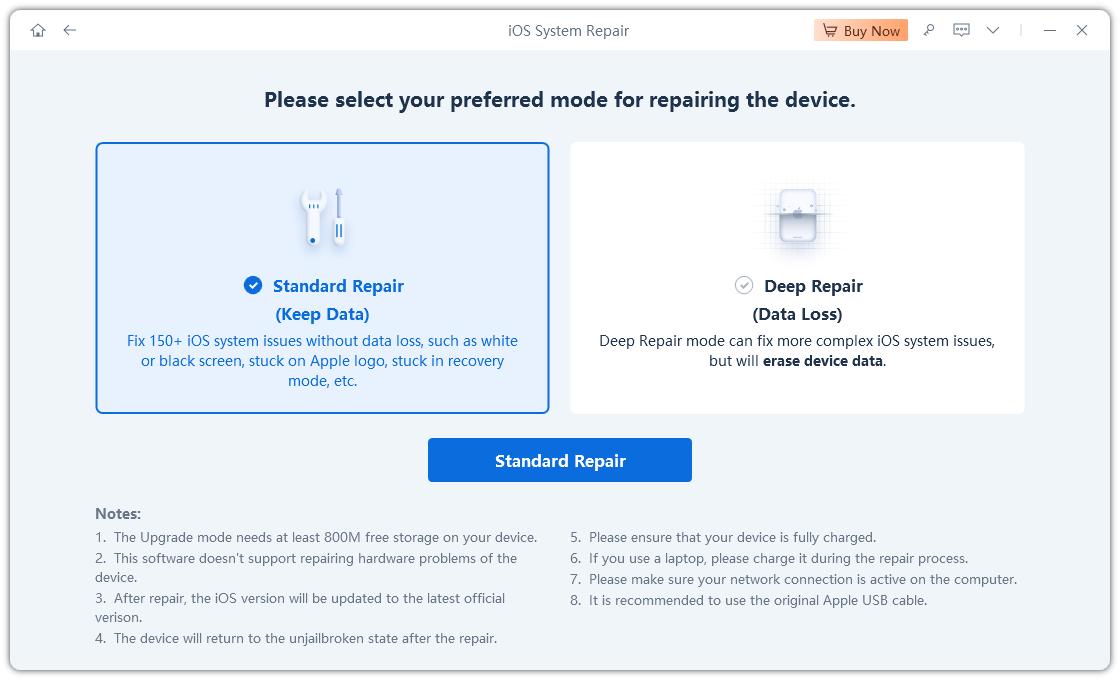 Step 3. And then, you need to download the latest firmware package to update or restore your iPhone/iPad using Tenorshare ReiBoot.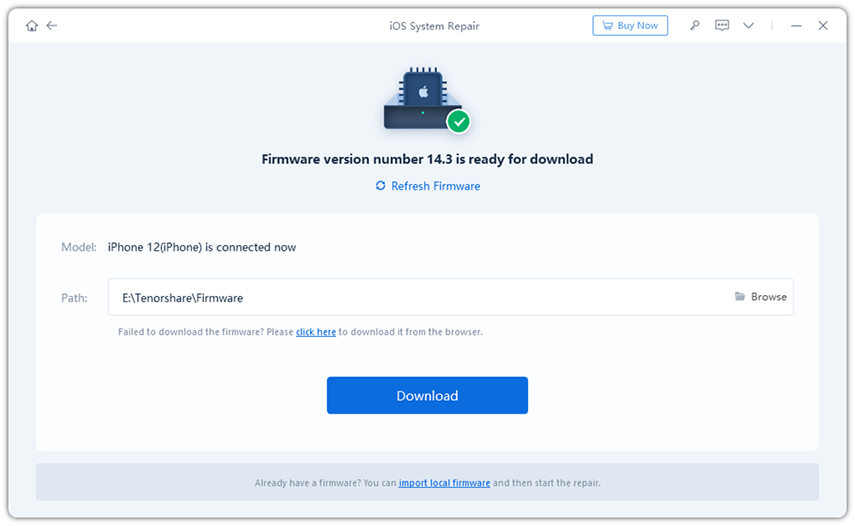 Step 4: After system recovery, your iOS device will be updated to latest iOS version. You can enjoy it without any stuck or error.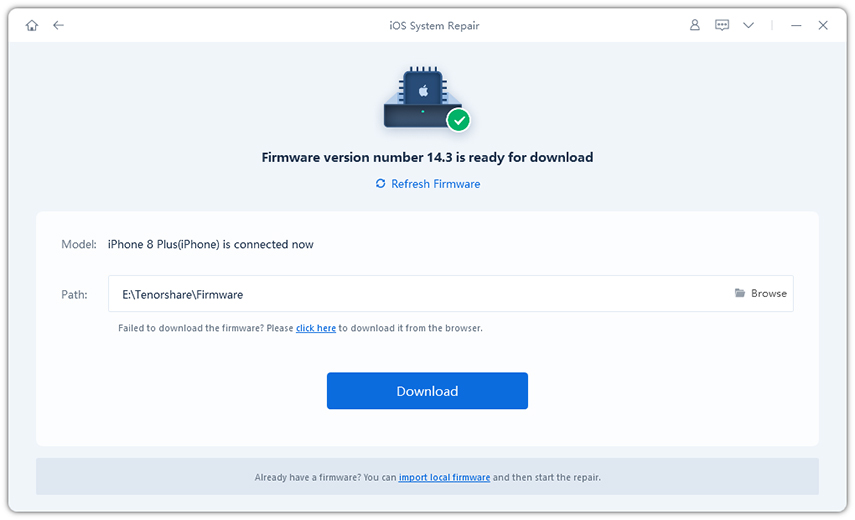 Within the simple 4 steps, your iOS device can be fixed to normal.
With these four major methods, you can correct iTunes error code 21 on your own. We can easily know that the method 1 is the best to solve iTunes Error 21 for it's both feature of free and easy. Tenorsahre TunesCare never lets you down.