Top 7 Ways to Fix iTunes Sync Error 54
by Jenefey Aaron Updated on 2019-07-25 / Update for Fix iTunes
"I use iCloud for back up on my iPhone 7 Plus. Every time I attempt to connect to my computer I get the message, 'The iPhone can not be synced. An unknown error occurred (-54)'. Anyone else seen this error message and if so, how do I fix it?"
It is no wonder that there are endless possibilities when iTunes can toss up just another unknown error on your screen. You may have no clue about why the error has tossed up or what may have went wrong! Just recently we have got several queries regarding the 'iTunes update/sync error 54' or 'iTunes error 54'. So here we are, we have tailored this post to help you to get the iTunes error 54 fixed with the help of the 4 solutions offer below. But before we get on the solutions, let's understand what the error is about and why has it captured your iTunes screen.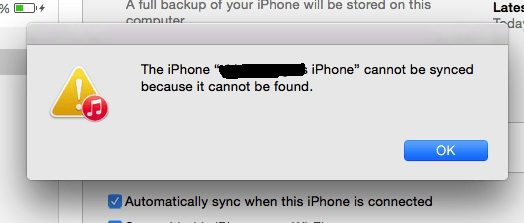 What is iTunes Sync Error (-54)?
Whenever you get to encounter iTunes Sync error 54, "The iPhone "iPhone" cannot be synced. An unknown error occurred (-54)" is the message that you get on your iTunes screen. Well, basically the prompt of error 54 on iTunes occurs when you either try to sync/transfer a locked file (be it on your iPhone or computer) or when you try to modify the data without having the apt permissions. Here are other reasons that may trigger the iPhone cannot be synced error 54 issue:
The iOS firmware on your iPhone may have not been updated in an appropriate way or it could be that the update was already corrupted.
Similar to the above point, iTunes may have been installed/updated in an inappropriate way or possibly the update was corrupted already in the first place.
Your iTunes version plays a big role in eliminating several iTunes errors. So, it is recommended to have latest iTunes version installed. If your iTunes version is obsolete, then you are most likely to face iTunes errors including the error 54
It could also occur if a malicious or virus attack may have damaged some files of your systems.
How to Fix iTunes Error Code 54 in Windows 10/8/7
Okay, so now we've got enough information about what exactly iTunes unknown error 54 is and why it locks you down from syncing or updating or transferring data to and from your iPhone and computer. It's now time to learn about the solutions to get it fixed. Let's explore them.
Solution1: Free Way to Repair iTunes Error 54
Well, the easiest and the fastest way to fix your iTunes Error 54 or any other iTunes sync/update/backup/restore issues is via the most reliable to ol, i.e. Tenorshare TunesCare. With this mighty tool you can fix all your iTunes errors and that too with just a matter of a single click. Tenorshare TunesCare not only fixes all of iTunes errors but also enables you to optimize the performance of your iTunes so as to boost the speed of executing the tasks. Moreover, this tool works smoothly on both Windows and Mac computers. Furthermore, you can resolve iTunes syncing issues using TunesCare without spending a single penny. Amazing, isn't it?
One-click to Fix All iTunes Issues
Step1: Download Tenorshare TunesCare and click "Fix All iTunes Issues" to fix your iTunes on computer.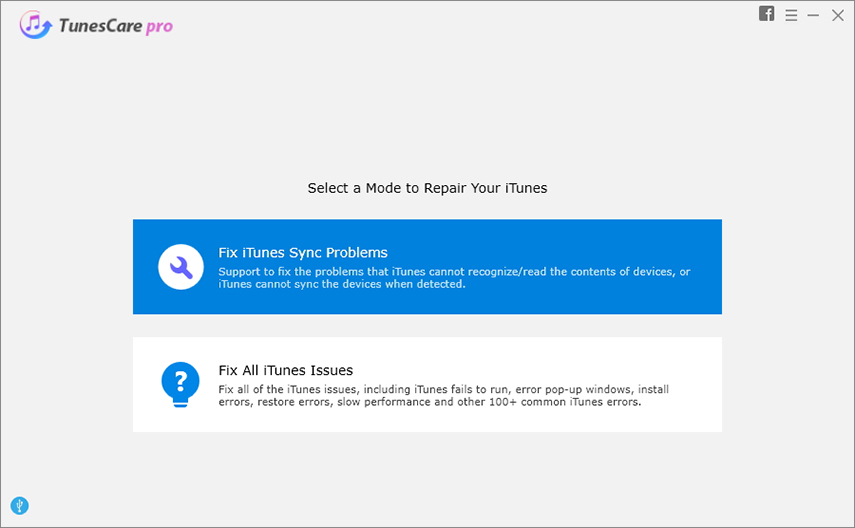 Step2: Click "Repair iTunes" to start downloading iTunes drives for repairing.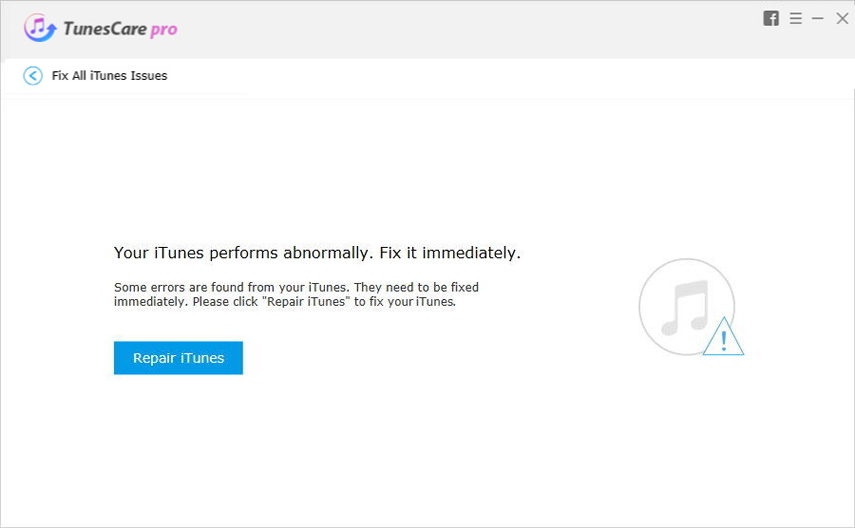 Step 3: Repair iTunes Drives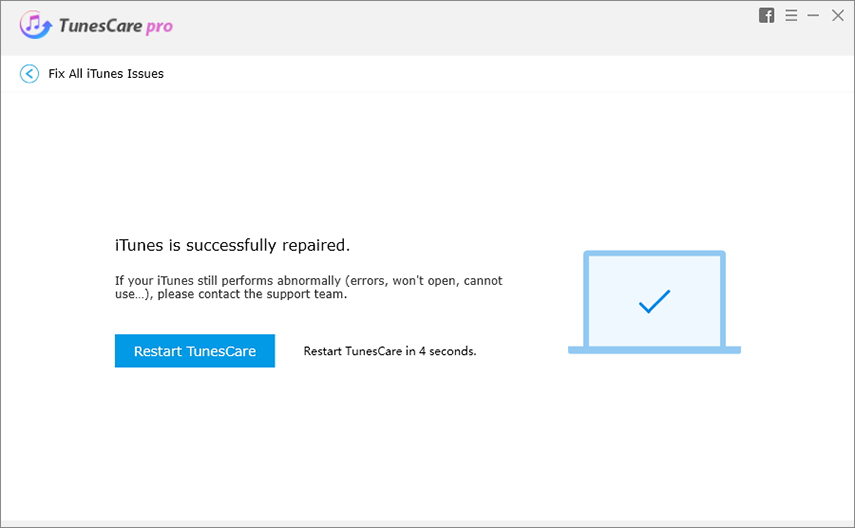 Solution 2: Restart Computer and Device
The second solution that can help you to resolve this issue is to simply just reboot your iOS device and your Computer as well. For this you need to turn off your computer and your iOS device, wait for about 5-10 seconds and then turn back your computer. This solution astonishingly works for various issues. See if it works for you or not. If not, head to the next solution then.
Solution 3: Consolidate the media files in your iTunes library
iPhone sync error 54 may occuers when the media files in your iTunes library might be stored in several locations. Open iTunes on your Windows or Mac, go to "File" > "Library" > "Consolidate Files" > click "OK". After that, copies of any files that were outside of your iTunes Media folder are added to your iTunes Media folder.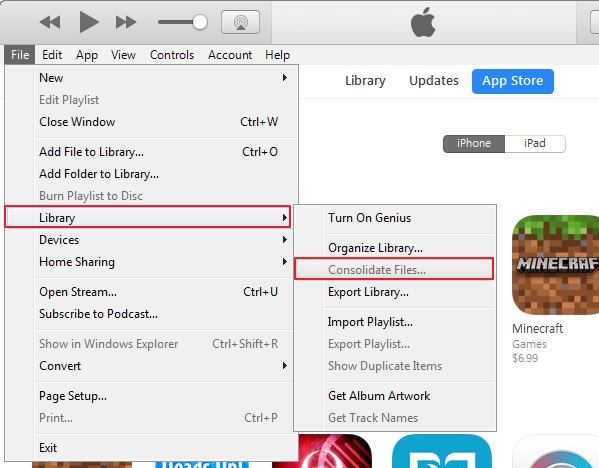 Solution 4: Remove PDF Files Before Syncing with iTunes
iTunes sync error 54 may occuersmight also happen when you try to sync with Apple Books, but the iTunes can't read the PDF. You can use the Share option in the Books app on your device to email the PDF to yourself and remove the PDF file from your device.
Solution 5: Update iTunes and iOS
An outdated version of iTunes is the generally the root cause of several iTunes errors that you may get to encounter while managing or syncing your iOS device, updating it or restoring it. Try updating both your iOS version of your iPhone and the iTunes version to the latest one. Here are the steps to do it.
Updating iTunes:
Launch iTunes on your Windows computer, then click on the Help button on the menu bar at the top and lastly hit on the 'Check of Updates' option. Now, if the update is available, you'll get a prompt on your screen. Follow the prompts to get your iTunes updated.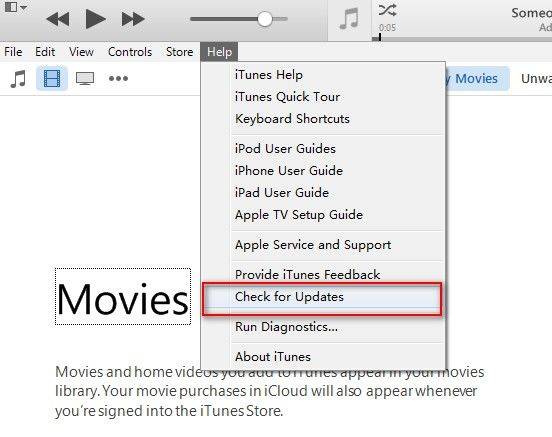 Updating iPhone:
Get into the 'Settings' section of your iPhone, tap on the 'General' tab and then select 'Software Update'. If an update for your iPhone is available, hit on 'Download and install' button.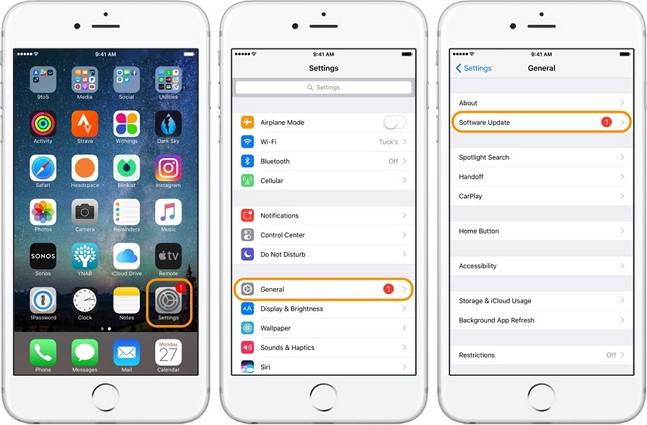 Solution 6: Un-check the "Read-only" Option
It could be a case that iTunes folder may have been set to 'Read Only' privileges and therefore, isn't allowing to modify or transfer contents to and from the iPhone that you have plugged in to the computer. To get this fixed, you need to follow the below mentioned steps carefully.
Hit on 'Windows' button along with letter 'E' to launch Windows Explorer. Now, navigate to the iTunes folder and right click on it, then hit on 'Properties' option.
Next, you need to look under 'Attributes' section and uncheck the 'Read Only' privilege and hit on 'Apply'.
Solution 7. Take Full Control of the iTunes Folder
If the iTunes error 54 still persists, verify that you have full control over the iTunes folder.
Step 1. Right click iTunes folder and choose Properties.
Step 2. Under Security tab, click Edit button.
Step 3. Tick the box of Full control and hit Apply.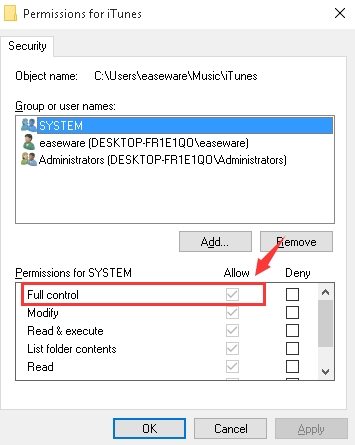 Final Comments
We hope that your issue of iTunes update/sync error 54 may have now been resolved by now using the aforementioned 7 solutions. Also, by going through the comparison table, we came to the final verdict that the recommend way to fix up all your iTunes issues is via Tenorshare TunesCare. This is an ideal tool to get all your annoying iTunes error issues fixed and that too, in just a matter of a single click. We're glad to offer you the solutions that you were looking for. If you have any queries, you can share that with us in the comments section below.