Android 12 vs iOS 15: Which One is Outstanding?
by Jenefey Aaron Updated on 2021-11-19 / Update for iPhone Tips
Hello there. What is the fuss about Android 12 vs. iOS 15? I'm an Android user, and I have been using Samsung S20, a great phone. My friend told me that the new iOS 15 released on iPhone and iPad is the next-generation OS, far superior to any Android OS version.
Now, I'm confused as I'm about to buy a new phone. Should I go for the S21 Ultra as it has the Android 12 inside, or should I buy myself an iPhone 13, which comes with the latest iOS 15?"
Well, both the iOS 15 and Android 12 are bangers, according to the reviews. Let's tell you everything about these OS' down below.
Part 1: Android 12 vs. iOS 15: What's the Different Update?
1. What's New about Android 12
The latest Android 12 OS was officially presented to the audience in May 2021. Google Pixel smartphones are the first ones coming with a built-in Android 12 OS. The new Android 12 is packed with exciting features and security patches missing in the previous version.
2. What's New about iOS 15
Apple announced the new iOS 15 in their annual summit and released it in late September this year. The new iOS 15 and iPhone 13 complemented one another with their latest design and new features. Let's see what's new.
Part 2: Android 12 vs. iOS 15: Which is Better from Your Perspective?
Let's talk about some crazy new iOS 15 and Android 12 features that the users cannot get enough of. Put it simply, there are 5 different things about them.
Comparison No 1: Privacy
Android 12 and iOS 15 go neck-to-neck when it comes to privacy. The reason is that Google has worked hard on its privacy amidst the scandals about its confidentiality. Google introduced its Privacy dashboard with Android 12 that lets you perform a privacy check whenever you want, helps you reset your privacy preferences, and enables you to control your app permissions from the dashboard.
Meanwhile, iOS 15 has gone too far this time with its privacy controls. For the first time, the users can hide their email ID while signing up for different apps. They can also control their apps, limit the number of emails they receive, and remove annoying trackers from their emails. Furthermore, iOS 15 is also coming with security features like Private Relay and Privacy Report that will contribute further. So iOS 15 takes the lead here.
Comparison No 2: Inclusiveness
iOS 15 and Android 12 are pretty different from each other. If we talk about Android 12, it helps make third-party apps more accessible to the public while iOS 15 tightens its noose around them.
This method has helped Apple and iOS 15 achieve better security and privacy; however, it doesn't leave many options to the OS. In terms of inclusiveness, Android 12 hosts more apps making the OS more diversified than Apple. Android 12 wins here.
Comparison No 3: Gaming
Android 12 is all set to introduce its "Play As You Download" feature that would allow gamers to start playing games while the assets download in the background. Moreover, Android 12 has more game support than iOS 15 due to third-party app issues. Additionally, the Android 12 OS also comes with quick toggles inside the game dashboard for fun screenshots.
iOS 15 has introduced a dedicated Focus Mode for the games, a Game Center for multi-players, and some new games. The arcade mode will also let you play the same game on Mac and iPad as a multiplayer game. Despite all of this, there is no console-quality game inside despite the powerful processor. So, Android 12 retakes the lead.
Comparison No 4: Updates
Android 12 has only been introduced as the default version in the new Pixel 6 phones. Other Android versions still have to wait for the Android 12 update, which their companies will provide. Androids are far behind in terms of updates.
Apple, meanwhile, updates its iOS every year now. It is consistent, and the newer iOS 15 launch will automatically go to all the iPhone models, where the users can update whenever they like. So iOS 15 is the leading party here.
Comparison No 5: Voice Assistants
We all know that Siri has been inside the iPhone for many years, but Google Assistant has also come with huge advancements. It has become more versatile, intuitive and works perfectly well with smart home devices.
Siri, on the other hand, has some privacy-related updates. It also works well in offline mode but often misses out on even the basic commands. So, this time we will give the crown to Android 12 and Google Assistant.
Part 3: Should I Update to Android 12 or iOS 15?
iOS 15 is impressive, but it hasn't introduced any groundbreaking differences that the Android 12 has. You will find more diversity in Android 12 in terms of apps, display, performance, privacy, and much more, so it is time you should go for it. If your iOS 15 has any issues, then you can use Tenorshare Reiboot to fix them.
Extra Tip: Is There a Faster Way to Move from Android to iOS?
But then again, if you want to upgrade from an old Android phont to iPhone, you might wonder how to do this. Now, we'll introduce how to accomplish easily and quickly.
Way 1: Using Move to iOS to transfer from Android to iPhone
If you want to move apps, use "Move to iOS'' to transfer quickly and officially. Here are the steps that you can follow for this feature.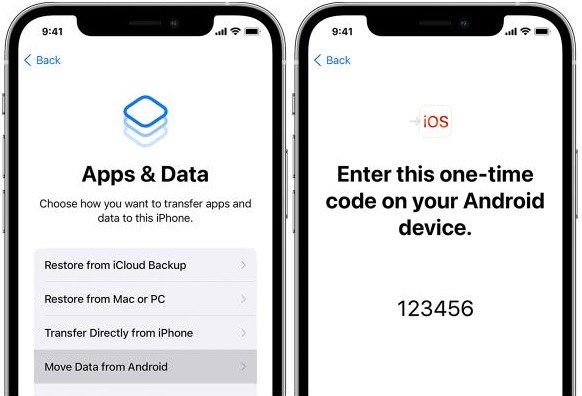 First, you have to set up your iPhone and iPad device. Wait for a while until you get the "App & Data" option.
Now, click "Move Data from Android."
Open your Android device, look for the Google Play Store, and search the "Move to iOS" application.
Install this application and run the application.
After that, click the "Continue" option on both devices.
On your Android device, you will be asked to enter a 12 digit passcode. So, check the code from the iPhone and enter it. Finally, the connection is made, and now, you can easily transfer the data.
We have also mentioned another way that is moving the data using a third-party application. For more information, check the steps below.
Way 2: Transfer WhatsApp from Android to iPhone using iCareFone for WhatsApp
Use iCareFone Transfer(iCareFone for WhatsApp Transfer) to transfer WhatsApp texts to iPhone. This application is perfect when it comes to transferring WhatsApp From Android to iPhone. Let's discuss the steps that you can try to transfer data using iCareFone.
Install iCareFone and connect both Android/iPhone. Confirm the pop-ups and backup your WhatsApp data on the source device. Follow the screenshots.

Verify your WhatsApp on iCareFone by entering your number. iCareFone will then automatically create WhatsApp backup data for the source phone.

After that, iCareFone will generate WhatsApp data to the new phone.

Please wait for a while, and then log into the new WhatsApp on iPhone and enjoy all WhatsApp data.
Conclusion
Android 12 is a whole rebranding with new features for Android; meanwhile, iOS 15 feels like another update. Go for Android 12 and use Tenorshare iCareFone to transfer your WhatsApp texts to/from Android.