Fix WhatsApp Not Backing Up to iCloud 2023
by Sophie Green Updated on 2022-12-08 / Update for WhatsApp
Most people today quickly upgrade to newer devices. During this upgrade, they don't want to lose any data and while smartphones can transfer all their data, transferring WhatsApp data and chats requires WhatsApp backup as the messages are encrypted. This feature works effortlessly on WhatsApp, but sometimes due to any technical issue or negligence, you may get WhatsApp not backing up to iCloud error message.
So, here are the top 8 ways to fix WhatsApp not backup on iCloud on your iPhone.
Fix 1: Upgrade iCloud Plan or Clear iCloud Storage
The most common reason to get WhatsApp backup not found or unsuccessful error message is insufficient storage on your iCloud drive. You can clear storage, which is a lengthy process upgrading to more storage is a more feasible option with these steps:
1. Tap on Apple ID in the settings.
2. Tap on iCloud.
3. At the bottom, go for the upgrade option.
It will also increase the cost of your iCloud services. So, if you are looking for a cheaper alternative, deleting unimportant documents and repetitive images and videos from iCloud storage will do the job. You can simply by clicking Manage Storage to clear.
Fix 2: Re-enable iCloud Drive and WhatsApp
If you have disabled the backup option for the iCloud drive, you may face this issue. Simply enabling this feature will resolve the issue for you, and to do it, you need to open the WhatsApp application and go to its settings. There go into Chats and then to the backup option. In the backup option, turn on Auto back up and let the iPhone create the backup automatically.
If you were facing the issue because you disabled iCloud drive backup for WhatsApp, this solution will fix the problem.
Fix 3: Don't Backup with Large Videos
Some people have large videos in their WhatsApp data that are impossible to include in the chat backups. Due to such videos, you may get a WhatsApp backup not found message. So, you can fix it within the chat backup option in WhatsApp settings by disabling the slider adjacent to the "include videos" option.
Fix 4: Re-sign In Your iCloud Account
If you are getting errors like WhatsApp not backing up to iCloud, then signing out and re-signing in may help. Doing so removes any technical issue causing the error at your end. So, go through the steps below:
Open settings, tap on the Apple ID option, tap Sign Out. After your sign out, restarting your iPhone is a good idea, but it is not necessary.

Re-sign into your iCloud Account.
Now try backing up WhatsApp. This time you may not get the WhatsApp backup not found error message.
Fix 5: Update iOS or WhatsApp
Outdated iOS or WhatsApp versions can be why you face this issue. So, try updating and see if that helps. Here is where you can find the updates for both of these:
iOS: software updates in general inside the settings on iPhone.
WhatsApp: Go to App Store and search for WhatsApp. If it is an older version, you will see the Update button; otherwise, there will be an Open button.
Fix 6: Force Restart Your iPhone
A force restart is a solution we use when a software feature refuses to work normally. It is a hard reboot that completely shuts down the device and starts it again. On the devices running on iOS 16, you need to press and release the volume up, then the volume down button quickly, next immediately press the side button and hold it. Wait until you see the Apple logo. Release the side button and let the phone boot. The process may be a little different on other iOS versions.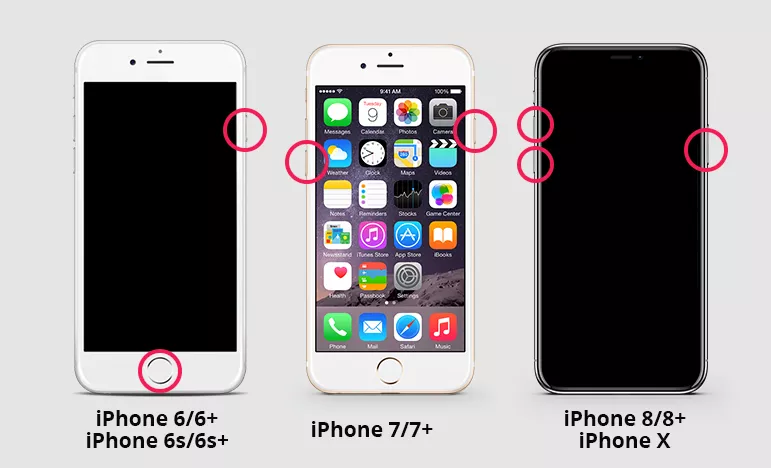 Fix 7: Reset Network Settings
Backing up WhatsApp with iCloud needs a good internet connection to upload the data. You may face backup issues if you don't have a working internet connection. Sometimes there is an issue with the network settings, and resetting them can solve it.
Step 1: Search "Reset Network Settings" in the Settings, click on reset, and then on Network Settings.
Step 2: Authenticate, and your phone will reset its network settings to default. It will also clear up all Bluetooth and Wi-Fi connections.
Step 3: Proceed with this step if your internet is working fine for other devices and services, while it specifically fails when you create a WhatsApp backup on your smartphone.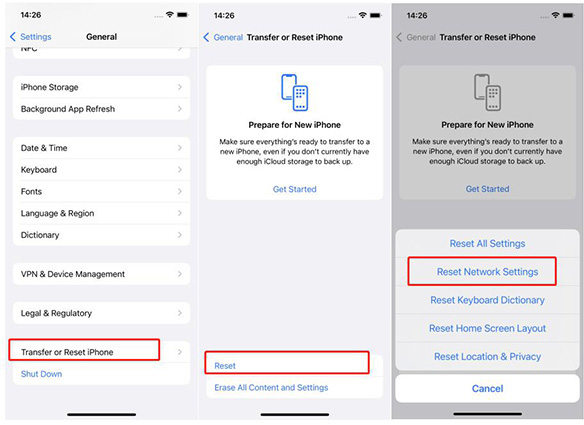 Fix 8: Factory Reset Your iPhone
If none of the methods worked to solve WhatsApp not backing up to the iCloud error, your last resort would be factory resetting your device. Even if doing this enables the backup function on WhatsApp, your important messages will be deleted because of the reset.
Open settings, scroll down to general and tap on it.
Scroll down to the reset or transfer option.

Erase everything on your iPhone.
Remember that the factory reset option will only be somewhat beneficial if you have previously created a WhatsApp backup. You may not lose all the chats and data while solving the issue.
Best Alternative: [Free] Backup WhatsApp in A Save and Fast Way
If you don't want to go through these technical and complex processes that will take so long, you must try Tenorshare iCareFone Transfer for a safer and quicker experience. With this method, you only must go through 3 simple steps, and there will be no need to remember any accounts or passwords. So, once you download the tool on your Pc, you may start with the following steps:
When you download and launch Tenorshare iCareFone Transfer on your Mac or PC, you may connect your iPhone to it using its USB wire. After connecting the devices, click on WhatsApp. There are other apps that you can back up here as well.

Locate the Backup option on the side toolbar. Click on it and set your device model number from the available options. Lastly, click on "Back Up Now" to begin.

You can monitor the progress. So, wait until it finishes, and you see a successful backup message on the screen. After this message, you may disconnect your devices.
So, instead of wasting time trying different solutions, you may simply try this one and create a backup that you can restore whenever you want.
Conclusion
Losing your important WhatsApp chats and data is not an option when upgrading to a new iPhone. So, if iCloud backup for WhatsApp is not working, you can try any of the fixes discussed above. For the best experience, you can try the fastest and safest way using Tenorshare iCareFone Transfer.
Manage Your WhatsApp Messages On Your Way
Flexibly transfer WhatsApp from iPhone 15 to Android;
Flexibly transfer WhatsApp from iPhone to iPhone 15;
Backup WhatsApp iPhone to PC/Mac Freely & Easily;
Restore WhatsApp Backup to iPhone, iPad, Android;