How to Fix iPhone X/XR/XS(Max) Black Screen with Spinning Wheel after iOS 16/15 Update
by Jenefey Aaron Updated on 2023-06-20 / Update for iPhone X Tips
One of the most frustrating things about owning any expensive devices is when you encounter a seemingly unfix-able error. From crashing to freezing, any electronic device can have this kind of issue. For iPhone X/XR/XS(Max) owners, this comes to iPhone X black screen spinning wheel.
Now, if you encounter this issue, the first thing you might think of doing is to go to a Power Mac Center and have it diagnosed. This means driving up to the store and spending precious time and money in doing so. Well, good news because there are things you can do to fix this problem by yourself. Check them out.
This article also supports iPhone 12 Series.
Part 1: Why iPhone X/XR/XS(Max) Spinning Wheel Black Screen Occurs
Before we go and discuss how you can address the iPhone X black screen with spinning wheel issue iOS 16/15, it is important to know what causes this problem. Here are two possible reasons:
1. Interrupted Software Update
One of the most notorious reasons that this crash occurs is an unsuccessful software update. As you know, Apple releases over-the-air updates to its iOS from time to time. This helps them improve the phone's OS features and to address any existing bugs.
However, you need to make sure that the update is successful, otherwise, you are bound to encounter several software issues. Some causes of failed updates include insufficient storage space, server timeouts, inability to reach update servers and interrupted updates.
2. Damaged Hardware
Another reason why your iPhone might behave like this is because of hardware damages. When your phone suffers from strong impacts, there is always a possibility that its internals can get damaged. Remember, these electronic devices depend on the proper maintenance of its internal components in order to work. When a component that handles your device's storage becomes affected, then this issue can occur.
Part 2: Solutions to Fix iPhone 10 Black Screen Spinning Wheel
Now that you know how why this issue happens, you can better understand how the solutions mentioned below can fix the problem. Check out the easiest and most common fixes to the crash.
1. The Easiest Solution - Use Tenorshare ReiBoot iOS System Repair
Considered as the easiest solution to the problem, Tenorshare offers a convenient and fastest way to fix the bug. Tenorshare ReiBoot is known as the world's number 1 free recovery mode tool for iPhones and any iOS device. It offers one-click access to your phone's recovery mode, making it the best tool for owners with little to no technical experience.
This program not only addresses this particular issue but also more than 50 others concerning the iOS 16/15. From stuck Apple logo to recovery mode loop, ReiBoot brings a solution to a plethora of iOS 13 problems.
The best thing about this tool is that it does not result in data loss, ensuring that you can resume the use of your iPhone as normal.
To use this tool, you just need to download and install ReiBoot on your computer. It is available for Windows and macOS, making it a great option for iPhone users without macOS computers.
After installing, simply run the program, connect your device to the computer and click the "Repair Operating System (Fix All iOS Stuck)" option.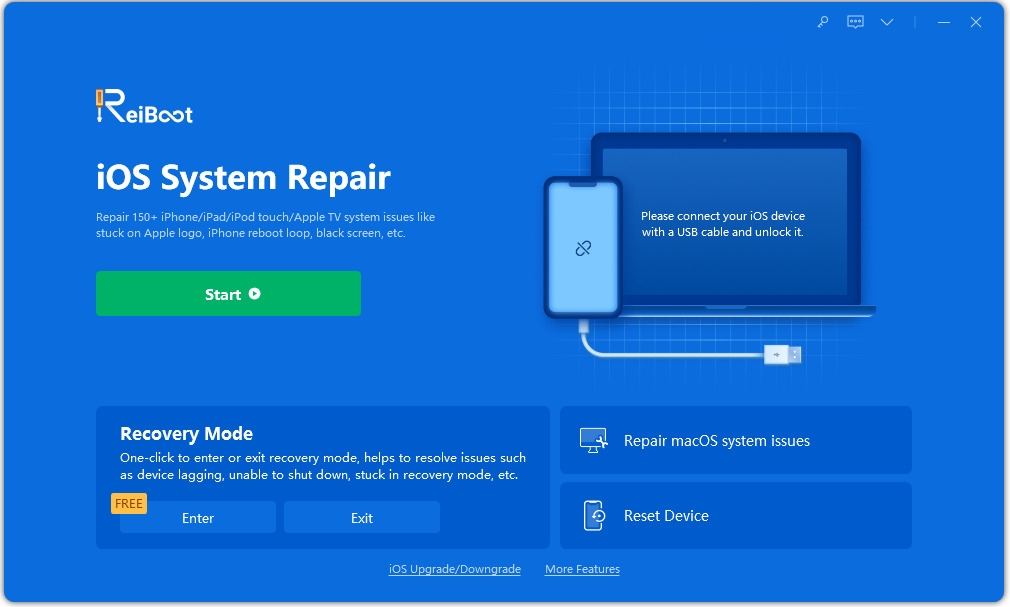 Select the Fix Now button, pick your iPhone model to download the latest firmware version, then proceed.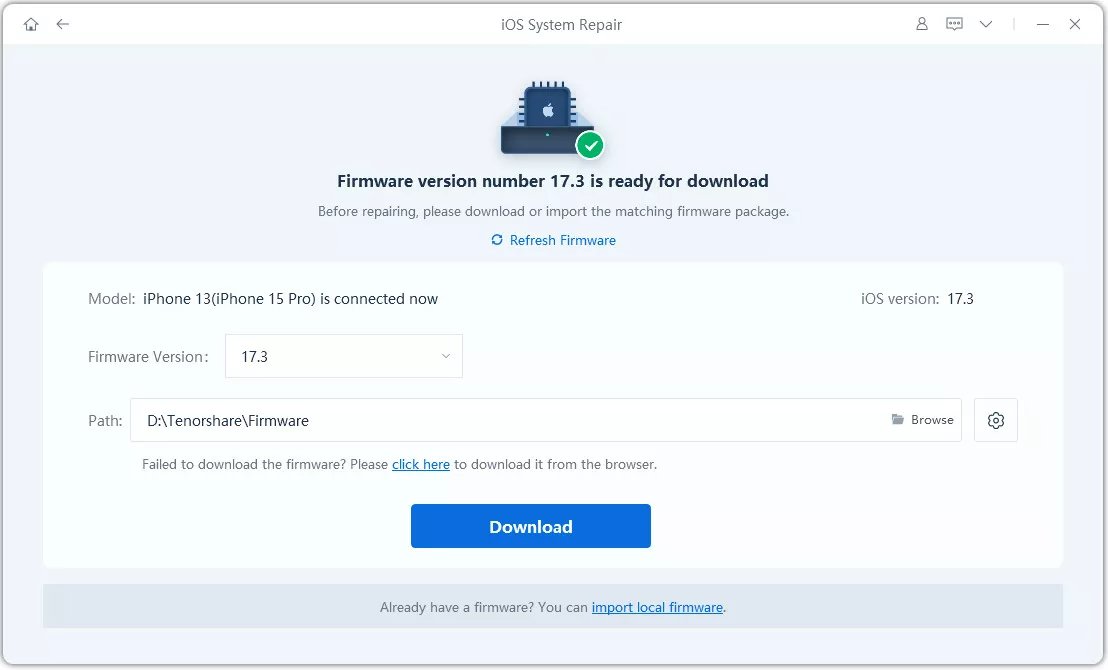 Once done, you will see a confirmation that the process is complete.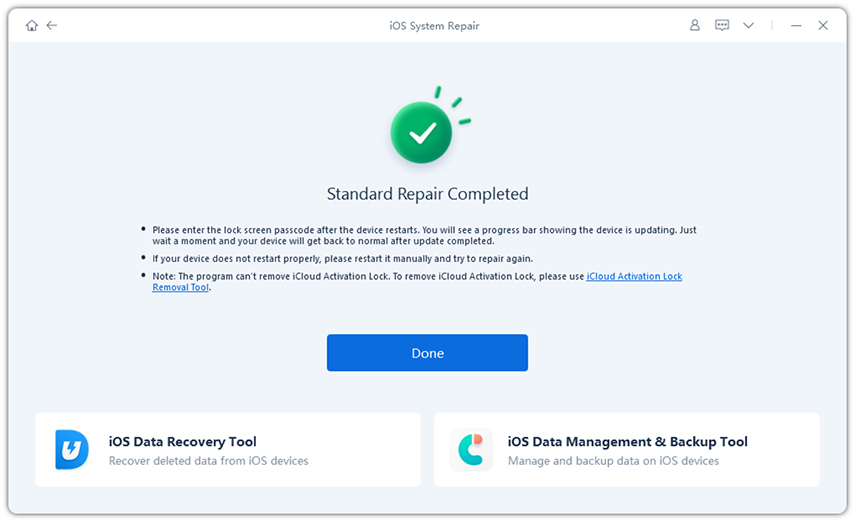 2. Some Ordinary Solutions to Fix iPhone X Black Screen Loading Circle
Aside from using Tenorshare's tool, you can also use common methods to fix this issue. Here are some things you can try:
1. Force Restart
If this issue came up randomly, you can try to fix this by force restring your device.
For your iPhone X, simply press and quickly release the Volume Up button, then do the same for the Volume Down button.
After this, press and hold the Side button.
Make sure to hold the Side button until the Apple logo appears.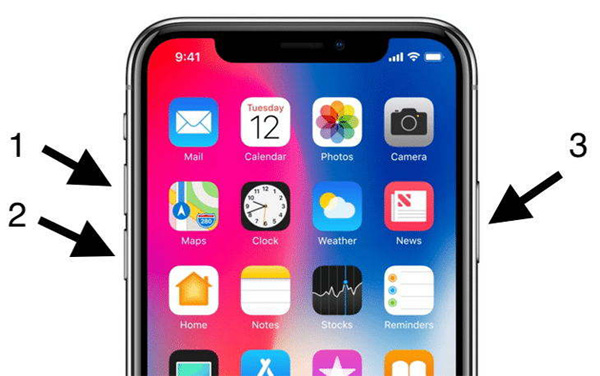 Your phone should restart and boot as normal. To avoid any issues, make sure that your device has enough battery charge.
2. Redownload Over-the-Air Updates
As the bug can be caused by failed firmware updates, the first thing you can try is to try installing the update again. For over-the-air updates, you can do this by removing the failed update download, redownloading the latest version, then running the update once more.
To do so, simply go to Settings, select General and go to Storage.
Then, find the failed update, tap to show options and tap on Delete Update.
Finally, go to Software Update and redownload the update.
3. Update Using iTunes
You can also download and install updates by connecting your device to a computer.
Simply locate your device on the computer and open iTunes.
Then, press and quickly release Volume Up, do the same for Volume Down and press and hold the Side button until you reach recovery mode.
You will be prompted to pick between Restore and Update. Click on Update and your iPhone X will be fixed soon.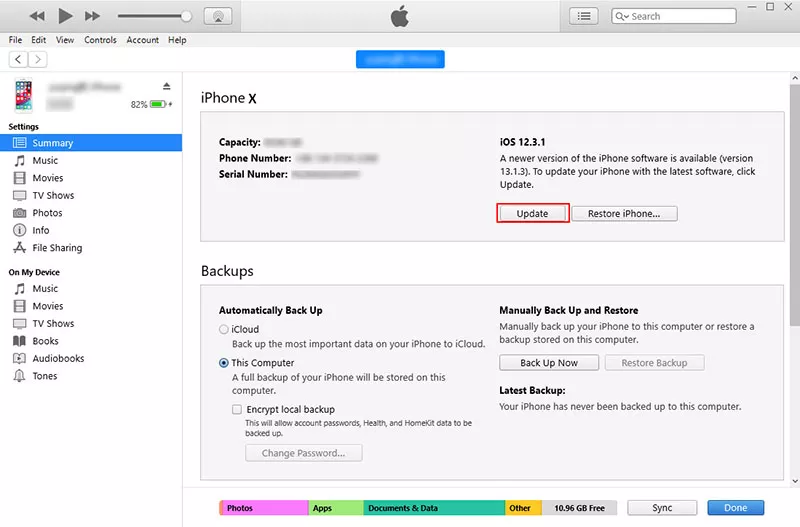 4. Restore iPhone X Using iTunes
If updating your phone does not do the trick, you might need to restore your iPhone. This will wipe your data and install a fresh iOS on your device. You can do this by entering the recovery mode by following the steps mentioned above, then selecting Restore.
5. Go to an Authorized Technician
Should all of the options above fail, it may be time to consider going to an authorized technician. They are equipped to address software and hardware related problems. If your device is out of the warranty period, you may need to pay for the service. You will also need to spend if the store diagnosed hardware problems as the culprit.
Part 3: Some Tips to Avoid iPhone X Black Screen Spinning Wheel
Once you fix this issue, you may be concerned that the bug will recur. As they say, prevention is better than cure. So, here are some tips to help you avoid the glitch.
1. Make Sure to Update Properly
As failed updates are known to cause this malfunction, you need to make sure that updates are completed properly. To do this, make sure that you have everything you need before proceeding with the installation. You must have sufficient battery, better yet, plug in your device before updating. Then, see to it that you have enough space for the package and its installation. Lastly, ensure that your internet connection is stable to avoid interrupting the process.
2. Take Care of Your Phone
Hardware damages is a source of a whole lot of problems. Damages can occur due to a strong impact. Moreover, exposing your device to moisture can greatly damage your iPhone. So, make sure to take care of your device so avoid getting the black screen with spinning wheel issue due to hardware damages.
3. Back Up Continuously
We never know when there will be an error like iPhone X/XR/XS(Max) spinning wheel black screen occurs, but we can lower our loss if you always back up your iPhone files in advance. Thus, keep in mind to back up continuously so that you can fix your deivce without worries.
Conclusion
Now that you know how to easily and quickly fix your iPhone X/XR/XS(Max) black screen with spinning wheel issue with Tenorshare ReiBoot and other tips, you can save yourself from headaches, inconveniences and expenses. So, make sure to try these methods first before going to a Power iPhone Center.