10 Proven Ways to Fix iPhone X Dropping Calls
by Sophie Green Updated on 2020-06-18 / Update for iPhone X Tips
When I am making or receiving a call on my new IPhone Xr the call will drop after about 6 seconds. I can reset my network settings or turn my phone off and back on and it will work for that call then does the same thing again."
Some users say that the cellular reception is poorer than normal and calls drop frequently. Others complained that their iPhone X/XR/XS keeps dropping calls and basically all calls drop after a short amount of time. Why is iPhone X dropping calls? The drops, intermittent or unstable signal on the iPhone X can be arising because of a damaged SIM card, a software error, but you don't have to worry because there are various methods that you can try out to resolve iPhone X dropping calls issue.
In this article, we are going to discuss how we can fix calls keep dropping on iPhone X/XR/XS.
Part 1. Try Simple Fixes to iPhone Keeps Dropping Calls
Before we get to the real solutions, there are a few common fixes that you can try out to solve this problem. Try the following fixes:
Take out your SIM card

: Remove your SIM Card from your iPhone and then reinstall it. Sometimes, it is the SIM card that has issues, reinstalling it might be able to fix the iPhone X dropping calls problem.

Remove your iPhone case

: If you have some accessories connected to your iPhone, remove the accessory and then again try making calls. You can also try removing your iPhone's case.

Move to a different location

: If your iPhone is dropping calls consistently, it is may be due to that you are in an area with low signal coverage. Try moving to a different location and then having someone call your phone.
Part 2. Official Suggestions to Fix iPhone Keeps Saying Call Failed
If the basic fixes don't work out, then you will have to try the following methods from Apple's official suggestions one by one to see if any one of them fixes the "my iPhone keeps dropping calls" problem.
Method 1. Restart Your iPhone X/XR/XS
The first obvious method is to restart your iPhone as soon as possible. If it only arises sometimes, then it seems like a viable method to fix iPhone X keeps dropping calls. Follow the below steps to switch off and on your iPhone X:
Press the Side button and either of the Volume buttons, hold it until the slider appears on the screen. Swipe the slider from left to right and your Phone X will turn off.

Wait for 10-15 seconds, then again press the Side button and hold it to turn our iPhone back on. However, if the normal restart doesn't work, you can always go for a hard reboot.

Pic. Restart iPhone to fix iphone keeps dropping calls
Method 2. Hard Reboot iPhone to Fix iPhone X Dropping Calls
The force restart method is also known as a hard reboot. The hard reboot simply turns off the power supply to iPhone and switch it back on after some time. So, to resolve the iPhone X dropping calls Verizon/AT&T, you have to follow the below steps:
Sequentially press and quickly release the Volume up button and then Volume down button. Then follow up by pressing and holding the Side button until the display turns off.

Keep pressing the Side button and wait until the Apple boot screen appears. Then you can let go of the Side button.

Pic. Force restart to fix iphone x dropping calls
The iPhone will boot up and you can troubleshoot the problem. This method is well known to fix many problems in all the iPhone models.
Method 3. Reset Network Settings
If the problem still persists, then it is time that you do something about the network settings of the iPhone. The main reason why does my iPhone X keep dropping calls can be a network problem. Thus resetting the network setting will erase all your iPhone's cellular, Wi-Fi and other network settings and restore them to default.
Follow the steps to reset the Network Settings in iPhone X:
Open the Settings app on your iPhone and go to General settings. Scroll down to find the Reset option and open it.

In the Reset menu, you will see various reset option, but remember to choose the Reset network settings. When you select the setting, you will be prompted to enter your iPhone's passcode.

Pic. Reset iPhone to fix iphone dropping calls
Then your iPhone X will reset the entire settings and reboot on its own.
Method 4. Update Carrier Settings
Sometimes, it is not the Network where the problem lies, this way the network settings reset won't work. But you still have the option of updating the Carrier settings of your iPhone X to try and resolve the iPhone X issues dropping calls. Follow the below steps to update the carrier:
Open the Settings App and then go to the General Settings. Open About option and wait in the menu for almost 15 seconds until a pop-up arrives and say "Carrier Settings Update".

Tap on the option and if the update is available then tap on it and update the Carrier settings.

Pic. Update carrier to fix call fail iphone
If the pop-up message doesn't come up, that simply means that the iPhone has no requirement of an update. But don't worry there are still some methods left that can fix the issue.
Method 5. Update iOS
Normally, when your device requires an update, it exhibits some issues that really don't exist. This can be another possible reason why your iPhone is dropping calls. So check whether an update is available in the iPhone X.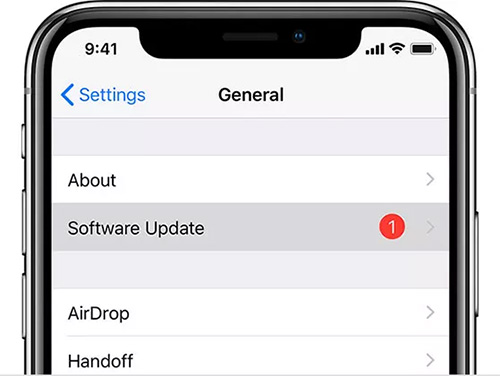 Go to the General Settings in the Settings app and select the Software Update option. If an update is available, then download and install the update immediately. Connect your iPhone to a charging point and allow it to update the iOS version.
Method 6. Restore iPhone to Fix Calls Problems (Data Loss)
If none of the methods works out, then you will be let with the option, which results in an entire data loss. But luckily, this will fix the iPhone X dropping calls AT&T issue. There is two methods of restoring iPhone.
Restore iPhone from Settings: open the Settings app, get to the General Settings and then open the Reset menu. From the menu, select the Erase All Content and Settings option and it will restore your iPhone by removing all the data and settings from your iPhone X.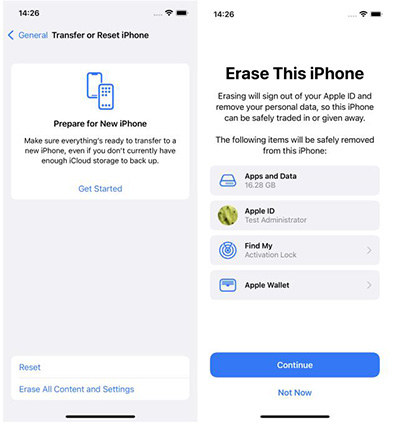 Restore the iPhone X via iTunes: Simply launch iTunes in your computer connect your iPhone and go to the Summary tab. In the tab, first, perform a backup of the data and then click on the Restore button and your iPhone will be restored as a new device.

Part 3. Repair iPhone System to Fix iPhone Dropping Calls due to Software Error
Why does my phone keep dropping calls? There might be some more complex system issues caused your iPhone dopping calls, which can be only fixed by repairing iOS system. Tenorshare ReiBoot is a professional iOS system repair tool that can easily fix the iPhone XR dropping calls problem (also for iPhone X/XS) by a full system reset. Follow the below steps and fix your iPhone as soon as possible without losing a single bit of data.
Download, install and then launch the Tenorshare ReiBoot software on your computer. Connect your iPhone with the computer and select the Repair Operating system from the main interface.

Pic. Fix iphone dropping calls with ReiBoot

Hit Fix Now on the following screen.

Pic. Fix iphone dropping calls now

Click Start Repair and follow the onscreen instruction to download matching firmware package. Tap on the download option or you can manually import the firmware file.

Pic. Download firmware to fix iphone dropping calls

Once the firmware package is downloaded, tap on the Repair Now option to repair iPhone XS dropping calls.

Pic. Fix iphone x dropping calls successfully
You will be able to see the ongoing process and when the process is complete, your iPhone X will reboot and all the issues in it will be fixed along with the iPhone 10 dropping calls issue. If your iPhone runs into other problems like iPhone recovery mode loop, iPhone keeps turning on and off , black screen with spinning wheel, etc., ReiBoot is capable of repairing iOS to normal without data loss.
Wrapping Up
Hopefully, now you know what you can do if the calls keep dropping in iPhone X/XR/XS or other iPhones as well. All the listed methods have their own significance and proven worthy to resolve the issue. If you've tried everything on this list and the phone keeps dropping calls, then you should talk to both your carrier and an Apple Store.