How to Fix iPhone X Stuck in Boot Loop in Any Situation (iOS 13 Update Included)
"While I was updating my iPhone X is stuck in a boot loop. I don't know why it happened or how to proceed after it. Please help."
While getting stuck in a boot loop is very terrifying, unfortunately, it is also a very common problem with iOS devices. Don't worry, there are easy fixes available. We have listed a few effective common and professional iPhone boot loop fixes for iPhone X in the article below. Take a look.
When Will iPhone X Stuck in Boot Loop
The iPhone x stuck on boot loop/iPhone x stuck in reboot loop can happen to you for various reasons. It is not possible to pinpoint exactly why you are facing the boot loop on your iPhone X but we can show you the general direction. Take a look;
The iOS update is the most common issue. Your iPhone could get stuck for any unknown reasons.
iPhone X stuck in boot loop after water. Well, after getting damaged by water, hardware issues may occur which may lead to the iPhone X boot loop.
Jailbreaking is a very risky procedure and Apple warns the users against it.
The battery connector may malfunction and cause the boot loop. It is a common hardware issue and it generally happens if you have dropped the iPhone.
These are the most common reason for your new iPhone X getting stuck in a boot loop. We have listed the solutions below;
5 Ways to Fix iPhone X/XR/XS(Max) Stuck in Reboot Loop iOS 13.2/13.1/13
There are multiple ways to fix the iPhone X stuck booting up. There are common official ways which are effective but causes data loss. But there is also iOS system recovery with a professional program which is safest and the quickest of the bunch and doesn't cause data loss.
Part 1: The Easiest Solution - Use Ternorshare ReiBoot iOS System Repair
This first procedure involves using a professional 3rd party program for the safe and quickest iPhone X boot loop fix.
Upon searching the internet you will come across numerous such 3rd party programs but decided to go with Tenorshare ReiBoot. ReiBoot has an exceptional recovery rate and can be used quite easily. Here are the highlights;
ReiBoot is capable of repairing more than 50 variations of iOS system issues; the list includes the My iPhone x is stuck on the apple logo, black screen of death, recovery mode loop, boot loop, etc.
It is even capable of recovery of the iOS system from unknown issues as well.
Single click enters and exit Recovery Mode.
Recovers system without data loss.
Compatible with the newest iPhone and iPad models and also with the new iOS 13/13.1/13.2.
Now, let's have a look at the procedure to fix an iPhone XS max stuck in boot loop using ReiBoot;
Step 1: Begin with the download and installation of ReiBoot on your computer. Then, run the program.
Step 2: After that, connect the iPhone to the computer via USB cable and select 'Repair Operating System'.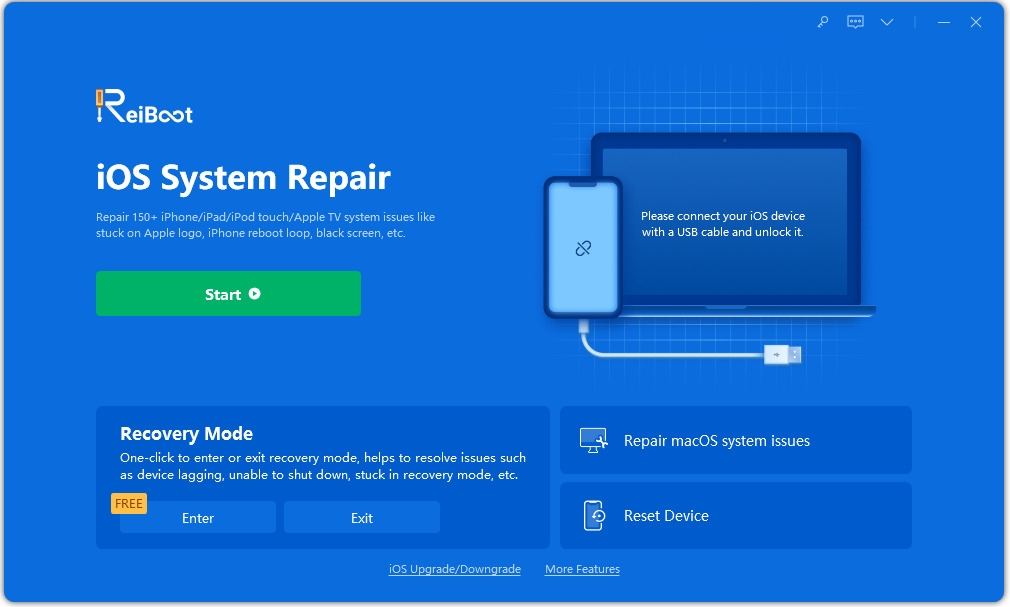 Step 3: Now, click on 'Fix Now' in the next panel.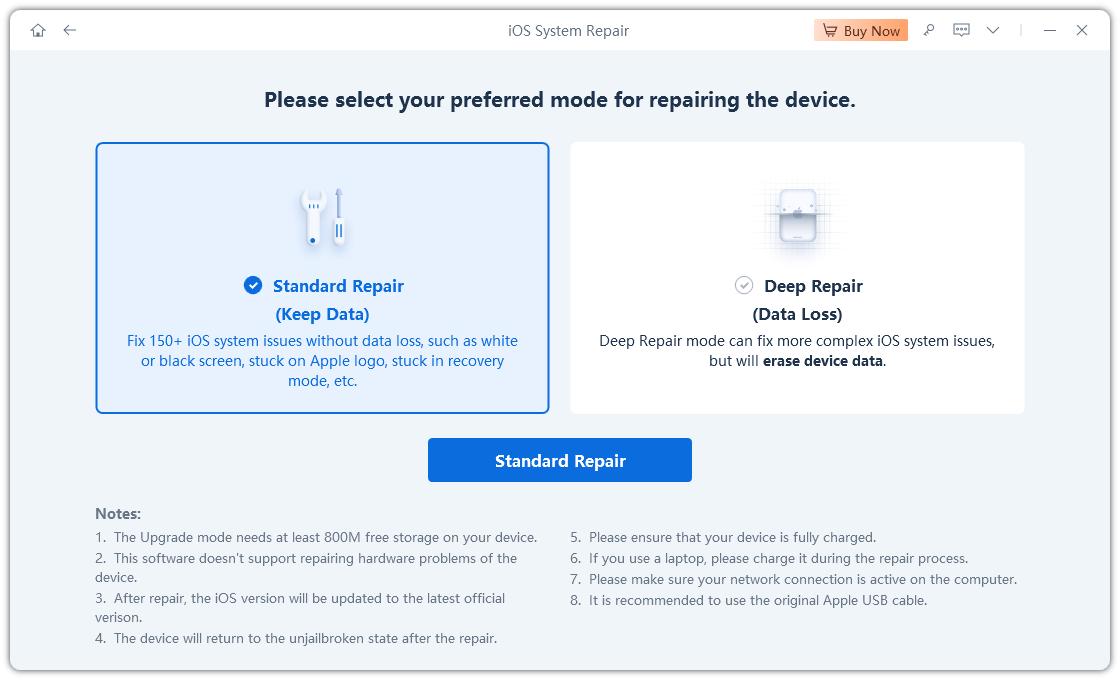 Step 4: Now, you will be directed to the firmware window, where you have to download the associated firmware. So, click on 'Browse' to choose a destination and then click 'Download'.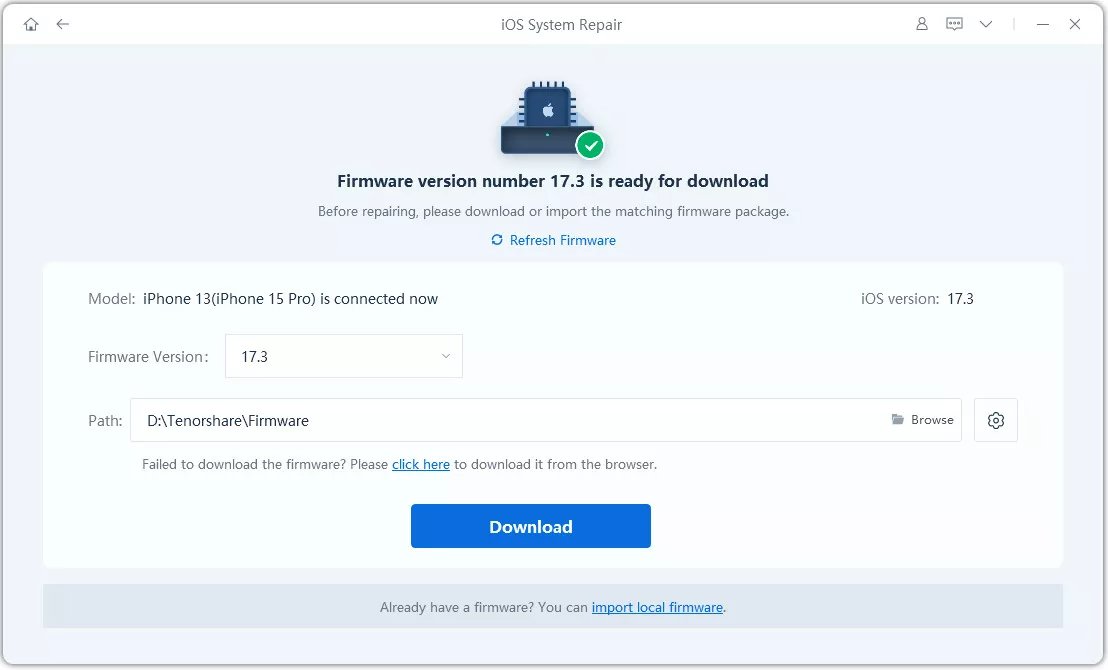 Step 5: Upon successful download the firmware file, click 'Start Repair' in order to fix the iOS system.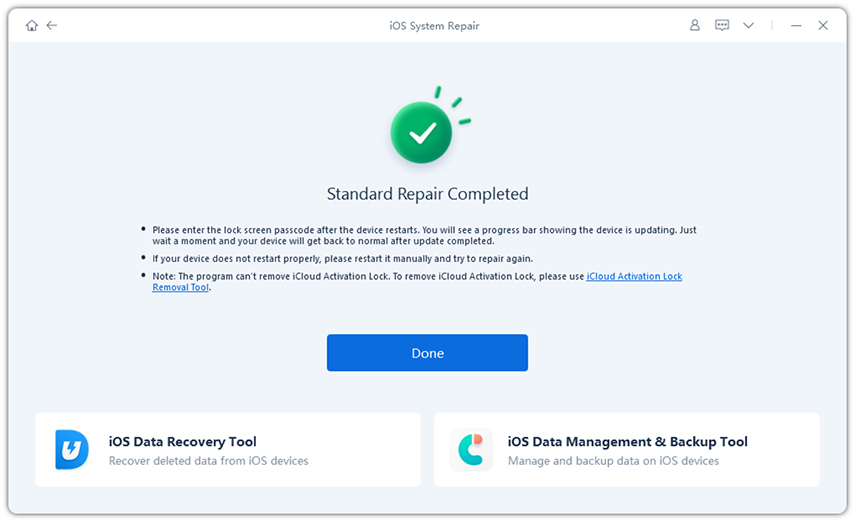 Tenorshare ReiBoot is the quickest way to fix the boot loop issue on your iPhone X. But there are other possible ways to fix this error as well. They may not be as easy or convenient but they are effective. Take a look at them below.
Part 2: Some Common Solutions to Fix iPhone X Stuck Booting Up
Although, the use of ReiBoot is the best way to fix an iPhone 10 stuck in boot loop. Using the said 3rd party program is easy and the most effective way to get rid of the issue.
Still, we can't overlook the other possible common fixes with the potential to fix iPhone XS max stuck in boot loop. So, we have listed 5 most effective solutions. They are not equally effective and some come with the additional risk of data loss.
1. Force Restart iPhone X
Sometimes a simple restart is capable of fixing most of the iOS problems. As your iPhone is stuck in a boot loop, you won't be able to restart the device in a normal way.
Force Restart is the simplest iPhone x stuck in boot loop fix. Take a look at the steps;
Step 1: Make a quick tap on the 'Volume Up' button and then on the 'Volume Down' button.
Step 2: After that, press and hold the 'Side' button until the Apple logo is visible on the screen.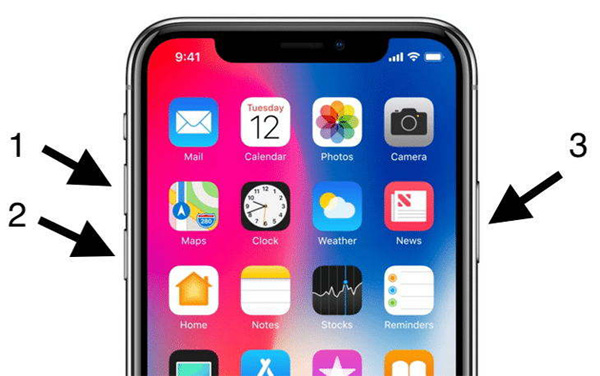 After the Apple logo is visible, release the Side button and the device will be restarted manually.
2. Update iOS to Its latest Version
If the iPhone x stuck in boot loop after water, then you can try to update the app with iTunes. Just follow the steps below;
Step 1: Run the iTunes app and click at the left menu.
Step 2: Click on 'Summary' and then click 'Update/Check for Updates' from the drop menu.
Step 3: Now, just follow the on-screen instructions in order to install the new version of the app.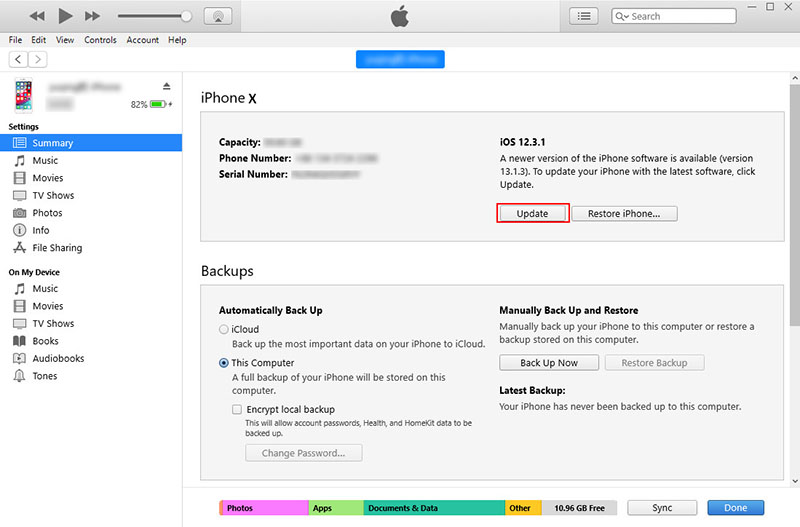 3. Restore iPhone X Backup
Restoring the iPhone X stuck in a boot loop is another excellent fix. You just have to use the iTunes app and restore the device from a previous backup file. But remember; all your present files will be erased.
Step 1: Connect the iPhone X to the computer and run iTunes.
Step 2: On the iTunes panel, click on the 'Device' icon at the top. Choose your iPhone from the list of devices.
Step 3: Then, click on 'Restore Backup' and the iPhone will be restored from a previous backup file. A pop-up will appear on the screen, you have to click 'Restore' to proceed.
Although, all your previous files will be erased your iPhone X won't be stuck in boot loop anymore.
4. Restore iPhone X in DFU Mode
It is possible that you weren't able to restore the device properly using iTunes. If such happens, then you need to put the device under DFU Mode and try to restore the device again.
Step 1: Connect the iPhone to the computer and run iTunes.
Step 2: Now, turn off the iPhone. Make a quick tap on the 'Volume Up' button and then on the 'Volume Down' button. Then, press and hold the 'Side' button until the iPhone screen goes black completely. You can also follow the video below.
Step 3: As soon as the iPhone is in DFU Mode. An iTunes pop-up will appear stating iTunes has detected an iPhone in recovery mode. On that pop-up window, click 'Restore'.

This is one of the best ways to restore am iPhone that is stuck in a boot loop.
Which One is the Best iPhone Stuck in Boot Loop Fix? Why?
Well, the best fix for an iPhone that is stuck in a boot loop is Tenorshare ReiBoot.
The program is fast and safe.
It can fix multiple iOS issues.
It does not cause data loss.
Capable of entering and exit into Recovery Mode with a single click.
But you need to remember that it is a 3rd party software. You will need access to a computer.
If we talk about the common iOS fixes;
These are official fixes.
Quite convenient for iOS users.
But there are several drawbacks;
There is no guarantee that they will be effective.
Some of them will cause data loss.
There are other risks involves.
Conclusion
So, don't worry if your iPhone X stuck in reboot loop. This is a common problem with iOS and it can be fixed pretty easily. You can use the common fixes detailed in the article, they are helpful but they may cause data loss. So, there better, quickest and the safest fix is Tenorshare ReiBoot. It won't cause data loss and it is a definite fix.