How to Disable One More Minute on Screen Time iOS 13
by Jenefey Aaron Updated on 2021-05-24 / Update for Screen Time
It is no wonder that Apple has spectacularly promoted the enhancement of the digital world with the introduction of a new iOS version each year. Apple has given the Screen Time, which is also called parental control and got a decent response from concern parents. Screen Time lets parents control the usage of iPhone and minimizes digital interruptions on their kid's iPhone.
With iOS 13, Apple has added several decent new features to the Screen Time, making it more like powerful parental control software. And one of a feature is "one more minute".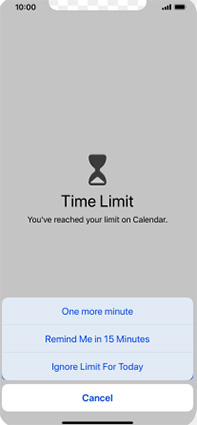 Let's first understand what does Screen Time one more minute iOS 13 means.
Being able to track usage data is a vital feature of Screen Time for several users because it makes possible to view potential trends in usage and tweak the usage time as required. Apple is expanding usage data in Screen Time iOS 13, bringing it to thirty days. That new usage data may help you determine if you can fit "one more minute" with an app. If yes, then when a particular limit is met and you are still using the app, a pop-up saying "one more minute" will display. If you select the option, then it will allow you to keep using that app for 60 seconds and giving you time to complete to log out of the app/game or save your work.
This new Screen Time feature seems to be very helpful, but still, users would like to disable one more minute. Many parents recently reported that their kids keep clicking it on this new feature over and over to get more time to use the app or game. Considering this, it is clear to say that this new feature of Screen Time doesn't benefit the healthy development of a kid. So, it makes sense for parents to disable the "one more minute" feature.
In this post, we're going to tell you how to iOS 13 Screen time disable one more minute.
How to Disable One More Minute on Screen Time after iOS 13 Update
This new feature appears to be iOS 13 Screen Time bug. Apple choice to not let parents disable the "one more minute" feature creates a bigger problem where kids are able to go beyond their allotted screen time by the number of minutes they have installed applications in their iDevices. With the number of applications being more than 60, kids will be able to extend an hour of extra screen time by tapping each application in sequence. Without a doubt, this has made Screen Time imitative completely useless and of no benefit.
Hopefully, Apple fixes this Screen Time bug with the new update and provides an option to turn off one more minute on iPhone. Nevertheless, you can leave feedback to Apple here - Apple Product Feedback if you want to.
Bonus Tips: How to Fix Screen Time Issues After iOS 13 Update
Unfortunately, you can do nothing about Screen Time one more minute bug. However, there are several other Screen Time issues that you may encounter after iOS 13 update, for instance, screen time passcode not working, iPhone asks for screen time passcode you have never set, etc. If you ever come across such errors, then Tenorshare 4uKey comes quite in handy.
Tenorshare 4uKey is powerful iPhone screen passcode unlocker software you can use to bypass your forgotten screen time passcode. The software comes with a "remove screen time passcode" feature to help you easily remove iPhone screen time passcode without data loss.
Here are its key features:
Get rid of Screen Time passcode with no data loss.
Supports all iOS devices - iPhone, iPad, and iPod touch.
Works on both Mac and Windows PC.
4 Easy and simple steps to remove Screen Time passcode.
Let's learn how to use Tenorshare 4uKey to fix Screen Time issues in no time.
After downloading and installing the software, run the software and connect your iPhone to the computer. Once the software detects your device, choose the "Remove Screen Time Passcode" feature from the software main window.

Image 1. Select "Remove Screen Time Passcode" feature

Next, click on the "Start Remove" button to begin removing the Screen Time passcode.

Image 2. Start to remove the screen time passcode

Before it starts, you also have to turn off Find My iPhone on your device's Settings App.

Image 3. Turn off Find My iPhone

In a while, the Screen Time passcode will be successfully removed.

Image 4. Remove the screen time passcode sucessfully
Once the screen passcode is removed, all you have to do is to set up your iPhone. The software works on the iPad too to remove the screen time passcode.
Conclusion
So, there is no option to disable one more minute on Screen Time. All you can do is to wait for Apple to provide the option to turn it off this feature. However, if you ever encounter any Screen Time passcode issue after iOS 13 update, simply use Tenorshare 4uKey. This software can help you remove Screen Time passcode easily, quickly and without erasing any data from the device. So, try it yourself and get your forgotten screen time issue fixed in no time.
Remove Any Password in Minutes
Remove Apple ID or iCloud account on iPhone/iPad without password
Remove screen time passcode in 3 simple steps
Fix disabled iPhone/iPad without iTunes or iCloud