How to Disable Screen Time without Passcode on iPhone/iPad (iPhone 15)
by Anna Sherry Updated on 2023-09-14 / Update for Screen Time
"How do I disable screen time if I forgot the passcode?"
After you enable Screen Time on your iPhone or iPad, your device will ask you to input passcode each time you access the Screen Time settings. It happens that you forget the passcode. So you might wish to learn how to disable Screen Time without passcode on iPhone 14/15 and iPads. The following guide will help you out.
You have multiple methods to follow and it is completely up to you to decide which method you would like to go ahead with to disable the Screen Time.
Method 1. How to Disable Screen Time on iPhone without Passcode (No Data Loss)
If you would like to keep your data on your devices while you disable Screen Time without passcode, this section will teach you how to do it. You are going to first remove the forgotten screen time passcode from your iPhone or iPad, and then disable the feature.
Video Tutorial on How to Disable Screen Time without Passcode:
1. Remove Screen Time Passcode via 4uKey
To disable the Screen Time without passcode, you are going to use a software called Tenorshare 4uKey. It allows iOS users to remove Screen Time passcode from iPhone and iPad with no data loss at all. And the Screen Time feature will be automatically disabled after that.
Download and launch the software on your computer. Connect your iPhone to your computer and tap on "Trust" in the prompt on your iPhone.

From the main interface of the software, click on the option that says "Remove Screen Time Passcode" to start the passcode removal process.

Click on Start Remove button to continue.

You need to turn off the Find My iPhone if you have enabled it.

A progress bar will appear when the software is removing the passcode from your device.

The Screen Time passcode has been successfully removed from your iPhone or iPad. When the passcode is removed from your device, you will see the following message on your screen.
2. Turn Off Screen Time on iPhone/iPad
The second way here is to change or turn off the screen time passcode before you disable Screen Time. Without passcode, you can do it with Apple ID screen time passcode recovery. See if you have the Forgot Passcode? option below:
Go to Settings > Screen Time. Tap on Change Screen Time Passcode and select one option.
If possible, you will see the Forgot Passcode? option. Tap on it.

Enter Apple ID and its password. You will then be able to set a new screen time passcode or turn it off.
Now that the passcode is changed or turned off, you can easily disable Screen Time on your iPhone or iPad using the following instructions.
In Screen Time settings, scroll all the way down and tap on Turn Off Screen Time.

Enter the screen time passcode on your screen to disable the feature or it will be disabled without passcode directly.
Method 2. Reset All Contents and Settings to Disable Screen Time
If you do not mind the data on your iPhone or iPad, what you can do in this method is to erase all the contents and reset your device. By doing so, you erase Screen Time passcode and disable Screen Time as well.
The easiest way to erase iPhone is to erase all contents and settings in Settings, but it will ask you to enter screen time passcode to continue erasing iPhone, as shown below: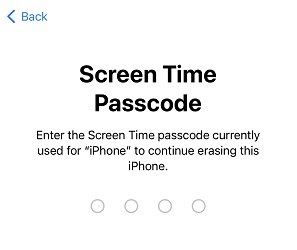 In this situation, we can turn to iTunes on PC or Finder on Mac, which helps restore and reset iPhone too.
Connect your iPhone to the computer and open iTunes.

On the Summary/General screen, you will find multiple options. Click on Restore iPhone.
Follow the prompts shown on the screen to proceed with erasing and resetting your device. When your device is fully reset, you need to set it up as a new device.
Conclusion
If you are not a big fan of the Screen Time feature or you forget the Screen Time passcode, the above guide should teach you to get rid of Screen Time on your iPhone/iPad anytime you want. And as for how to disable screen time without data loss, we recommend Tenorshare 4uKey. We hope it helps you out.
Remove Any Password in Minutes
Remove Apple ID or iCloud account on iPhone/iPad without password
Remove screen time passcode in 3 simple steps
Fix disabled iPhone/iPad without iTunes or iCloud
Find and view stored passwords on iPhone and iPad