WhatsApp has been crashing on iPhone 6 or other iOS devices? WhatsApp stop working randomly since iOS 10/9.3? Try these solutions to fix WhatsApp crashes on iPhone 6 and other iOS 10/9/8 devices.
Many people like WhatsApp as it is a cross-platform mobile messaging app to send text, video, images and audio. However, WhatsApp has been causing a lot of bugs to those using iPhone 6 or other iPhone running iOS 10/9/8/7. Until now WhatsApp has not officially given any suggestions to fix the crashing on iPhone and iPad. Here we have a few tips to resolve WhatsApp crash or automatically stop working in your iOS devices.
Part1: Feasible Solutions on WhatsApp Crashed on iPhone 6
Part 2: Recover Lost WhatsApp Data
Part 1: Feasible Solutions on WhatsApp Crashed on iPhone 6
1.Turn off WhatsApp auto backup on iCloud
iCloud drive, which was officially launched alongside iOS 8, could be the source of WhatsApp crash. Stop auto backup on iCloud would resolve constant crash on iPhone 6.
Here are the steps to turn off WhatsApp auto backup in iCloud, then you can enjoy WhatsApp on iPhone without crashing again and again.
Open WhatsApp
Tap Chat Settings
Tap Chat Backup
Tap Auto Backup
Tick Off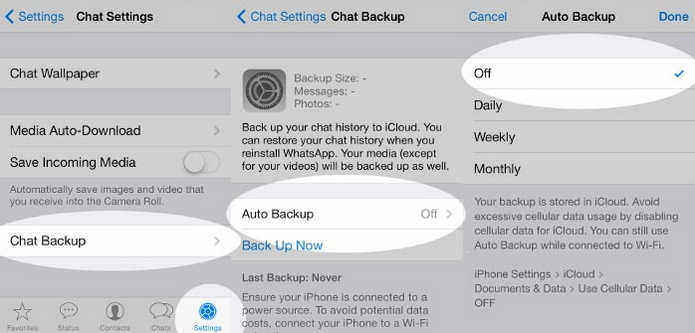 2.Disable iCloud Drive
According to test, disabling iCloud Drive can fix WhatsApp crashes. So, if you have enabled iCloud Drive on your iPhone or iPad, you can disable iCloud Drive by Going to Settings > iCloud > iCloud Drive > Turn off this switch.
3. Reinstall WhatsApp without restoring chat history
Should neither of the above tips helps, you may have to uninstall and re-download WhatsApp as the last resort. This is panic obviously because all data in this app will be lost.
You will be prompted a message whether to restore chat history from iCloud during re-installing this app. Do not choose to restore from backup can get a fresh reinstall and resolve the crashing on iOS devices.
Part 2: Recover Lost WhatsApp Data
All WhatsApp messages (include attachments) will be lost after factory resetting WhatsApp on iPhone. You can then use Tenorshare Free WhatsApp Recovery to get back your lost WhatsApp messages free of charge.
Free Download
For Win 10/8.1/8/7/XP
Secure Download
Free Download
For macOS 10.13 and below
Secure Download
Once detected, WhatsApp data recovery will automatically start scanning WhatsApp messages in your iPhone. You can highlight an account to preview all chat history.


WhatsApp should be updated in near time to fix this bug. Right now we hope the above tips can help you fix the WhatsApp crashing on iOS in iPhone and iPad, and recover lost WhatsApp chat history.
Free Download
For Win 10/8.1/8/7/XP
Secure Download
Free Download
For macOS 10.13 and below
Secure Download
Related Articles
comments powered by