Full Tutorial on How to Add Password to iPhone Backup
by Jenefey Aaron Updated on 2019-07-25 / Update for iPhone Backup
Are you stuck hunting for the ideal method to add password to iPhone backup? Get off the fret zone and throw yourself in the limelight. Adding password to iPhone backup is an elementary task that can be done by any users irrespective of the level of expertise. Whether you are a newbie or accomplished user, know you are in the right place because this article is a sure quick fix on how to set up an iPhone backup password.
Part 1: Why You Need to Add Password to iPhone Backup
Many people have lost valuable things because unauthorized individuals might have found their way into their accounts. Fortunately, a lot has transpired in the contemporary world, and data security has not been left behind in this transformation. iPhone backup is achievable with iTunes password protection and encryption. By default, iTunes does not encrypt your backup files unless you do so. Luckily, the encrypted backup feature in iTunes enables users to lock and encode their information effectively. Once encrypted, the iTunes backup may feature a lot of information which includes saved passwords, Wi-Fi settings, website history, and health data among others. All this information could not be available if you could not add a password to iPhone backup. Hence, we strongly recommend you to encrypt your iPhone backup by adding a password.
Part 2: How to Add Password to iPhone Backup
Adding passwords to iPhone backup may be quite daunting especially with less knowledge and background of the same. However, there are quite some ways to undertake this task including some up to scratch applications. Here, we limit ourselves to a more comfortable and reliable option which is via iTunes.
Step 1. Launch iTunes on your device.
Step 2. Using a suitable media, connect your device with your PC. Upon successful connection, your device icon shall be displayed on the top left corner of the iTunes window.

Step 3. Hit the Summary tab and subsequently choose the "Encrypt [device] backup" option under the Backups section.

At this point you have now set password to unlock iPad backup
Part 3: How to Decrypt Locked iPhone Backup When You Forgot the Password
Tenorshare 4uKey - iTunes Backup is an exciting powerful and modern tool that correctly Decrypt Locked iPhone Backup when you forgot the password. The program is available for Windows, Mac, and several versions of iOS, iPhones, iPad, and iPod. If you are in dire need of a real deal tool to unlock your iPhone backup, then Tenorshare 4uKey - iTunes Backup is a well-tested tool with tremendous success rate. This modern tool has an elegant interface that makes it quite easy for all categories of users to navigate.
Step 1. Download and Install
If you have no downloaded Tenorshare 4uKey - iTunes Backup, visit the official download page and get yourself the appropriate version. Once downloaded, install it on your PC and launch the program to access the home window. On the main interface, select the option labelled Retrieve iTunes backup password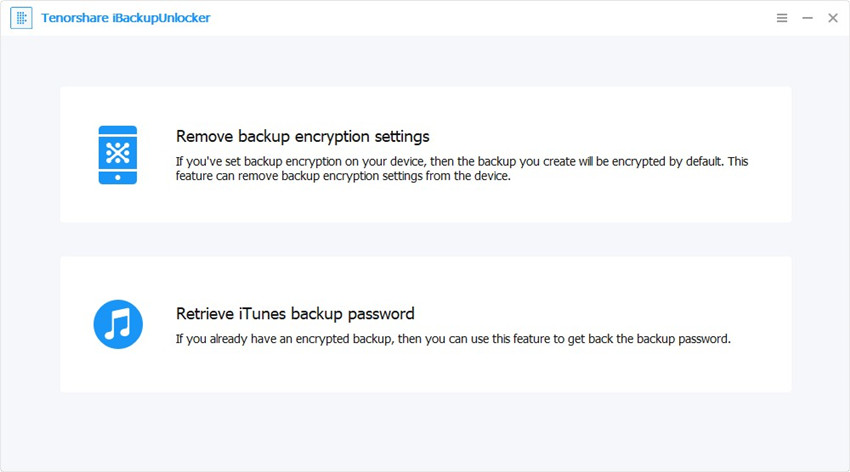 Step 2. Choose the Respective iTunes Backup
All the iTunes backups in your PC shall be displayed alongside their sizes and backup dates. Select the one you wish to get the password and hit Next to proceed.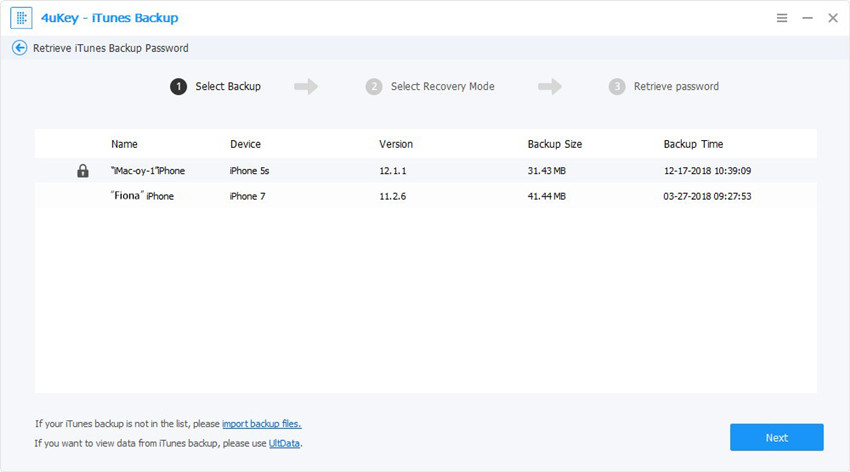 Step 3. Choose a Suitable Password Attack
In the subsequent page, three types of password attacks shall be displayed. These options include Dictionary Attack, Brute-force with Mask Attack, and Brute Force Attack. Choose the most suitable attack option and click Start to begin fetching your backup password.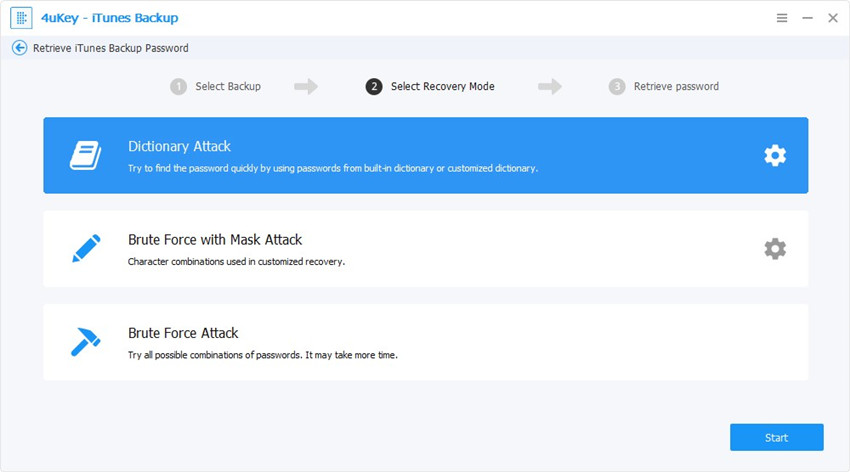 Step 4. Monitor the Password Fetching Process
After clicking the "Start" button, the program will automatically initiate the search process. You can monitor the decryption process on the interface. Wait until the process iscomplete. Remember you can also pause the process if you get an emergency along the way.
Step 5. Obtain your Password
The length and complexity of the backup password will determine the time taken to fetch it. When the password is already found, a pop-up window shall display your backup password.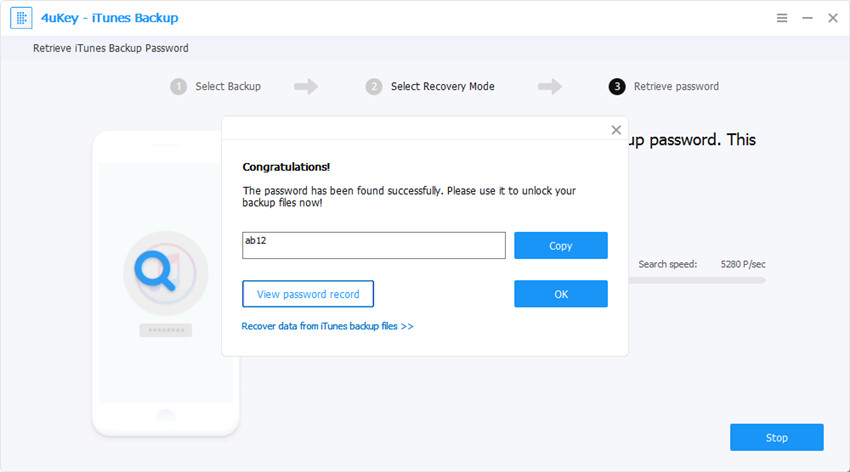 Conclusion
This article has extensively highlighted the ease of the common problem on how to add a password to iPhone backup. However, it is always essential for you as a reader to get the best advice on the right course as far as adding a password to iPhone is concerned. Adding password via iTunes is no doubt quite an easy and cheaper option. As aforementioned, many issues may trigger loss of backup passwords and times become inevitable due to human nature. However, our unlimited capability means we always have a remedy. The comprehensive Tenorshare 4uKey - iTunes Backup tool is a top pick application to retrieve lost or forgotten backup password. Try this fantastic iPhone backup unlocking tool and enjoy the great experience.