How to Encrypt iPhone Backup
by Jenefey Aaron Updated on 2020-02-18 / Update for iPhone Backup
Your iPhone backup included some of your private and sensitive data. And those locally backed-up files can easily be digged around by those who access to your computer. Thus, for data security, we strongly suggest you encrypt iPhone backup files so that keep them from being leaked out. You may wonder how to encrypt encrypt backup and what if I forgot the backup password, how to unlock it? No worries, you will learn how to tackle these two questions after reading this article.
Part 1: Why Choose to Encrypt iPhone Backup?
Imagine all the kind of data on your iPhone that you have done a backup on your iCloud or iTunes account and it lands to the hands of a fishy person? You will feel bad cause they can decide to restore or delete your stored data. It then beats logic on why we need to encrypt iPhone backup it is merely to protect our backups.
Part 2: How to Password Protect iPhone Backup Using iCloud?
iCloud is Apple's cloud storage that allows you to backup your photos, videos, documents, contacts, notes and others freely. With iClouds backups, there are automatically encrypted but if you opt to use iTunes backups some of your information like passwords, Wi-Fi settings, website history data and health data will not be encrypted. Therefore, you will have to add a password to protectiPhone Backup manually using iTunes. Here are the steps on how to encrypt backup.
Step 1. Open iTunes on your computer and ensure it is the latest version. If not, you can download it or update it under "About" option on the menu bar.
Step 2. Next, you need to connect your iPhone to the computer using a USB cable, and iTunes will detect it automatically.
Step 3. After that, turn to iTunes and click on your device at the top menu.

Step 4. From there, click on "Summary" tab and then navigate to the "Backups" menu at the lower bottom of the page.

Step 5. Under backups, tick on "Encrypt iPhone Backup" option and you will see a pop window that allows you to create a password. Create a password and confirm the password.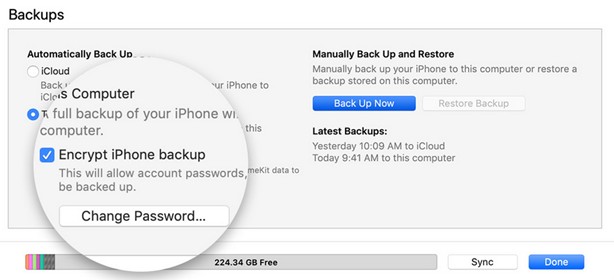 Step 6. Now, iTunes will encrypt all your backups, and you will eventually see a lock next to it.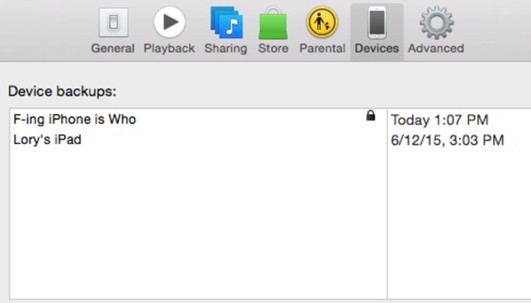 Part 3: How to Disable iPhone Backup Encryption in iTunes?
If you want to disable the iPhone backup encryption when the iPhone backup password not working or you forgot the password, you will have to use iTunes. The process is also simple provided you have iTunes installed on your computer. Here is a quick guide.
Step 1. Open iTunes on your computer and then connect your iPhone to the PC with a USB cable.
Step 2. Next, click on your iPhone device on iTunes and then click on the "Summary" icon.

Step 3. On the Summary panel, navigate to the bottom and click on "Backups" and then untick the "Encrypt iPhone Backup" option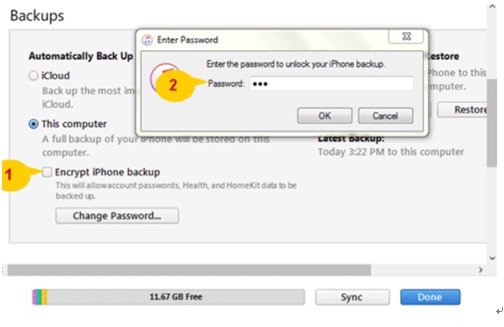 Step 4. You will then have to enter the password that you had set to disable it.
By doing so, you will have removed the iPhone encrypt the password.
Part 4: Turn off iPhone Backup Encryption without iTunes using Tenorshare 4uKey - iTunes Backup
Another method that you can turn off iPhone backup encryption without iTunes is by using iBackup password remover. One of the proven backup password removers is Tenorshare 4uKey - iTunes Backup. It can remove iPhone backup encryption without a password. Also, 4uKey - iTunes Backup software allows you to retrieve backup passwords that you have forgotten entirely or the one that you partially remember some of its characters.
Step 1. Download and install 4uKey - iTunes Backup software on your computer.
Step 2. Now, click on "Remove Backup Encryption Settings" at the home window. If you had forgotten your encryption password click on "Retrieve iTunes Backup Password" option.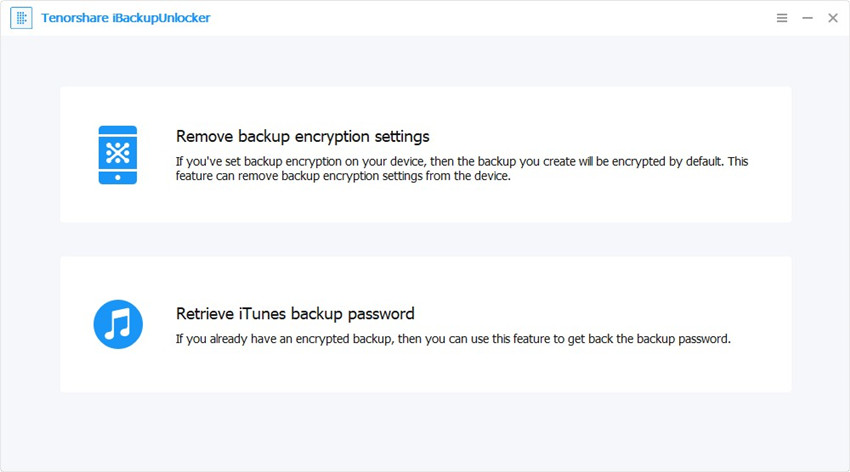 Step 3. Next, you need to connect your iPhone to the computer using a USB cable. When it is connected, you will see "iPhone Connected" on the interface.
Step 4. After that, you can then click on the "Start" button to begin removing the password. You will see the progress on the screen. Be patient until is 100% done.
Step 5. Once it is done,a new window will appear that indicates that a password is successfully removed.
At this point, you have removed the iPhone encrypted password.
Conclusion:
To protect iTunes backup by adding a password is necessary because it helps protect your device data. However, there are situations that you need to turn off backup encryption. As we have seen this article, you can use iTunes to remove the encryption iPhone Backup, but you might run into problems.
The best choice is to use Tenorshare iTunes backup password unlocking tool. This program enables you to remove iPhone encrypted password without hassle. Its user interface is also simple and can be used by anyone. Try this software when you want to remove iPhone backup password.