3 Best Ways to Backup WeChat History on iPhone
WeChat is a third-party messaging and social media app. It was developed by a Chinese company and was released back in 2011. After it was released, WeChat became very popular and now it has over 1 billion monthly users. A lot of people use this app for conversations and lots of other stuff. But the problem comes when it is time to back up the WeChat data. Most users don't know how to make WeChat backup but it is very simple. In the older version of the app you can back it up on your iPhone directly but in the new version, you have to do it through a computer. There are also other effective options, which are discussed below in the article.

Way 1: WeChat Backup Directly on iPhone
This is one of the easiest ways to backup WeChat. If you follow this procedure then you will be able to make WeChat backup iPhone. The procedure is very simple and effective and here are the steps:
Step 1: First, you have to run the WeChat app and choose the "Me" tab.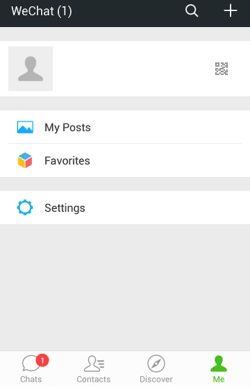 Step 2: Then, go to "Settings".
Step 3: From, there go to "Chat" and then head for "Backup/Restore Chat History".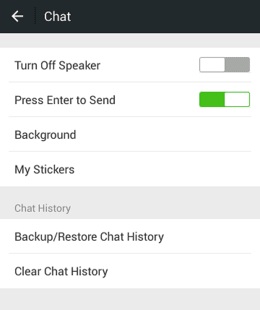 Step 4: Finally, choose a backup and tap on "Select All" then click on "Done"
If you want, then you can also a set a password to protect your WeChat data.
Unfortunately, this procedure is only available for the older version of WeChat app; if you are using the new version then you have to make the backup using your computer.
Way 2: WeChat Backup via PC/Mac Version
That was the procedure to backup WeChat on your iPhone, but it is not always efficient to backup such intricate files on your iOS device; the better option would be to store them on your computer. You can take advantage of WeChat's Backup and Restore feature here and you will have all of your WeChat data saved to your computer right away. This feature is available for both PC/Mac and you can even selectively transfer messages from iPhone to PC/Mac. It is very simple to use and here's how to backup WeChat chat history using PC/Mac:
Step 1: Download WeChat for PC and then install it.
Step 2: Also, login to your WeChat account using the dedicated ID and password.
Step 3: Now, on the lower left-most corner of the software, select "Backup & Restore".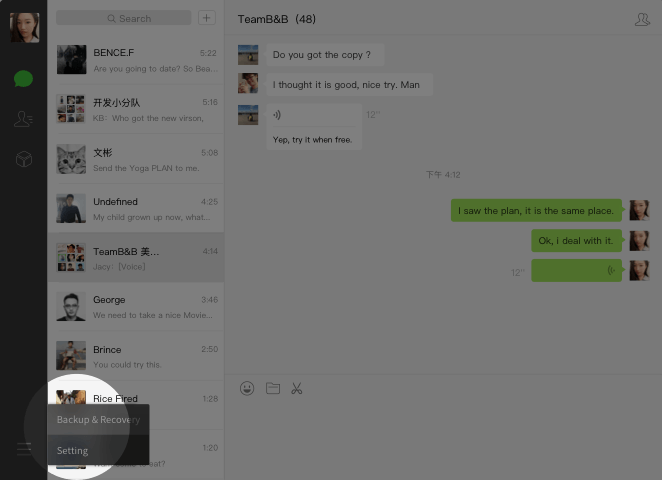 Step 4: Now, on the present window, choose "Back up on PC" option.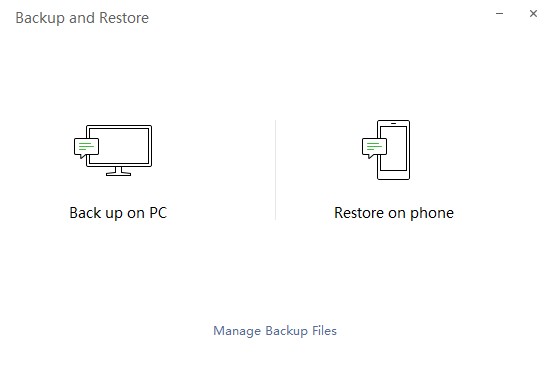 Step 5: Again, tap the "Backup All" option to start the backing up process.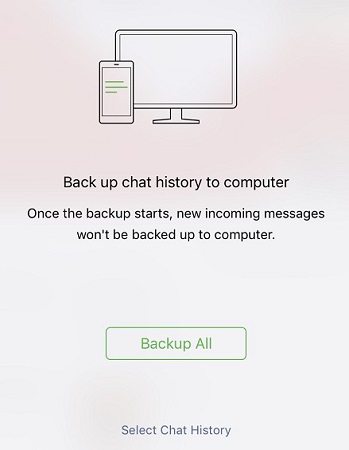 Step 6: This will start to backup WeChat history from your iPhone to computer, which also includes the messages as well.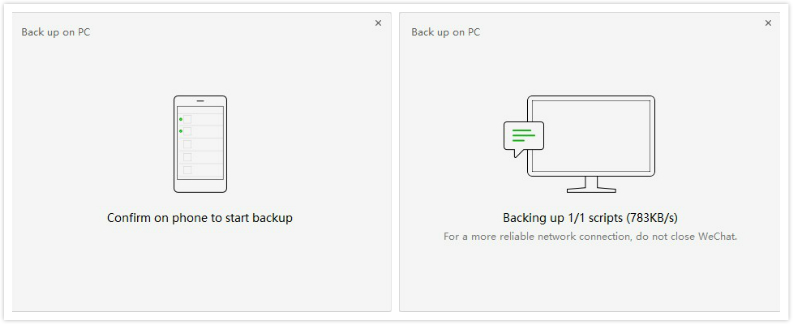 Step 7: After it is done, tap "OK"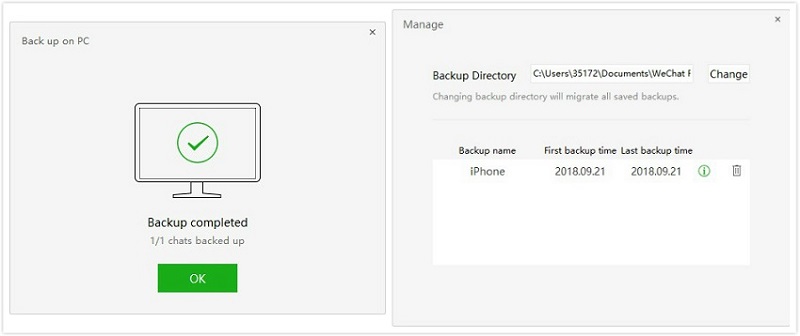 This is a very simple procedure which can help WeChat backup to PC/Mac and after the backing up is completed you will find the backup file on the hard drive of your computer.
Way 3: WeChat Backup using iTunes
Although it will not be a very suitable option for you, the iTunes app is also capable of backing up WeChat data. Unfortunately, you won't be able to backup WeChat, selectively. iTunes does not have that advanced feature, it will back up the whole device and the saved file will be highly encrypted which would be completely inaccessible. But still it is effective while backing up data, and here's how to backup WeChat using iTunes:
Step 1: Connect your iPhone to the PC and run the iTunes.
Step 2: Tap the "Device" icon and then go to the "Summary" tab.
Step 3: After that, you have to select "This Computer".
Step 4: Simple tap "Back Up Now".
Step 5: Lastly, click on "Done" after you are finished.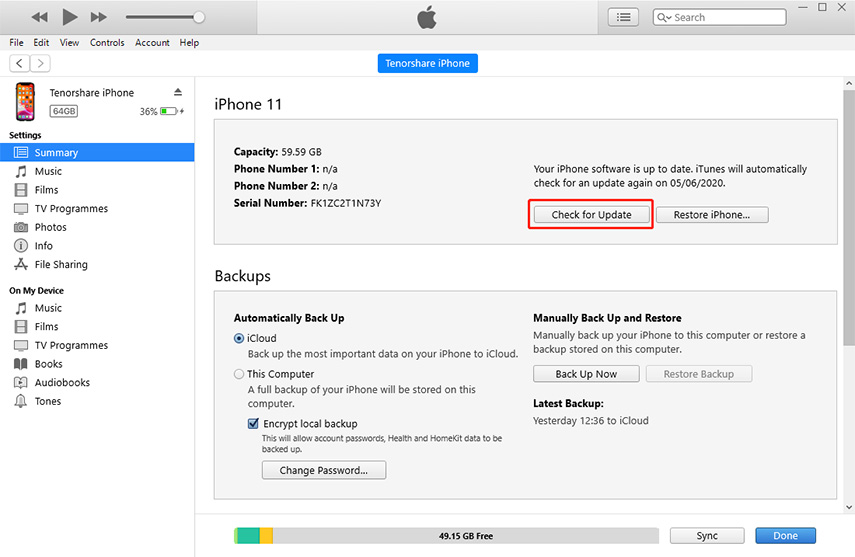 This procedure will back up your iOS device completely including the WeChat files. The saved backup file will be encrypted but you will be able to access the files only when you restore the backup file on your iPhone again.
In the End
The goal here is to find a suitable way to back up the WeChat files. We have discussed 3 very effective ways to backup all of your WeChat files. The first one is to back up WeChat directly on your iPhone then we have the iTunes app, which will back up the WeChat files but along with the entire iPhone. Finally, we have the Backup and Restore feature of WeChat itself, which can do the job really well. Along with selective backup, it can save all your data on your PC/Mac effectively.
In case, you want a free iPhone backup software, we highly recommend Tenorshare iCareFone. It is an exceptional third-party software that comes with the capability to selectively backup and restore data from your iPhone. The backup files will be saved on your computer, both PC and Mac are eligible and you can access all those files even without restoring them unlike in iTunes.
The World's Best FREE iOS File Manager
Free backup everything you need on iPhone/iPad/iPod
Transfer music, photos, videos, contacts, SMS without limitation
Selectively restore files without erasing current data
One click to backup and restore WhatsApp from iPhone