3 Best Ways to Backup Viber on iPhone
by Sophie Green Updated on 2022-11-23 / Update for iPhone Backup
iOS users know the value of frequently backing up their data. It is also recommended by the company for the well-being of the precious data collected by the users.
But some users get flustered when they are using a third party app, like Viber. It is an instant messaging app developed by a Japanese company and it is very popular. These messaging apps contain a lot of important conversations and photos that users need to backup but they have no idea how to do it.
One of the best ways for Viber backup is to use the app itself, it comes with an automatic backup feature. There are also other feasible options that are discussed in this article. So, let's get started.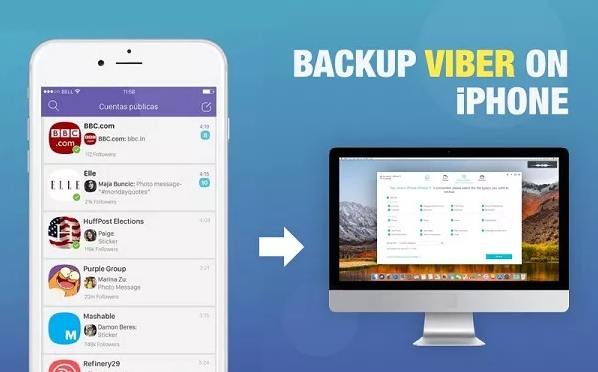 Way 1: Free Backup Viber Texts & Attachments
As a multi-platform instant messaging app, Viber contains a lot of personal conversations and images. Some of these texts and photos may be very important to you, so, you may feel the need to make a backup of those files to save them from any catastrophic situations.
There are many ways to back up Viber but Tenorshare iCareFone Transfer(iCareFone for WhatsApp Transfer) is considered as one of the most efficient programs in the market with the capability of backing up texts and photos from Viber. Being a potent data manager, it can backup and restore any type of files, which includes app data as well. Here's how to backup Viber messages using Tenorshare iCareFone Transfer.
Download the software from the website to your computer and click 'Viber' on the interface and find 'Backup' button on the side bar.

Now, connect the device and then select your device using the drop down arrow.

It will take some time for the procedure to complete. After it is donw, you will 'Backup Successfully' message on the interface.
Way 2: Set up Viber Auto Backup on iPhone
The independent instant messaging apps do not actually come with a backup feature but there is a way to backup text for Viber, using the app itself. The app actually has a backup feature and it works on iPhone. The backup will store messages on your iOS device but it will eliminate any past backups.
You can turn on the Automatic backup feature on your iPhone and when you are connected to a Wi-Fi connection, the device will start backing up the messages. Here's how to backup Viber, automatically:
On your iPhone, open Viber and go to "Settings"
Select your Viber account and select "Viber backup".

Then, tap on "Auto Backup".

You also have to select how often you want to make backups. The options are "Weekly" and "Monthly".
This way you can use the Viber app, itself to make suitable backup files containing only your messages and photos from Viber.
Way 3: Backup Viber with iTunes
Another way for Viber backup and restore is iTunes. It is a legitimate way to backup various files from your iOS device. The iTunes backup is a bit different from the third-party software like Tenorshare iCareFone, as the backup file comes with a high-level encryption, which cannot be bypassed. The only way to restore the backup files is to restore it on the iOS device again, and for that, we know how cumbersome it gets. Alternatively, if you use iTunes for backup, you can also use iCareFone to restore and access that backup easily instead of using Tunes. Here's how to backup Viber messages using iTunes:
You need to connect the iOS device to your computer first, and then run the iTunes app.
Then, click on the "Device" icon at the top and then click on "Summary" at the left side of the same window.
Then, go to "Automatically Backup" and select "This Computer" and tap "Back Up Now".

Tap "Done"
And you are done! Now you will get access and view all your Viber data even if you backup with iTunes.
Final Words
As advertised by Apple, you need to make regular backups of your iOS device, just to be safe. But it is not always possible to make a backup of the whole device. So, the only suitable option is to back up a particular file. But the iTunes app is not capable of making selective backups of iOS device. Alternatively, if you use the automatic backup feature of Viber then you will be able to back up all the messages and the photos from your Viber account automatically. But this procedure is only applicable for Viber app messages. If you are looking for a software that is capable of making backup selectively for all types of data then go for Tenorshare iCareFone Transfer. It is the best and most effective software that you can go for now. Highly recommended!