Mac Partition Recovery: Recover Deleted, Formatted & Lost Partition
by Anna Sherry Updated on 2021-08-27 / Update for Mac Data
"SSD stopped working, can I recover my files? A year ago I replaced the hd with a 500 gb samsung ssd, and was using my mid 2010 MacBook Pro. However, about two weeks ago it wouldn't boot anymore, and after booting into recovery mode a few times only a flashing question mark folder.?"
"I accidentally delete the entire partition of mac OS and that had essential files. When I boot with alt push, it show only windows and not Mac OS. My MacBook pro is latest one with 15" retina. How to recovery this Mac partition and without lose important files?"
If you have arrived at this guide, it is likely that a partition on your Mac has been deleted, formatted or lost due to certain situations. Things like that can happen to anyone at any point of time and there are a few things you can do to get your lost files back that were saved on these partitions. There are many Mac partition recovery tools that let you do it and you are going to find more about them in the following guide.
A partition recovery software allows you to recover partitions that have been systematically damaged on your machine. This software uses advanced techniques and algorithms to find and restore the working versions of your partitions. If you are not sure how to do this, have a look at the following sections that talk more about recovery partition Mac.
Part 1. Free Download the Best Mac Partition Recovery Software
As we discussed above, you are going to need a software to recover the partitions on your Mac and there are several such software in the market, fortunately.
Enter 4DDiG for Mac Data Recovery, a data recovery software that allows you to recover your data on your machine regardless of how you lost it. It even helps with recovering your deleted, formatted, and lost partitions on your Mac.
Recover Data Regardless of How It Was Lost
Whether you have accidentally deleted a partition, formatted a partition, or lost a partition, you can use the software to get all your lost data back. It supports data recovery from situations like hard drive crash, sudden shutdown of the system, virus and malware attacks, power surges, corruption in software, file system corruption, and so on.
Multiple Data Type Recovery
The software lets you recover data of multiple types. It includes photos, videos, audio files, and many other popular file formats. All this data can be recovered from your lost, corrupted, or deleted partition on your Mac.
Support for Multiple File Systems
The software is not limited to just one file system to help you recover data. It supports data recovery from APFS, HFS, HFS+, FAT, exFAT, and NTFS file systems.
Part 2. How to Recover Deleted, Formatted & Lost Partition on Mac
Now that you have learnt about the features of the software, you may be interested in finding out how to restore partition Mac. This section is all about teaching you how you can recover your deleted, formatted, and lost partition on your Mac machine.
The procedure to recover partitions on a Mac is easy as all you need to do is instruct the software to look for data in selected drives and it will do the rest of the work for you automatically. It is also easy to use the software as it has a nice user-friendly interface that anybody can work with.
If you are ready to recover your partition, the following is how you do it:
Step 1: Download and run the software on your Mac. Choose the source of your lost data from the options available on your screen and then click on the button that says Scan to scan those locations on your Mac.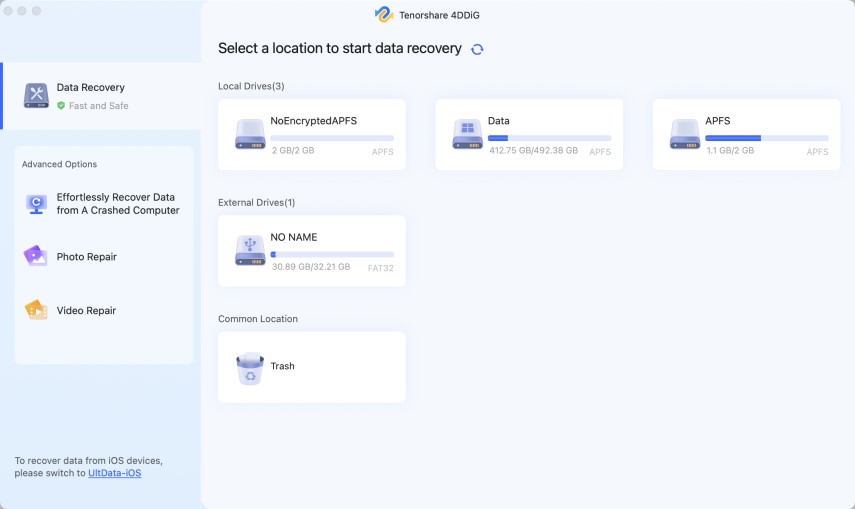 Step 2: Wait while the software scans your chosen locations for any files it can recover. When the scan has finished, you will see the results on your screen. Select the files you would like to recover and then click on the button that says Recover at the bottom-right corner.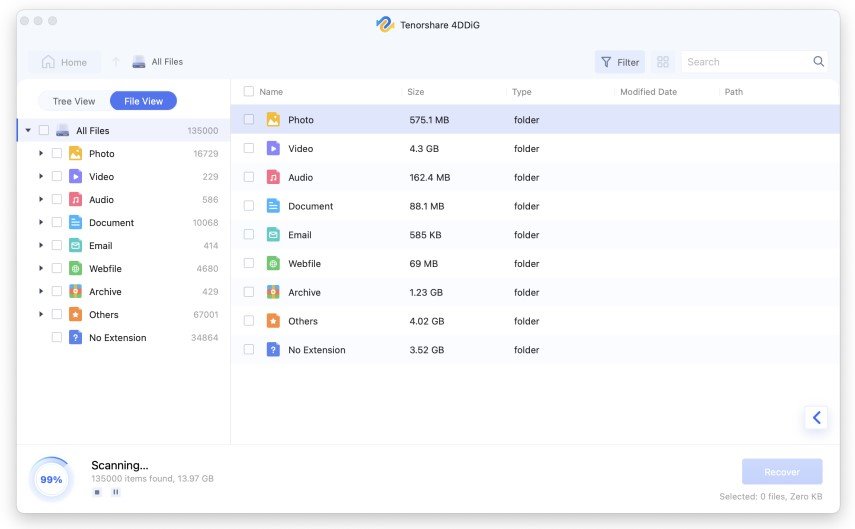 Step 3: Choose a destination for your selected files on your Mac and then click on the Open button to save your files.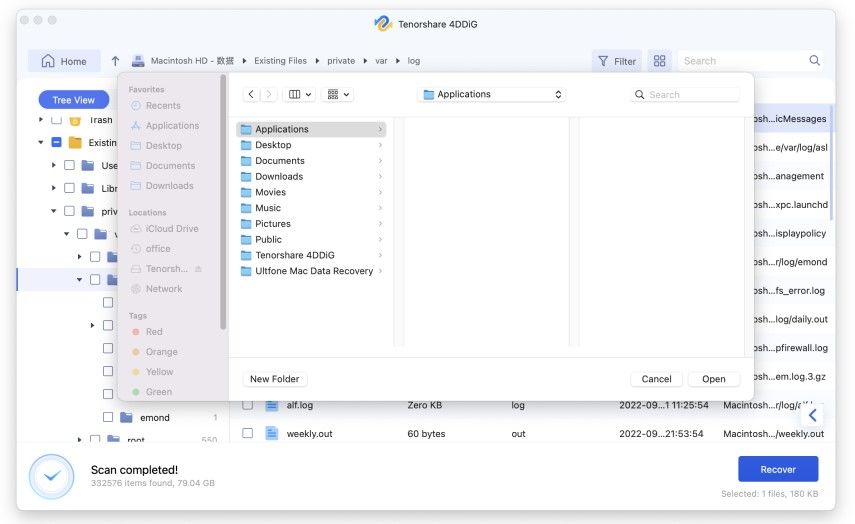 Your chosen files from your partitions will be recovered and saved on your machine. That is how you recover lost partition Mac.
Note: If You Want to Restore Lost Data from System Disk under macOS 10.13
If your Mac runs macOS 10.13 or later, there is a restriction on your machine that prevents the 4DDiG for Mac Data Recovery software from scanning your files. You need to first disable the restriction before you can use the software.
Fortunately, it's easy to do that and the following shows how:
Step 1: Click on the Apple logo on your Mac and select Restart. When your Mac restarts, press and hold down Command + R to reboot into the recovery mode.
Step 2: When you are in the recovery mode, select Utilities followed by Terminal to open a Terminal window on your screen.
Step 3: Type in the following command into the Terminal window and hit Enter.
csrutil disable

Step 4: Click on the Apple logo and select Restart.
Your Mac will reboot, and you will have disabled the SIP feature on your Mac that prevents the software from scanning your files. You may now head to the second part of the guide to scan for and recover your lost partitions on your Mac.
Final Verdict
If you are tired of the Find My Mac recovery partition required issue on your Mac, our guide above should help you recover your data from your lost or formatted partitions on your machine. It also teaches how you can disable SIP, so that Tenorshare 4DDiG can scan files on your Mac.