How to Undelete Files on PC/Mac
by Jenefey Aaron Updated on 2022-09-02 / Update for Data Recovery
Where there is Internet, the ambit of viruses and other problems arises. And, we as users are hitched with Internet for our professional font to scrolling/chatting over our social handles. Amidst our regular work style, incurring loss of data under any circumstance can pose to be a great problem. So, we will understand how to undelete the files from your PC/Mac. As, this article is dedicated to give you a comprehensive study on how to undelete the files in simple way.
The Scenarios will Lose Data on PC/Mac
There are various scenarios under which the user may lose the data completely. So, we have collated a list of possible circumstances under which the data can be deleted from your PC/Mac.
Hard drive failure – The hard drive is the main primary storage of your system. And if that starts to lag or gets corrupted, the risk of losing your data equally rises. If by chance, the hard disk goes corrupted or the system fails to recognize hard disk then it can directly hamper your data altogether. The data loss starkly rises.
System malfunction – The other most possible reason of losing your data is that your system must have incurred any malfunction due to any circumstance like electrical lights, crashes or any controller failure. Such situations can altogether hamper the flow of work, corrupt files and result in complete loss of data.
Computer virus- With your desktop, you are exposed to the world of internet which has its own bane and boon. And in no time, your files can fall in prey to the potentially dangerous elements available over internet. All this can happen, right after any Trojan horse, malware comes in from applications or data accessed from any inappropriate source.
Accidental deletion- The possibility of losing out on your crucial chunk of data can be done by your mistake of deleting data. Whether you do it absent mindedly, a click to 'delete' may trash the data altogether.
Software corruption- It can be that the Windows are the OS you are working, faces any crash problem or that any software, you work in gets corrupted. In such a situation, the files stored in the local drives or over the laptop, may completely vanish.
Why is it Possible to Recover Deleted Files on PC/Mac
Undeleting files from PC/Mac is easier than you can imagine. It's just that when a file is deleted, it is still there on the hard drive and on the File Table Value is assigned to 0. This implies that the space over the location of the deleted data is now free and can be used to overwrite the deleted data. All you have to do is seek help of a data recovery tool as soon as possible, since the deleted files can be traced back before any new data overwrites it.
How to Undelete Files on Computer
The ideal way of undeleting any range of files on your PC is by using Tenorshare 4DDiG Windows Data Recovery. With this impeccable solution, simply undelete files that were got deleted in your Windows/Mac PC in a blink of an eye. It doesn't matter when you lose upon your data under what circumstances, you can quickly gain the files effortlessly. What's more? You can quickly gain back data lost from the main memory- hard disk, any removable disks, or memory card.
Note: The product works well on Mac, named Tenorshare 4DDiG Mac Data Recovery. We will take Windows version as an example to show you how to use 4DDiG.
Step 1 Select Location
The first screen will load with the enlisted locations of your desktop. You just have to tap on one location where your data was placed and then click on 'Scan'.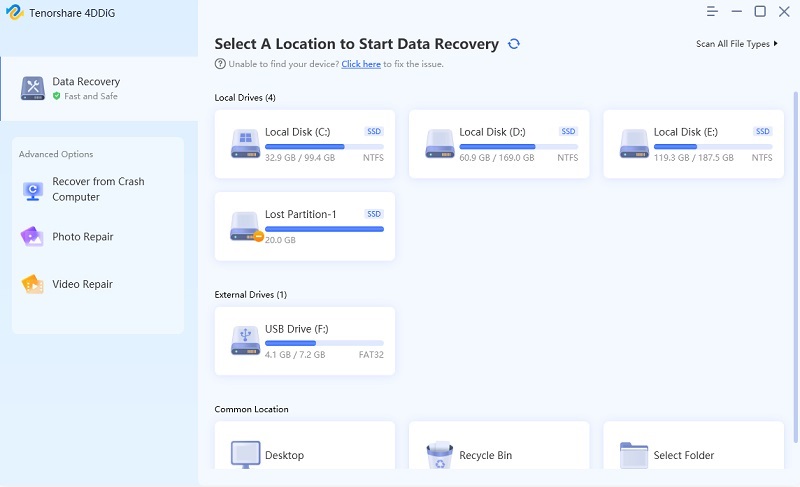 Step 2 Preview Files
Once, in-depth scanning completes, the preview screen will showcase the list of files available for your PC. If you are unable to locate the desired one, then you can tap on 'Deep Scan'. Accordingly, select the files you want to undelete and then tap on the 'Recover' tab from the bottom right corner. This way, you can undelete files from your PC/Mac.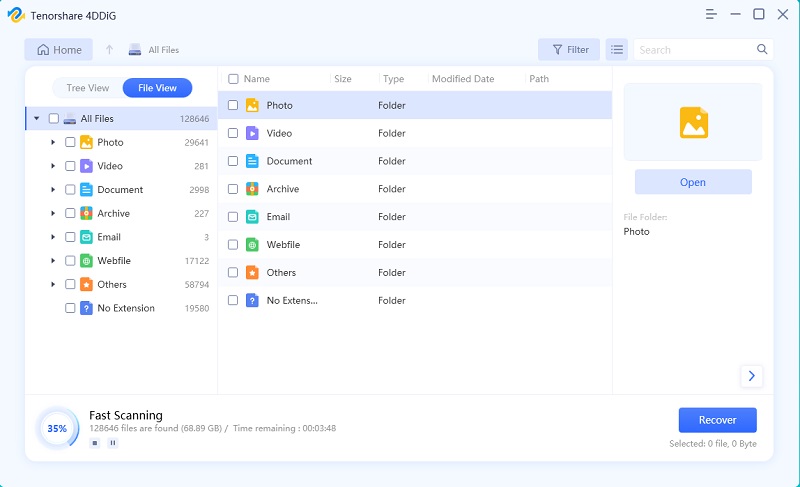 Step 3Restore Deleted Files
Check the targeted files and click on the "Recover" button to save the recovered data. Please do not save to the same partition where you lost them in case of disk overwritten and permanent data loss.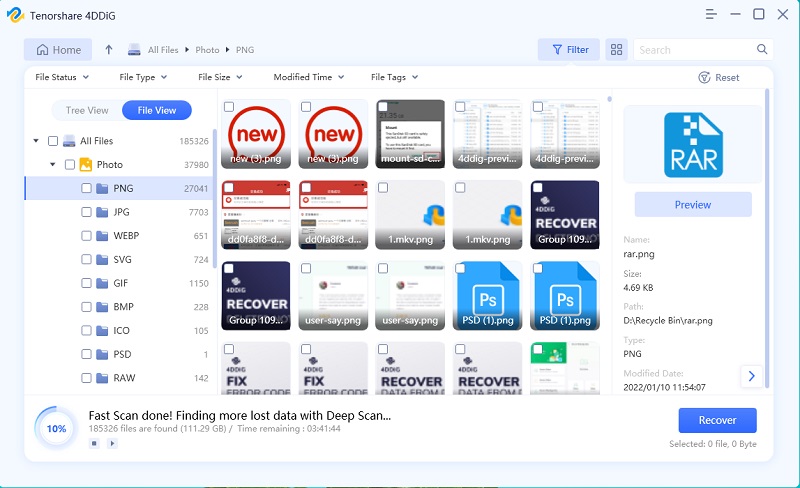 Conclusion
We hope, we have enlightened you on how to undelete files on various circumstances where the deletion of data becomes chronic. So, before you miss out on it completely, you must save yourself from Tenorshare 4DDiG for Windows Data Recovery/Mac Data Recovery. It is the best software for speedily undeleting files over PC or Mac under any unfortunate circumstance. Also, Tenorshare 4DDiG for Windows Data Recovery/Mac Data Recovery can quickly recover files lost from the secondary memories as well.