How to Fix AirPods Keep Disconnecting From iPhone 11
by Jenefey Aaron Updated on 2020-06-16 / Update for Fix iPhone
Even the best products experience glitches once in a while, and Apple's AirPods are no different. Despite being one of the best wireless earphones out there, AirPods have their own share of errors.
Some users reported that their AirPods get disconnected from iPhone repeatedly during calls. Here are some of the users' statements from Apple Support Forum:
AirPods pair correctly with iPhone 6s Plus (iOS 12) and randomly during the call, they get disconnected. The BT connection gets lost and I have to connect them again manually. Happens several times during long calls with no apparent pattern. The AirPods are fully charged. The strange thing is that while listening to music, this problem doesn't show up, only on phone calls."

"However when using the airpods with video application sources after the iOS 13/12.4/12.2/12.1/12 update reconnection is unstable and must occasionally be done manually."
If you experience a similar problem with your AirPods on iPhone/iPad with iOS 13/12.4/12.2/12.1, here are some possible solutions to fix AirPods disconnect randomly problem.
Way 1: Check the AirPods Battery Status
The first thing that you need to do is to make sure that your AirPods are sufficiently charged. Open the case lid with AirPods inside and hold your case close to your paired iPhone. Then wait for a few seconds until the charge status of your AirPods and Charging Case appears on your iPhone screen.
You can also use the Battery widget to check the charge status of your AirPods and charging case provided that at least one AirPod is inside the case.
After making sure that the batteries are sufficient, let's move on to the next steps.
Way 2: Use Either Left or Right Microphone
Each AirPods features a microphone. By default, both the earphones work as microphones during calls. Allowing only one to work as a microphone at a time might fix the disconnection issue.
Launch Settings > Bluetooth > Tap on "i" button next to AirPods then tap on Microphone
Select either Always Left AirPod or Always Right AirPod.
Way 3: Turn off Automatic Ear Detection
AirPods feature "Automatic Ear Detection" technology to keep them working only when they are in our ears. Some users have reported that when they turn off this feature, AirPods don't disconnect from iPhone during the call.
Open Settings > Bluetooth, tap on "i" button next to AirPods, and turn off Automatic Ear Detection.
Way 4: Forget and Re-pair AirPods
Open Settings > Bluetooth. Tap on "i" next to AirPods and then tap on Forget this Device.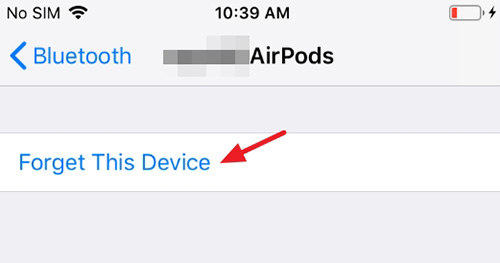 After that, reboot your iPhone and pair it again with the AirPods.
Way 5: Reset Network Settings/All Settings
Open Settings > General > Reset and tap on Reset Network Settings and confirm.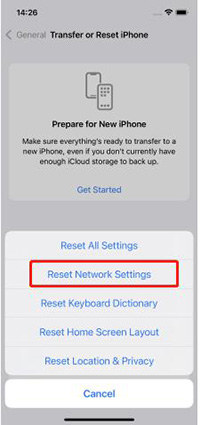 If the problem doesn't get fixed by resetting the network, then try to Reset All Settings.
Way 6: Try Changing Outputs and Inputs on Your Mac
Go to System Preferences on your Mac and click on the Sound.
Select Output Tab to AirPods.
Click on Input Tab to AirPods.
Here we summarize 6 different tips for fixing AirPods disconnecting problem. Hope your trouble could be relieved a lot.
Extra Tips: Repair All iPhone Stuck Problems with Tenorshare ReiBoot
Playing around with settings comes with the risk of stucking problems, like stuck on Apple logo, stuck in recovery mode, black screen and so on. The best thing is to fix these issues when your iPhone has. Then Tenorshare ReiBoot comes to rescue your iPhone to normal .
Fix iPhone Stuck Issues without Data Loss