5 Effective Tips to Stop iPhone Overheating iOS 17 Update
by Anna Sherry Updated on 2023-08-24 / Update for iOS 15
Is your iPhone overheating after update iOS 17? If yes, this is a relatively common issue that many iPhone users have dealt with. While holding your iPhone, you will feel uncomfortable with the temperature of the device. As this issue continues, you will get an iPhone temperature warning on your screen. The problem could be caused by a wide range of reasons that will be explored later. In this situation, you don't have to panic as there are tons of solutions you can consider to deal with the problem.
Warning: What Will Happen If You Get iPhone Temperature Warning
When you are getting iPhone overheating warning, you should note that it is a temperature sign that could signal lots of things for your device. Some of the things that could happen include:
It may affect the charging speed of your iPhone. In some cases, an iPhone heat warning may force your device to even stop charging.
The overall performance of your device will slow down significantly. You will notice this issue more when you are using apps with great graphics.
The signal of your iPhone may be weak. However, the device may still allow you to make emergency calls.
The display of the iPhone will dim or just turn black.

You may get a black iPhone temp warning message saying "iPhone needs to cool down before you can use it".
If you have seen any of the issues, it is time to look for a reliable iPhone temperature warning fix.
I. How to Solve iOS 17 Heat Issues
If your iPhone is getting hot after iOS 17 update, you can take advantage of some proven methods to solve the problem. Below, we will highlight basic methods to fix iOS 16 heat issues.
Tip 1. Stop Charging If iPhone Overheating during Updating iOS 17
Are you charging your iPhone while updating iOS 17 on it? If yes, this could be the reason for iPhone overheating as iOS 17 update is going on. Generally, charging makes a smartphone heat up. When combined with an iOS update, the heating becomes unbearable. Well, the solution to this problem is simple. You just need to stop charging the device during the iOS 17 update.
Tip 2. Close the Background Apps
Sometimes, background apps may be the major source of overheating for your iPhone. So, you should consider closing all background apps by following the steps below:
Go to the home screen of your iPhone by just swiping up from the bottom of your device's screen quickly.
Again, you need to swipe up from the bottom of your iPhone's screen but pause when you get to the middle.

You should swipe through the apps that are open on the device. This will display a roller of all apps that are presently running on your iPhone.

Swipe left or right to find the backgrounds you want to close. Then, swipe up and the app will close automatically. You can use this method to close as many background apps as you want.
Click the top or bottom of your device's screen to go back to the home screen.
Tip 3. Take off the Phone Case
If your iPhone is heating up after iOS 17, the case of your iPhone could be adding to the high temperature. This is because the case may prevent the device from losing heat. Therefore, once you have received the iPhone high temperature warning, you should consider taking off the phone case. This easy trick may fix the issue.
Tip 4. Turn off Your iPhone and Restart When It Cools Down
Another common solution is turning off your device and restarting it when it cools down. Different iPhones have specific ways of turning them off and restarting. Take iPhone 12 as an example.
Press and hold the side button and volume button. Don't release the buttons until you see the slider button on your screen.
Drag the slider and your device will turn off automatically.
Wait until the device cools down before restarting it.
Press the side button and hold it until the Apple logo appears on your screen.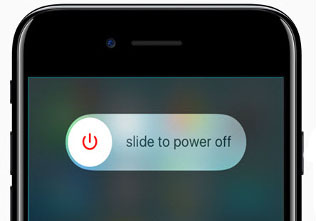 Tip 5. iOS 17 Bug Causes iPhone too Hot Warning? ReiBoot Can Fix
After trying all the tips above, you may still see iPhone too hot warning. If this is the case, an iOS 17 bug is the likely cause of the issue. Unfortunately, no method can get rid of this bug unless you fix your iOS problems. Thankfully, Tenorshare ReiBoot has been created for fixing different iOS problems including iOS 15 iPhone heating up.
Start the process by downloading and installing Tenorshare ReiBoot on your computer. Afterward, run it and use a USB cable to connect your iPhone to the computer. Once the iPhone is recognized, you have to select "Start".

The next step is to click "Standard Repair". Please, don't proceed until you have read the information on the screen. When you are ready to repair the iPhone, click "Standard Repair".

Now, you should select "Download" to download the latest firmware package for fixing the iOS issue. The file is almost 5GB; therefore, the download may not be quick.

Then, you need to click "Start Standard Repair". Your device will be repaired automatically.

Once complete, the bug will be fixed without any issue.
II. The Cause of iPhone Getting Hot after iOS 17 Update
The major issues that make the iPhone get hot after iOS 17 update include:
iPhone may be updating some apps in the background. This makes your iPhone run every time and get hotter.
The CPU of your iPhone might have been revved up 100%. This means that your device is performing too much work at once. Over time, it will start heating up.
The photo app may be indexing a large photo library once you have updated your iPhone. Unfortunately, this happens in the background. So, you may not be aware.
Conclusion
So, when you are getting iPhone high temperature warning, take advantage of the solutions above to fix it. However, if the problem is with the iOS 15 bug, only Tenorshare ReiBoot can solve it. Therefore, try out the software today.
Fix iPhone Stuck and Update Issues without Data Loss