[Solved] How to Recover Emptied Trash Mac Free With/Without Software
by Sophie Green Updated on 2021-06-08 / Update for Mac Data
The term macOS Trash Bin might be quite familiar and also way too common especially for the Mac system users. It plays the role of keeping your recently deleted files for a temporary period of time. Thus, it has always been known as a very special folder. So, just in case you have deleted any kind of document or a folder unintentionally you can recover the lost data from the macOS Trash Bin. Although it is possible to recover accidentally deleted files from the trash bin, what would you do if you have emptied the trash bin. You needn't worry! There are still a few ways in which you can recover emptied trash mac free without any hassle. Get to know more about this here.
Part 1: Is It Possible to Recover Emptied Files on Mac Free?
Deleting a file in Mac has always been an easy task! Just a click of a button and it's gone. However, in case you have done that by mistake there is no need to fret about it. If you are an individual who is experiencing this, you would be glad to know that it is possible to recover deleted trash mac free easily and that too free of cost.
There are some of the most typical ways that you must follow in order to attain your lost data back. All these ways are explained in detail below. Which way to use out of this, the choice is all yours! The operating system of Mac has been successful in handling a good number of file deletions and thus, there is a way to get your deleted folders back. Your chances of recovering these files can also be elevated if you are reducing the storage device usage in your Mac. Apart from that, many people have also recommended not to use your system until the whole process of file recovery is completed.
Part 2: Top 4 Ways to Recover Emptied Trash on Mac free
If you have already deleted your documents, files or any other data on your system by mistake or have lost it, there are a good number of ways available to recover the same. Out of these innumerable ways, the four most effective and relatively easier methods to recover deleted files from trash Mac free have been explained below.
Way 1: The Ultimate Way to Recover Deleted Trash Mac Free
Tenorshare 4DDiG for Mac Data Recovery is the ultimate tool using which you can recover deleted trash Mac free. This is 100% effective! This is prominent as a very professional software that plays a great role of recovering your files and folders irrespective of their type. Give a glance to the following steps to recover your data through this software.
Step 1Once you have installed the UltData- Mac Data Recovery software, launch it on your system. Later, select the location in order to commence the process of your Mac Data recovery. Click "Scan" in order to start searching for your lost files.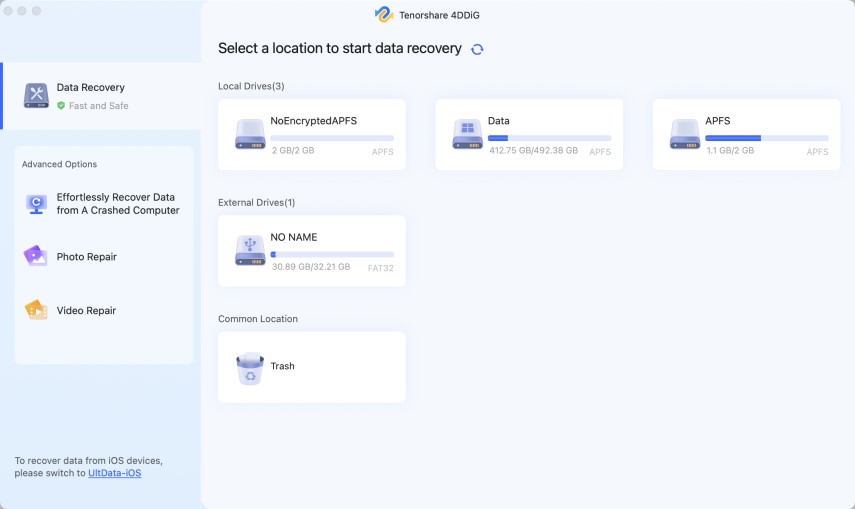 Step 2All the deleted files will be scanned and you can see the progress of the process on your screen.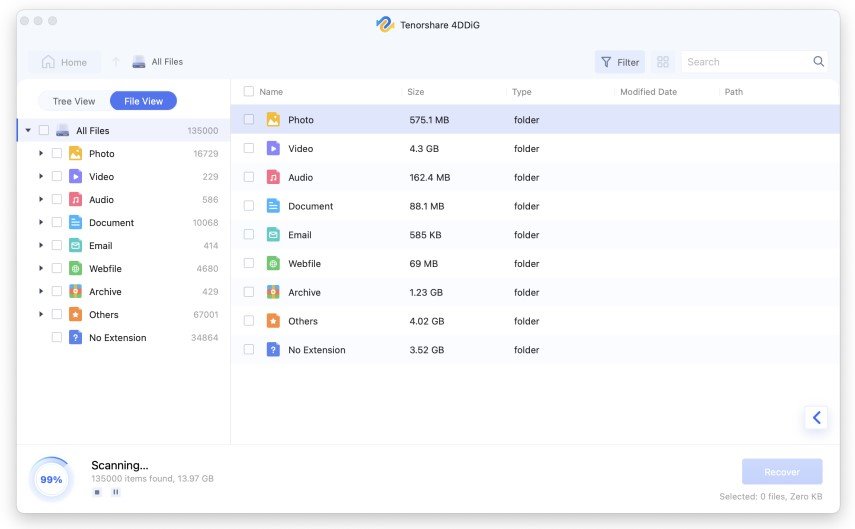 Step 3On selecting the files that you need to recover, click on the 'Recover' button. Afterwards, choose the specific location in your Mac where you need to save them. This way using Tenorshare UltData the deleted file will be recovered.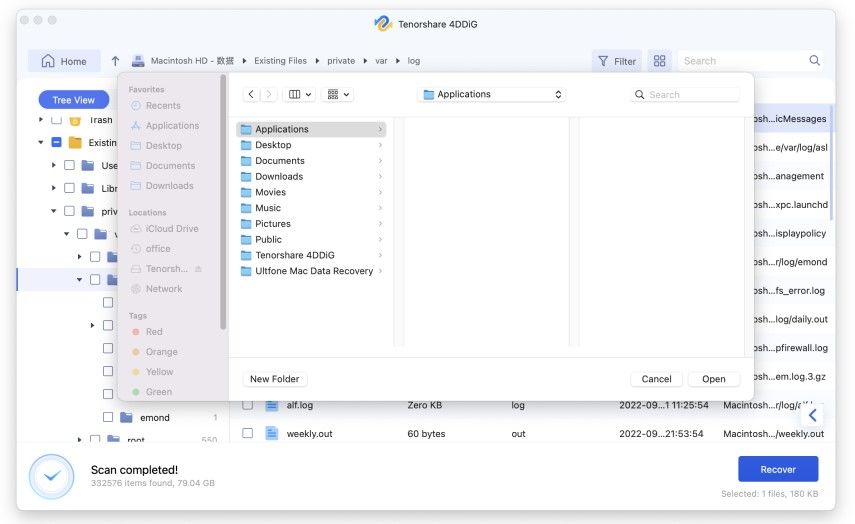 Way 2: Recover Files from Trash Mac via Time Machine Backup
Every Mac user must have experienced the situation wherein they would have accidentally deleted an important file instead of pressing the cancel option that the popped-up dialog box shows when you delete a file. The second way of getting back your lost data from the Mac can be done via the very useful Time Machine Backup. It is known as one of the most used means to recover files from trash mac free.
Step 1. On your Mac system, go to preferences and enter "Time Machine".
Step 2. Use Trackpad to navigate to the time when you would have deleted the files.

Step 3. Once you reach it, go to Finder and look for the while you need.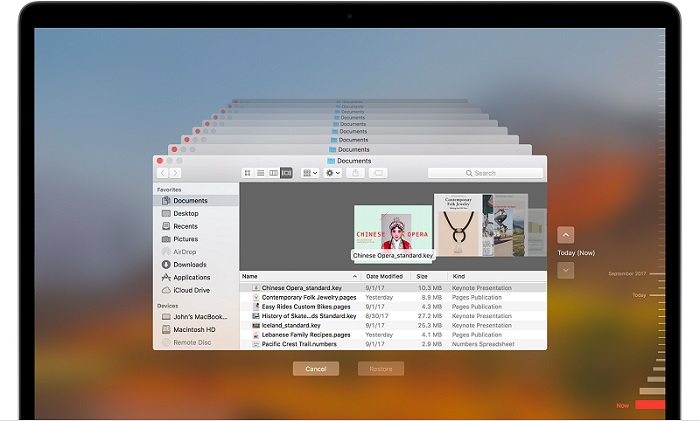 Step 4. Preview the file by pressing the Spacebar and click "Restore". The files will be then restored to hard drive.

While using the Time Machine Backup for the data recovery, you will have to keep in mind that it is also accompanied with certain cons:
The backup would not have the capability of being booted up.
In order to store the backups, the Time Machine might require an apple specific HFS+ file system.
There is a need for the destination volume to be greater than the boot volume.
Way 3: Recovering Emptied Trash on Mac with Undo Options
If you are wondering is there any way to recover emptied trash Mac, using the Undo Option for getting your lost data back has proved to be very easy. It has to be applied just after you have deleted the file. While using the computer, there might be an action of deleting the unnecessary files unintentionally. However, you can get them back by the Undo Option. You can apply a keyboard shortcut of "Command + Z" to undo your deleting action.
This option is not useful once you have permanently deleted the file from your Mac. But it is effective when you have recently deleted any of your files. Just go to the "Edit" option on the top of the page and click on "Undo Move of 'File name'" there. You are going to get your deleted file back this way.
The major disadvantage of using this method for recovering your data would be that an Undo option is not going to allow you to get your data back if it is permanently deleted. You will have to click on that option immediately when you have deleted any folder or document for it to work.
Way 4: Getting Emptied Trash Back on Mac by using Terminal Command
Once you have deleted a file, it is possible to get that action undone. Terminal is one of the most widely used tools by Mac users. Terminal commands can be used for enabling the users to get their lost files and folders back. Here are the steps you will have to follow to get your emptied trash back with the assistance of Terminal command.
Step 1. Go to the "Applications" option. Click on "Utilities" and then on "Terminal".
Step 2. In the typing area given there, you need to type "cd.Trash".
Step 3. Later, Type "ls".
Step 4. Afterwards, type "mv filename../" (the filename is going to get replaced with the name of your deleted file).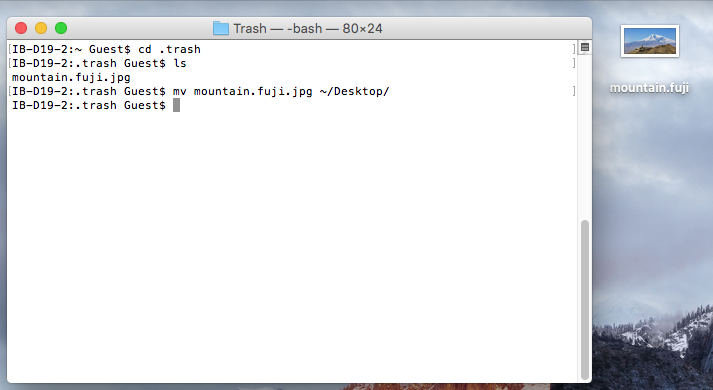 This way you can easily recover the deleted files on Mac using Terminal.
Conclusion
While using a Mac system or even any other system, mistakes are bound to happen. Thus, some people accidentally delete the files and in this way they can even lose the files which are very important to them. If you are a Mac user, you must definitely be aware about the various ways to recover the deleted files so that you can quickly get the accidentally deleted file without going through the ordeal of trying out different ways and getting frustrated. You are free to follow any of the four ways that are aforementioned to know how to get emptied trash back on Mac and truly, they are hassle free and save time. However, the best way to recover the deleted files on Mac would be by using Tenorshare 4DDiG for Mac Data Recovery which offers a simple yet effective method to recover the unintentionally deleted files on a Mac system.