How to Turn off Encryted iPhone Backup
by Jenefey Aaron Updated on 2019-07-25 / Update for iTunes Backup
You might find it easy to set and turn on iPhone backup encryption, but what if you want to stop encrypting iPhone backup as always forgot the password, how will you do it? Some of you may have no idea how to disable it. This article has been well written to show you how to turn off encrypt iPhone backup with iTunes using password as well as how to turn off encrypt iPhone without password without password .
Part 1: Turn off iPhone Backup Encryption with Password
To disable encrypted iPhone backup, here is a detailed guide on how to turn off encrypt iPhone backupby unchecking Encrypt iPhone/iPad Backup in iTunes.
Step 1. Begin by connecting your iPhone and then open iTunes.
Step 2. On iTunes click on your device at the top.

Step 3. Next, you have to click on the "Summary" and go to "Backups."

Step 4. Under backups uncheck "Encrypt iPhone Backup" option,and you will be prompted to enter the password.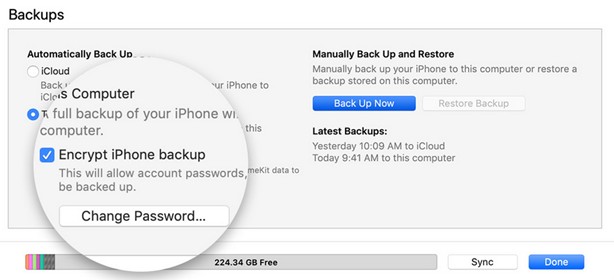 In an event where you cannot remember your password, you can use your iCloud account.
Part 2: Disable iPhone Backup Encryption without Password
Now, what if you cannot uncheck the Encrypt iPhone Backup option in iTunes as you are required to enter a forgotten password. And if you run into problems, you need to look for an alternative way to remove the backup password. In this section, we will introduce you to two ways on how to turn off backup encryption in iTunes without the password.
Way 1: Delete the Installed Profiles
In a situation that the encryption iPhone Backup option is grey and you cannot check it out, you need to delete the installed profiles on your iPhone. This issue could be due to theinstalledprofiles. Therefore, if you had not installed profiles, then this will not be helpful. If you had installed profiles follows these steps.
Step 1. On your iPhone tap "Settings" app and go to"General" and tap on "Profile."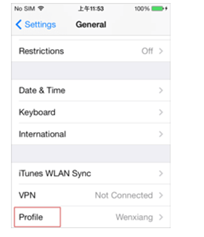 Step 2. Under "Profile" menu then tap "Delete Profile."
Step 3. Now, go back to the first method of using iTunes to turn off encryption.
Way 2: Disable iTunes Backup Encryption with 4uKey - iTunes Backup
If the option of deleting profiles does not work, then you need to use Tenorshare 4uKey - iTunes Backup to disable encrypted iPhone backup without a password.Tenorshare4uKey - iTunes Backup is a professional and secure iOS backup unlocking tool,and you do not have to worry about your data on your iPhone or computer that you will download to it. Another kicker about this password recovery software is that you can use to remove password from your backups such iTunes. Furthermore, it offers a wide range of compatibility since it is compatible with all iTunes versions and all forms on OS versions including the latest. Also, it is compatible with Mac and Windows operating systems.
A Step by Step Guide on How to Turn off iTunes Backup Encryption with Tenorshare4uKey - iTunes Backup
Step 1. Download and install Tenorshare 4uKey - iTunes Backup on your computer, then open the installed software.
At the home window of the program, you will see "Remove Backup Encryption Settings" and "Retrieve iTunes Backup password". Click on "Remove Backup Encryption Settings" option.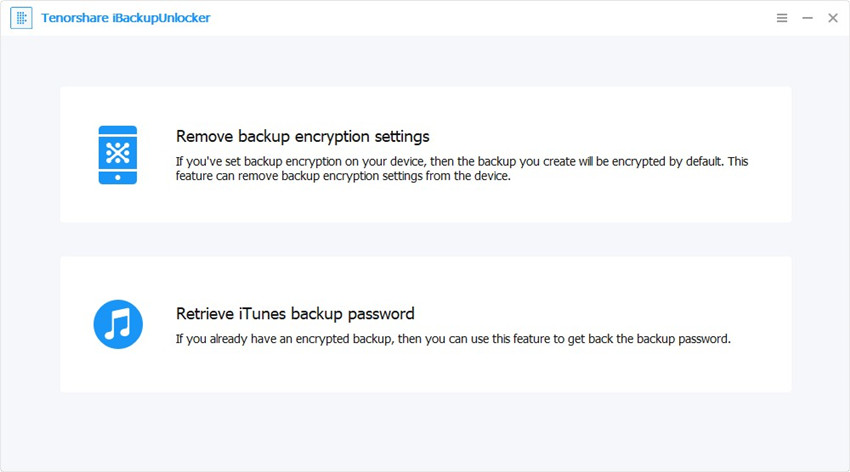 The "Retrieve iTunes Backup password" option is ideal if you want to restore the password that you have forgotten.
Step 3. After that, you can connect your iPhone that you want to turn off iPhone Backup Encryption using a USB cable.
Step 4. Once the program detects your iPhone, you see the "Start" button enabled. Now click on it to begin removing the encrypted password.
Step 5. When the process is complete, you will have successfully turn off iTunes backup encryption
It is that simple.
Conclusion:
We have listed 2 useful method above for your reference. The iTunes method is only useful if you know your iTunes Backup Password. Also, it is worth noting that if the turn off encrypt iPhone backup is disabled on iTunes you need to delete profiles on your iPhone.
However, to avoid running to all these problems, it is recommended that you use Tenorshare iPhone backup unlocker. It can remove the encryption from your iPhone backups within a few clicks if you want to restore forgotten passwords then this is the right tool for you. If you have met any other problems, here are some solutions to fix common iPhone backup problems you can refer to or feel free to leave comments in the comment section below.