[Solved] iPhone X Won't Update and Get Errors
by Jenefey Aaron Updated on 2021-05-17 / Update for iPhone X Tips
"I am trying to update my iPhone X from 11.0 to 11.1, in order to restore it. I keep getting an error code 3014. Even when I try to update without a computer, I get an "Update could not be verified" error. Does anybody know how to solve it?"

Recently many users reported they cannot update iPhone X/10 to iOS 11.2/11.1/11 and came across an update error in iTunes or unknown error occurred during restore/update. Generally, the alert message will contain an error code, like error 7/3014/51/9/3017 etc. Below are the main causes of these iTunes errors and several simple and effective ways to fix iPhone X/8/8 Plus update and restore error in iTunes, which are equally suitable for iPhone 7/7 Plus/6s/6s Plus and iPad Pro/Air/Mini.
Part 1. Main Causes of iTunes Error on iPhone X (Error 7, Error 3014 etc)
1. Causes of iTunes Error 3014
iTunes error 3014 often happens during update/restore. It can be resulted from
Incomplete installation of iTunes related software
iPhone/iPad stuck in white screen of death
Mistakenly delete iTunes related files
2. Reasons Why Error 7 Occurs
Corrupt download or incomplete installation of iTunes software
Improper system shutdown
Incomplete or failed update of iTunes
iTunes and iPhone/iPad error can occur to iPhone/iPad due to lots of reasons, such as software problem, hardware problem. Here we provide comprehensive solutions to settle various update errors on iPhone X.
Part 2. Full Solutions to Fix iPhone X Update and Restore Error in iTunes
1. Fix iTunes Error with Free Tenorshare TunesCare
The first thought came to our mind when we came across an update error is that the error is caused by iTunes problems or the operating system of PC/Mac, like incomplete installation of iTunes, corruption in Windows registry or mistaken deletion of necessary iTunes files. A free iTunes repair tool, called Tenorshare TunesCare, can fix them. It can repair iTunes not working, update and restore errors and other 100+ iTunes errors.
Step 1. Download and install Tenorshare TunesCare. Connect iPhone/iPad to PC or Mac. Launch Tenorshare TunesCare.
Step 2. Click "Fix All iTunes Issues">"Repair iTunes" to fix all iTunes issues thoroughly by repairing corrupted library and rebuilding iTunes to the latest version.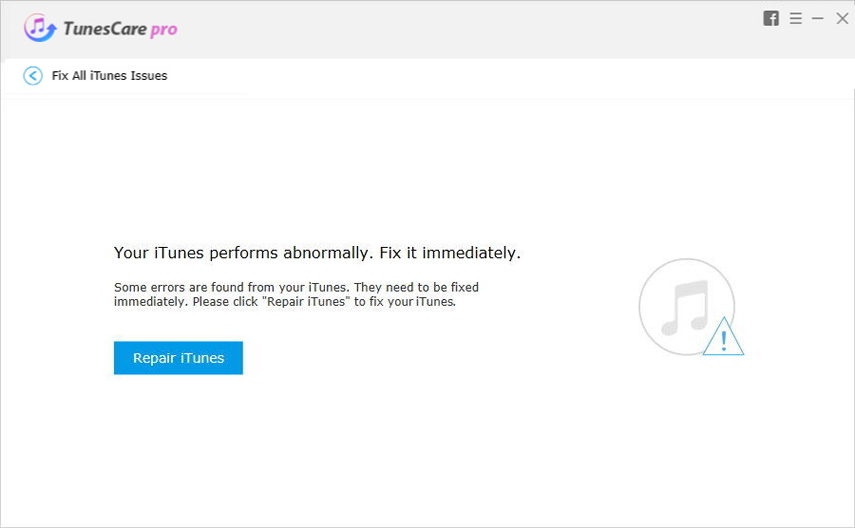 2. Solve iPhone X Update Error/Stuck without Data Loss and Update iPhone X Successfully
If you keep getting error and your iOS device is stuck, there might be something wrong with your iPhone/iPad system. You need an iOS system recovery tool to fix it. Since these iTunes error often occurs during iPhone/iPad update/restore, the most important thing is to ensure no data will lose during fixing process. Tenorshare ReiBoot, is a perfect iOS system recovery tool that can solve various iOS system errors without losing data and update iOS system to the latest version at the same time. Follow the steps to repair your iDevice.
Step 1. Download and install Tenorshare ReiBoot. Connect iPhone/iPad to your PC/Mac. Launch Tenorshare ReiBoot.
Step 2. Once Tenorshare ReiBoot detects your iOS device, click "Start" to jump to Repair Operating System interface.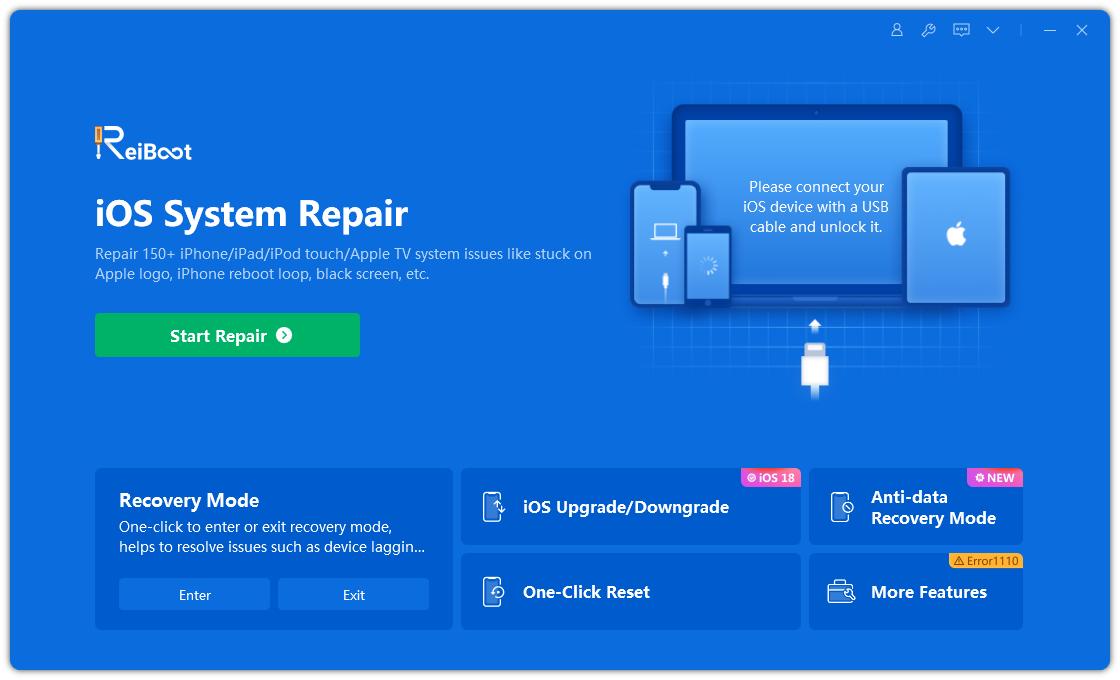 Step 3. Click "Fix Now (All iOS 11 Stuck)" to download and install the latest firmware.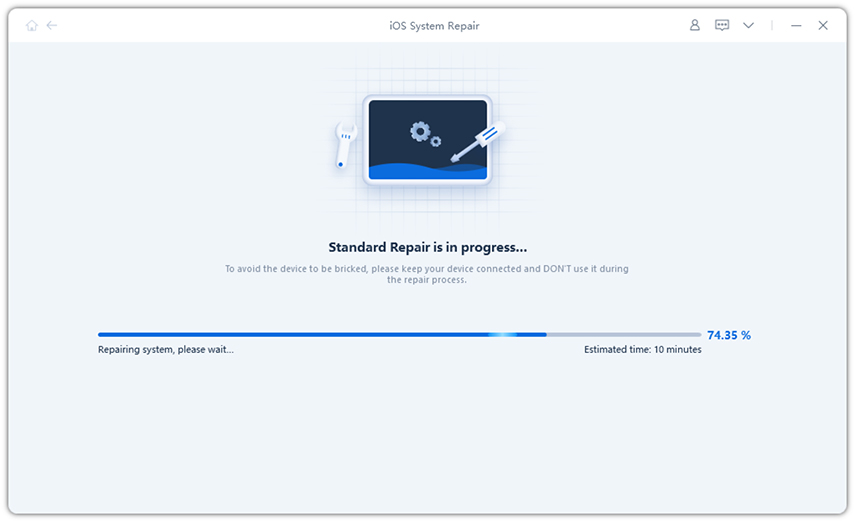 After the installation is over, your iPhone/iPad will get rid of the errors and run the latest iOS operating system. All your data will be kept.
Besides these two effective ways, here we list some general ways to fix iPhone/iPad update error for reference. In addition, you can check more specific error code, and find detailed solutions.
Related Read: iTunes Error and How to Fix
3. Update iTunes to the Latest Version
It's a simple trick but often neglected by people. Alert message with error code can occur due to incompatibility between iOS device and iTunes. When this happens, the first thing you need to do is to make sure you are running the latest version of iTunes. Open iTunes, go Help>Check for Updates.
4. Make Sure the Time and Date is Correct on PC/Mac
If the time and date on your computer differs from that on Apple's Server, the communication between your PC/Mac can be affected. They insist on their own watches and don't agree on each other's. So you need to make sure the time and date are right.
5. Check the USB Connection
Malfunctioning USB cable can cause iTunes or iPhone/iPad error. You need to ensure the USB connection. When an error message pops up, check
Use a compatible lighting cable.
Switch to another USB port. Directly plug into the computer, not the keyboard.
6. Update Operating System of PC/Mac
Old version of Operating system may be not fully compatible with the latest iTunes, which can result in lots of iTunes errors, like error 3014. You'd better keep your operating system up to date no matter you are using Windows or OS X.
7. Check the HOSTS files (Complex)
Another method of resolving iTunes issue is to check and edit the hosts file. It's a little complex but effective for some update errors. If you haven't done it before, you'd better make a system backup. Here are more detailed instructions.
Related Read: How to Fix iTunes Error 3014
Bottom Line
With these methods mentioned above, you can fix various iTunes or iPhone/iPad errors. If you want to resolve iPhone X update error without losing data and at no risk, Tenorshare ReiBoot is your best choice. In addition, it can fix various iOS stuck, like iPhone stuck on Apple logo/black screen/blue scree/recovery mode/boot loop etc. If you have any other problems, leave us a message.