WhatsApp is available for iOS, Android and Windows mobile platforms and allows you to stay in touch with almost all your friends without paying anything to your service provider. But what if you accidently deleted WhatsApp media files? You don't need to be in a panic in order to recover WhatsApp media. Here we provide 2 situations for you to get through it. Here we go.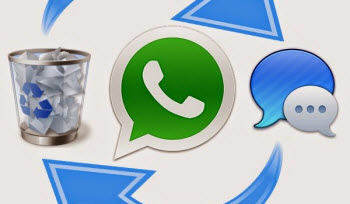 Situation 1: How to Get Back Recent WhatsApp Media (Less than 7 Days Old)
WhatsApp itself provides a solution to restore your accidently deleted WhatsApp media files, only when the file is less than 7 days old. WhatsApp automatically creates a backup file of your chat history at your memory card. Therefore you can use the backup file to restore WhatsApp messages. Note that if your WhatsApp messages are more than 7 days old, please directly go to situation 2.
All you need to do is to uninstall the app and install it back. After installation, WhatsApp will ask you to restore. Click on "Restore" and all the WhatsApp chat history which is less than 7 days will come back to your WhatsApp messenger.
Situation 2: How to Retrieve Older WhatsApp Media Files (More than 7 Days Old)
If you want to retrieve WhatsApp media data which is more than 7 days old, the best way is to get a WhatsApp media recovery, such as Tenorshare WhatsApp Recovery, which is a professional tool to get back WhatsApp chats and other media data from both iOS and Android devices. Anyone without heavy computing and programming knowledge can do it smoothly. In the following let's see how it works.
That's all for how to recover WhatsApp media data. You can be free to choose the either of the two methods that suit you the most. For more problems, such as WhatsApp crash on iOS 9.3, 9, 8.3, 8.2, 8.1, 8, we also have detailed post offering quick solution to it.
Free Download
For Win 10/8.1/8/7/XP
Secure Download
Free Download
For macOS 10.13 and below
Secure Download
Related Articles
comments powered by