Best iPhone Contacts Backup Apps 2023
by Anna Sherry Updated on 2021-12-30 / Update for iPhone Backup
Contacts are one of the important data of a smartphone. The contact app in iPhone holds not just the contact number but also the other vital information about the person too. Contacts hold personal information about the person and that's why it is important to keep the data safe. The iPhone users often worry about losing the contacts, and they are always looking for a better backup feature. Luckily, there are various apps specifically designed to keep the contacts safe.
Here, in this article, you are going to learn how to backup iPhone contacts with ease. We have gathered up a list of apps that can help you deal with the contacts backup.
Part 1: Top iPhone Contacts Backup Apps for iPhone
Here is the list of the best apps perfectly suitable to back up the iPhone contacts anytime.
1: My Contacts Backup
Download URL: https://itunes.apple.com/in/app/my-contacts-backup/id446784593?mt=8
This is a very popular iPhone contact backup app. It has an incredibly easy method to create the contacts backup. Once you created the backup, you can further send the file to yourself as an attachment via mail.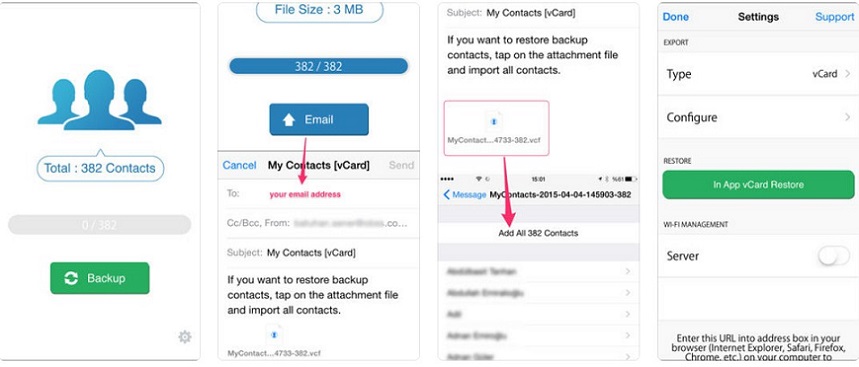 Features:
The app stores the contacts in .vcf format.
It allows the users to backup 500 contacts.
There is also a Pro version for this app.
Pros
The app is easy to use.
The Pro version is very affordable.
Cons
The free version doesn't have that much available for contacts.
2: Easy Backup
Download URL: https://itunes.apple.com/us/app/easy-backup/id545198169?mt=8
As the name signifies, this app can backup contacts on iPhone with ease. This app has the ability to immediately backup contacts and can further manage them by merging the duplicate contacts from the list.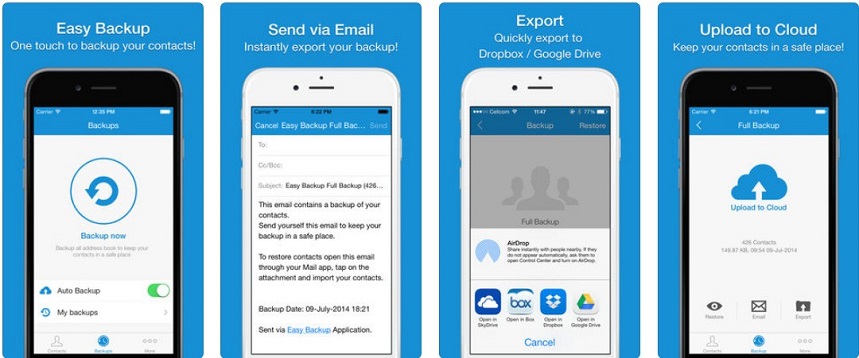 Features:
You can export backup file to Dropbox, Google Drive, or cloud service.
Contacts can be sent via email and excel sheets too.
Pros
The app can remove contacts saved without names or contact number.
It's "find and merge" feature is also helpful.
Cons
The app sometimes hangs unexpectedly.
3: iDrive Online Backup
Download URL: https://itunes.apple.com/in/app/idrive-online-backup/id427956708?mt=8
With the help of iDrive Online Backup, you get a free iPhone contacts app. This app can secure contacts with a highly encrypted private key. This means that the contact will stay secured and only you can access them. You can also backup the contacts from multiple devices with just one account. Moreover, all the backup files can be synced across the devices too.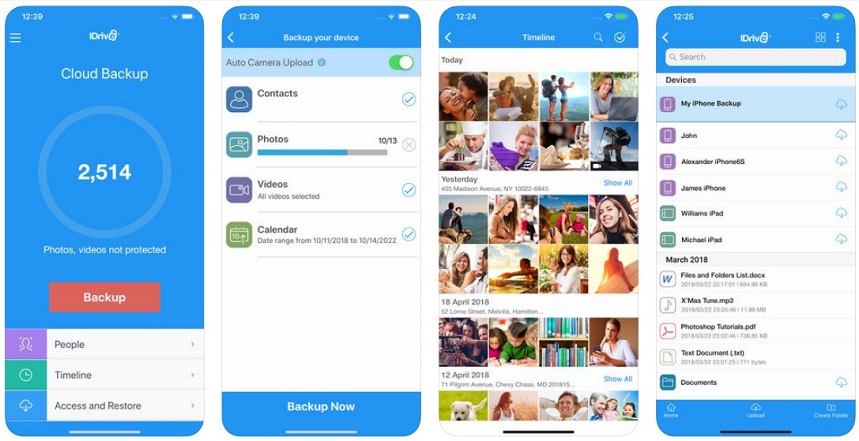 Features:
It can backup contacts, photos, videos, and calendars too.
Sync and share files between various devices.
Automatic backup feature with easy upload options.
Pros
The app allows the users to perform a selective backup.
You can easily sync up various device data with this tool.
Cons
There are some limitations over the photo backup number.
The app crashes sometimes.
4: Recover-Data Recovery and Backup
Download URL: https://itunes.apple.com/in/app/recover-data-recovery-and-backup/id1048903602?l=hi&mt=8
The Recover app is one of the useful contact backup apps for iPhone. It can help you to recover the data that was accidentally deleted from your iPhone. Once you back up the data via this app, you can further share and transfer the contact data between iOS devices via email and cloud services.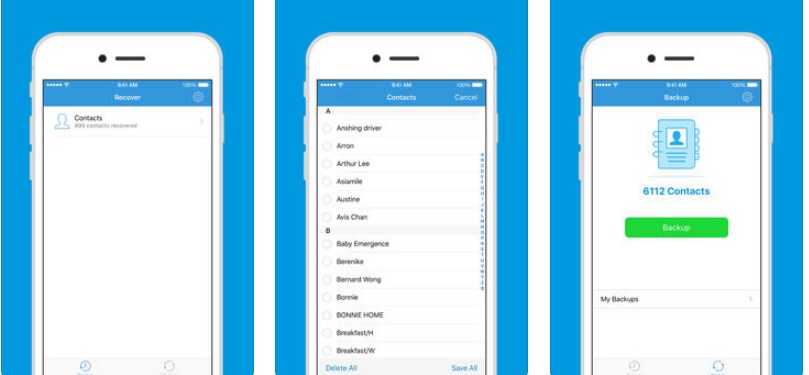 Features:
The app has no limit on the number of contacts that can be backed up.
You can upload data on Dropbox, Google Drive, and OneDrive too.
Pros
It is a simple and sophisticated tool.
The app is completely free.
Cons
The app often gets blocked by email providers.
5: Contacts Sync
Download URL: https://itunes.apple.com/in/app/contacts-sync-for-google-gmail/id454390333?mt=8
This iPhone contacts backup app is designed so that the contacts can be synced with the Google mail. The app can merge the iPhone contacts and Gmail account contacts even during the initial sync. It is a reliable and fast in backing up big list of contacts.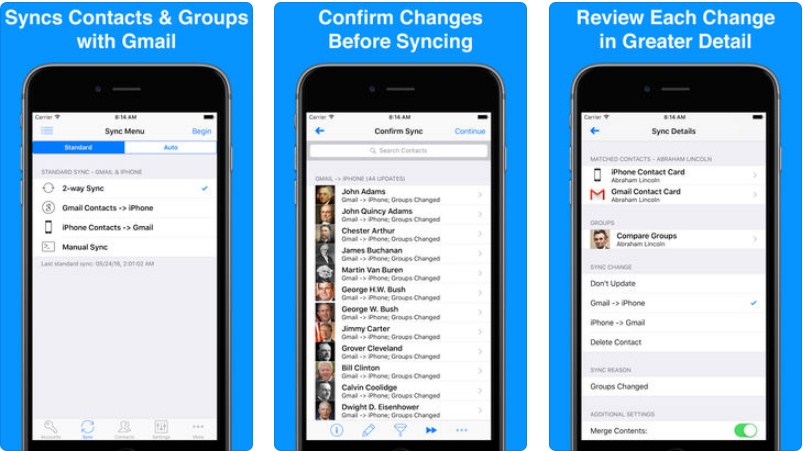 Features:
Sync types and fields of contact with the Gmail account.
Automatic sync and group filters.
Combine Google and iPhone contacts without duplication.
Pros
The app is quick and easy to use.
It has a 2-way syncing technology.
Cons
You will need a subscription to unlock the premium features.
Extra Tip: Part 2: How to Backup Contacts to Computer
If you'd like to backup and export your iPhone contacts to computer, then you must try free iPhone backup tool iCareFone. This software application is designed to fulfill the various needs of users. So, whether you want to backup, restore, manage, and repair your device, this desktop software has all the essential features.
The Outstanding Features of iCareFone – Backup & Restore:
One click to backup all iPhone data to Windows or Mac computer.
Support to selectively backup and restore iPhone data, like backup contacts, videos, photos, videos, etc. separately to computer.
Allow preview and restore any item from backup to a iOS device.
Manage (view, delete) iTunes and iCareFone backup file.
No data loss during restore.
Work for all iOS devices and all iOS versions.
Step 1: Download the software from the official website and run it as soon as it is installed. Connect your device with the system and switch from Home tab to Backup and Restore tab.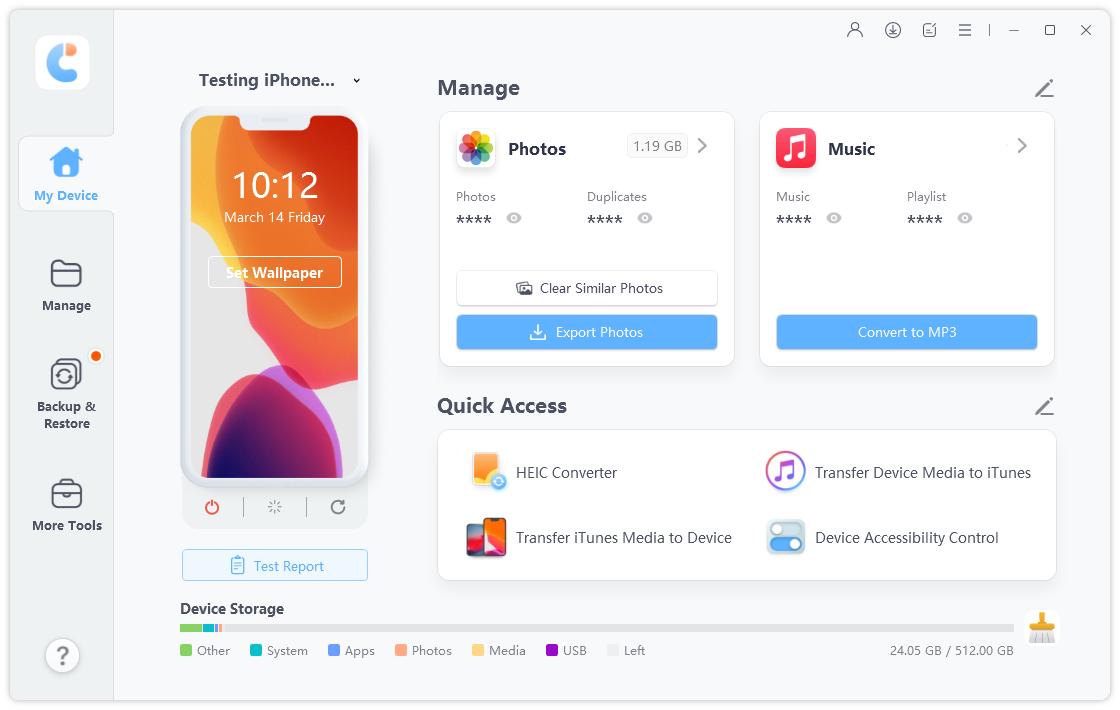 Step 2: In the next screen, all the data type that can be backed up will be listed. By default, all the data types will be ticked, but you can de-select the data which you don't want to back up.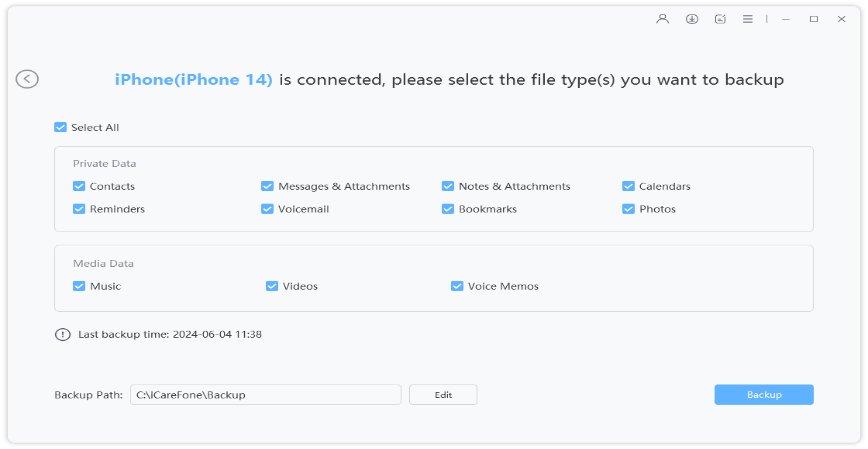 Step 3: Just tap on the Backup option and the software will create a new backup file for the data stored on your iPhone. As the backup finishes, you will be notified.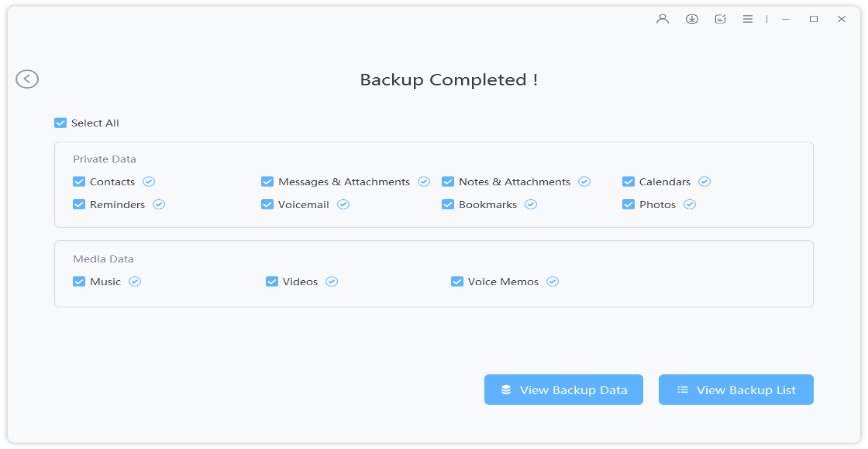 The software will even allow you to have a preview of the data files. The files are not just accessible but also readable. You can further restore the data directly on your device with the help of iCareFone.
Wrapping Up
These are the best iPhone Contacts app. If you have more data to backup, iCareFone is recommended as it backs up data flexibly and apart from backup, it is also an iPhone data transfer and management tool.