2 Methods to Find iTunes Backup Password
by Jenefey Aaron Updated on 2021-07-02 / Update for iPhone Backup
If you have ever created a backup of your iPhone or iPad using iTunes, you would know that iTunes lets you set a password for your backup. Also, it lets you include your sensitive data in your backup only if you have set a password for the backup. In case you ever forget the password, there are methods on how to find iPhone backup password.
A password protected iPhone backup can only be opened by entering the correct password. There are some methods, though, that will help you find iPhone backup password, so you can unlock and access the contents of your iPhone backup. In the following guide, you are going to learn how you can find the password for your iPhone backup using multiple methods. Let's check it out:
Part 1: 2 Ways to Recover iTunes Backup Password
While the Internet may have tons of methods to help you recover the password for your iPhone backup, not all those methods work as they claim to. The following are the working methods that will help you to find the password for your backups.
Once you have found the password using any of the below mentioned methods, you can use it to unlock the backup.
1. Try All Possible Solutions
The first thing you are highly recommended to do when you have forgotten the password for your iPhone backup is to try all the passwords that you can think of. There is no harm in trying out all the passwords that you can recall and maybe one of them will turn out to be correct password for your backup.
While this is more of a guessing method, it has worked for many users out there. It is also the simplest way of doing the task as all it requires you to do is think of your passwords.
2. Using 4uKey - iTunes Backup
If you have not had any luck using the above method, you probably need some professional help to unlock your iPhone's backup. Well, there is a software that can do the job for you and find out more about it below.
Meet 4uKey - iTunes Backup, a backup unlocker software that allows iOS users like you to find and unlock your iTunes backups. It comes with multiple attack types to ensure a high-success rate for unlocking your iPhone backups.
If you have never used a backup unlocker software before, the following should teach you how to find iTunes backup password using the software:
Step 1: Download the latest version of the software and install it on your computer. Launch the software and click on the option that says Retrieve iTunes backup password.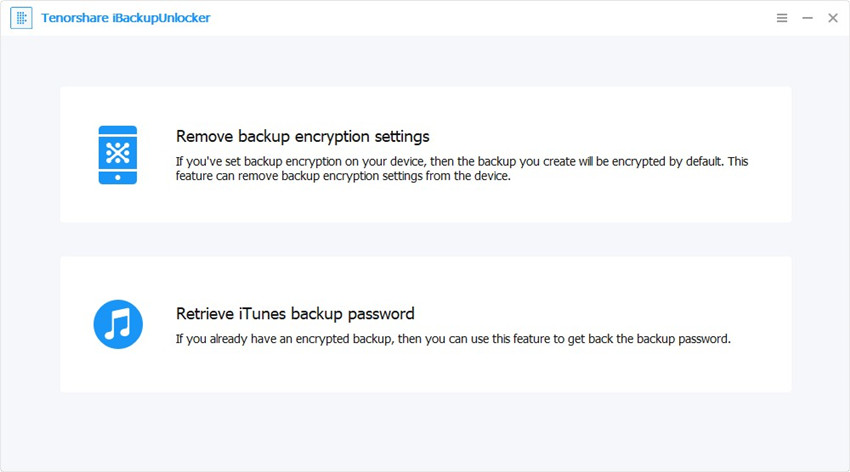 Step 2: On the following screen, it will show all the iTunes backups you have got on your computer. What you need to do is select the backup you want to find the password for and click on the Next button.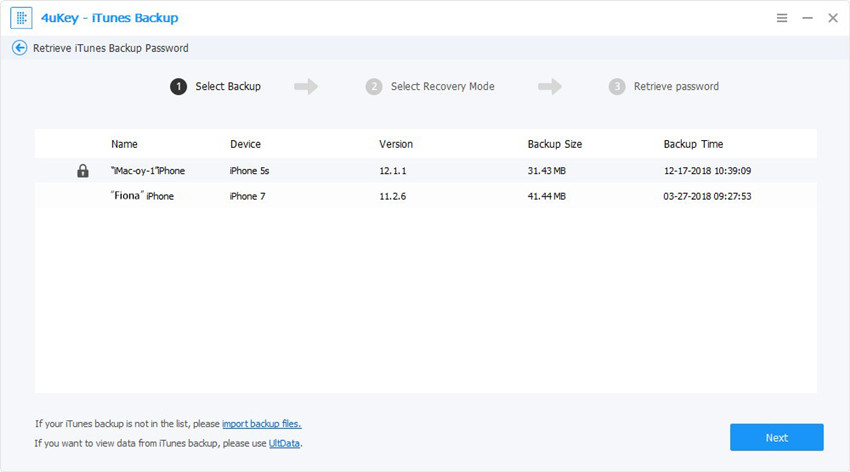 Step 3: Once you have chosen an iTunes backup, you will be asked to choose an attack type from the attacks list. You have three attacks available at your disposal and you may choose any. Once chosen, click on the Start button.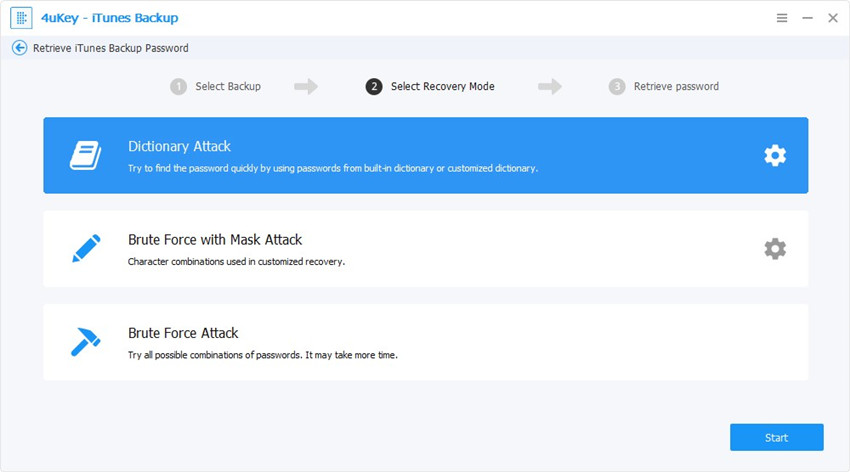 Step 4: Depending on what attack you have chosen, you will see a screen letting you configure the options for the attack. Do so and it will let you move forward.
Step 5: The attack will be executed on your backup and you will see the following on your screen. The software is trying to figure out the password for your backup.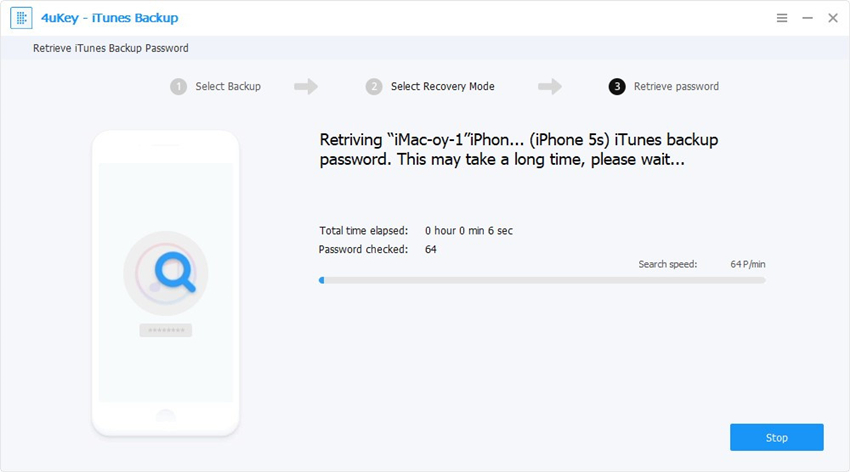 Step 6: Once the password is found, you will see it on your screen. Click on the Copy button to copy it to your clipboard.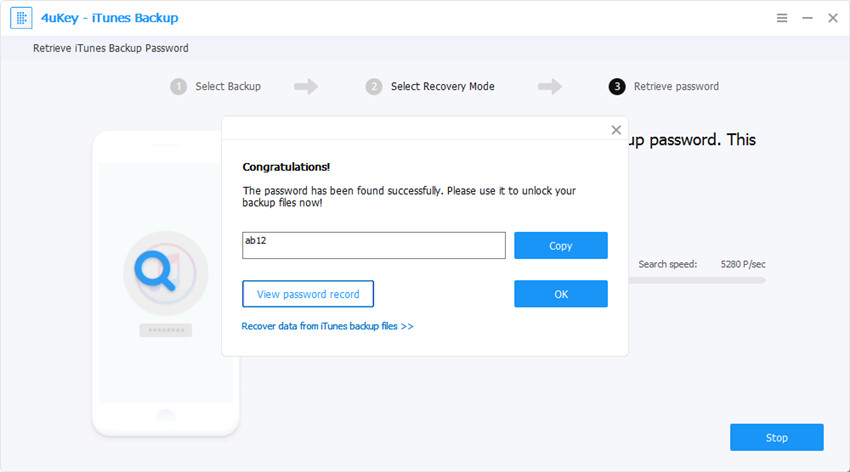 There you go. That is how you find the password for an iPhone backup using a software.
Part 2: Explore More for Best Backup Apps for iPhone
If you often struggle with remembering passwords for your iTunes backups, you can use other third-party software to create backups for your device. The following are one software to help you create backups for your iPhones.
CopyTrans Shelbee
CopyTrans Shelbee is a new entrant in the market and it lets you backup and restore your iPhone in a few clicks on your computer. The interesting feature of the app is that, it lets you partially restore your backups. That way you can choose what content to be restored on your iPhone unlike iTunes that forces you to restore the entire backup on your device.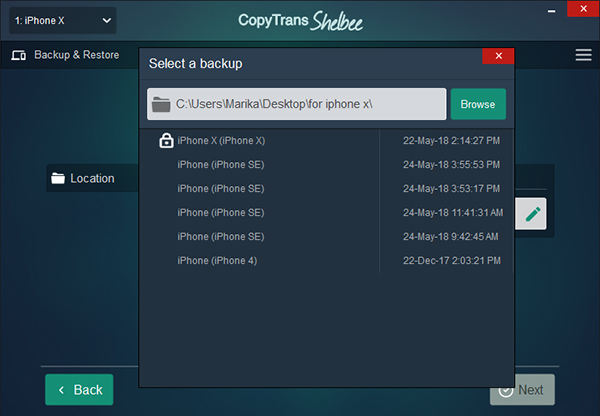 Part 3: Conclusion
Our guide above should answer your "how do I find my iPhone backup password" question and show you multiple methods and recommend the professional iPhone backup unlocking tool to find out your backup password. It also offers a couple of apps that don't force password-protection to create backups for your iPhones.