How To Backup Wifi Passwords On Android
by Anna Sherry Updated on 2021-07-02 / Update for Wi-Fi Password
Have you ever forgot your Wifi passwords and then regret your short memory? Do you also hate the situation when you get logged out of your Wifi accounts, and don't remember the password? If the answer is yes, then cheer up! We are here with some excellent solutions to tell you how to backup Wifi passwords on Android.
Three Methods To Backup Wifi Passwords On Android
We are here to provide you with enough methods to backup password Wifi Android. Learning these methods would help you keep yourself safe from the troubles of the situation when you forget the passwords. We all know how to use the internet to backup data from your phone on the internet. Likewise, Wifi backup Android is also an amazing utility that we all must know about. The following are the three easiest and the most straight forward methods to backup Wifi passwords on Android.
Google Backup Wifi
Just like every day we go to Google to find solution to our problems, Google has made it easier to store Wifi passwords. It helps us keep our data safe from being lost or accidentally deleted. Similarly, Google helps us save our passwords so that we don't have to get locked out of accounts even if we forget the password.The following are the steps that you have to follow to backup Wifi passwords on an Android device.
Go to the settings menu of your Android device. Scroll down until you get the Accounts option.
Click on your Google account there and then sign in. Find and turn on Backup my data, it will back up your device data including Wifi passwords to Google servers.
Most Android devices allow you to do these settings, but it is possible that you might fail.
Using Wifi Password Manager
Many application programs are available in the market that can help you backup wifi passwords android. Wifi password manager is also one of them, which allows you to save your passwords over the internet so that you don't lose them. The following are some perks of using a Wifi password manager for you.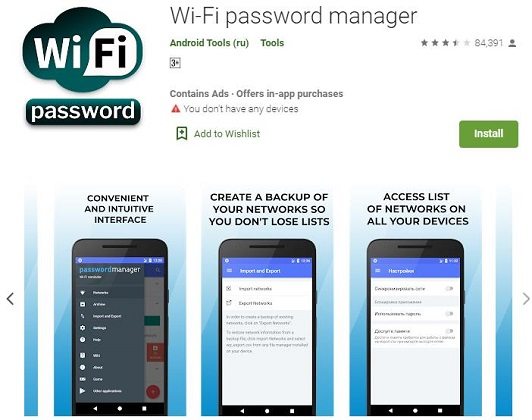 You can easily send text data like network name and password to other applications.
You can easily find an unknown network in the list.
A password manager helps you connect quickly to a known network.
You can also create a backup copy of your data and import the password history in a CSV file.
Using Backup Your Mobile
Another software utility that can help you keep your passwords safe is backup your mobile. This application is also available on Google Play Store to easily download and install on your phone to get started. It is the easiest way to backup Wifi passwords on Android without root. The following are the perks you can enjoy if you download the app for backup saved Wifi networks android!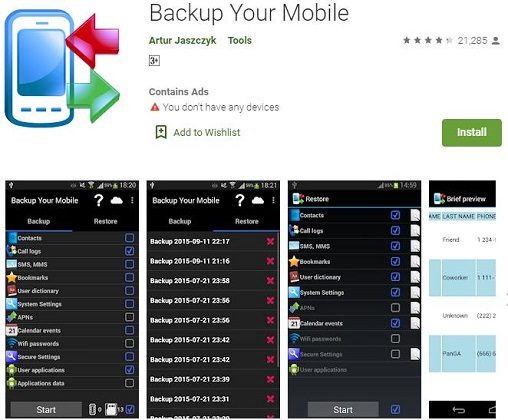 You can backup and restore all your mobile data, including Wifi passwords.
Save your passwords over Wifi so that you can access them whenever and wherever you need.
You can create a backup on different cloud platforms, including Google Drive, Dropbox or OneDrive.
The restore of this application work only on the rooted devices.
Plus: How To Backup Android With UltData For Android
If you are thinking of creating a backup of your phone to pc via USB, Tenorshare UltData for Android is the best option for this. The best thing about UltData Android is that you can easily backup your android devices like Samsung and recover lost data to pc. Follow the steps mentioned below to use this app to backup android phone to pc via Wifi.
Download the application from the official website and launch it on your laptop. After launching, click on Recover Lost data.

Connect your Android device with the laptop and start USB debugging by following the guide on the screen.

Select the files you want to backup/recover and click on Scan. After that, the app display all the data on the screen.

Choose and preview the files, hit the Recover button. Ta-dah…! Backup android phone to pc via Wifi is finished, and now all your files are secured on your PC.
You might also be interested in: Recover Lost WhatsApp Messages on Android Device.
Conclusion
We all need software utilities that can help us save our data over Wifi so that we don't lose them ever. UltData for Android are available here to back up and recover data for you. This article also introduces Backup Your Mobile and Wifi Password manager to help you backup Wifi passwords on Android. Opt for your favorite method and enjoy the freedom from data or password loss!
FAQ
Q1:How to view Wifi password on Android?
If you directly want to see your Wifi password on your Android device, head to Settings > Network and Internet > Wifi, select the network that you want to check the password. Tap on the "share" option. You can share and view the password by scanning the QR code.
Best WhatsApp Recovery Software on Android without Root
Recover deleted WhatsApp Messages on Samsung, Huawei, Xiaomi, OPPO without root;
Recover photos, contacts, messages, videos and everything you lost;
Preview individual file before data recovery;
Support with most Android phones and tablets;