[Question] What Recording Software Do YouTubers Use 2023
by Sophie Green Updated on 2021-07-02 / Update for Top
You might have seen a lot of screen recordings in various YouTube videos. Have you ever wondered what recording software do YouTubers use? That is the exact question this guide aims to answer. There are some really cool recording tools that most YouTubers use and here we tell you about those tools.
You are going to learn what screen recording software do YouTubers use that free and pro. There are certain things that YouTubers keep in mind while choosing a tool. You will learn about that as well.
Part 1. What Free Video Recording Software Do YouTubers Use?
The following are some of the free recording software that YouTubers use.
1. OBS Studio
OBS stands for Open Broadcaster Software and this tool allows you to both record your screen as well as stream your content on the Internet. Most gamers and other YouTube channels use this software to stream their content online.
The great thing about this software is that it is available for all three major platforms including Windows, Mac, and Linux. It comes bundled with several features that make recording easier for you.
Free and open-source
Easy to record your screen
Stream your content online
Unlimited scenes
Support for several formats
Price: Free
2. FlashBack Express
FlashBack Express claims to be the best screen recorder and it is largely due to all the features it offers. When you get the app on your computer, you realize that it is one of those rare apps that maintain simplicity while still offering some of the powerful features of a screen recorder.
With this software, you can capture any region of your screen, add the footage from your webcam to your recording, and so on.
Webcam footage overlay
Region selection for screen recording
Add audio commentary
Unlimited recording
Upload recordings to YouTube
Price: Free (trial)
3. Ezvid
Ezvid offers excellent simplicity when it comes to recording your screen. You can use the software to easily and quickly make various kinds of recording of your computer screen. It has a video editor in it as well so you can edit and retouch your recordings right after making them.
There is a slideshow maker as well if that is what you want to do. It includes some free music to add to your recordings and make them sound better.
Quick and easy to use
Add camera recording
Video editor included
Drawing tools
Adjust recording speed
Price: Free
4. ShadowPlay
ShadowPlay is a screen recording utility developed by Nvidia. It allows you to make recordings of your screen and then share it with the people you want. It helps you to record your screen in a really high resolution so that everything looks crystal clear. It is definitely a fun tool to use for your extreme gaming moments as a YouTuber.
With the tool, you can replay and record your games. You can even broadcast your content with this tool. The tool allows you to record in 4K quality and helps make animated GIFs as well.
4K support
Screenshot support
Stream your games online
Easy to use
Trusted app
Price: Free
Part 2. What Paid Video Recording Software Do YouTubers Use?
If you are wondering what recording software do most YouTubers use that are paid, this section lists out those software.
1. Bandicam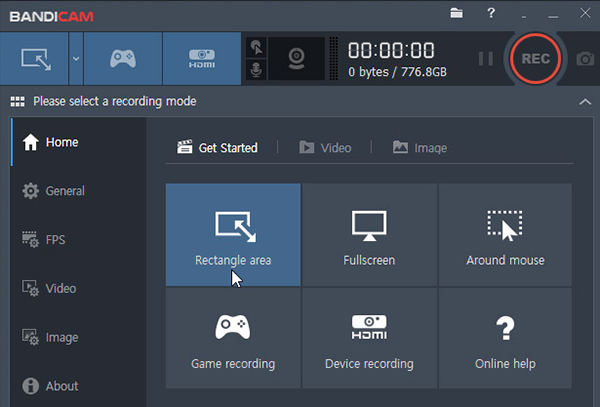 Bandicam is offered in both free and premium versions but the latter is where its true power lies. With this software on your computer, you can record pretty much everything on your screen. It has several flexible options that you can customize so your recordings are made the way you want.
In addition to that, it has a specialized gaming recording service if that is what you plan to do. There are device recording features as well in the app.
Support for popular video formats
Record screen, games, and devices
Add a webcam overlay
Schedule your recordings
Mouse effects
Price: $39.95
2. Camtasia
Camtasia is a known name in the screen recording industry. This tool is both a screen recorder as well as a video editor. The great thing about this tool is that it can be used for many purposes. You can use it to make explainer videos, tutorials, meetings, presentations, webinars, and so on.
It is extremely easy to start a screen recording with this software. Once that part is done, you can move onto editing your recording and remove unwanted stuff and add some cool new elements to it.
Record everything on your screen
Easily edit your recordings
Record your webcam
Multiple audio recording sources
Integrated with PowerPoint
Price: $249.00
3. Fraps
Fraps is more than just a screen recording software. It is a tool that allows you to benchmark your content, mainly your games. You can then use it as a screenshot tool as well to capture screenshots of your game and other screens on your computer. Lastly, it has the screen recording capabilities as well which help you record every movement of your screen.
It supports various frame rates and resolutions. Your screen can be recorded in an excellent quality with this software.
Benchmark your items
Take a screenshot
Record your screen
Record audio as well
Multi-purpose software
Price: $37.00
What recording software do YouTubers use? The above answers that for you.
Bonus Tips: How to Recover Lost YouTube Videos on Computer?
If you ever lose a YouTube video on your computer, you can use a tool called Tenorshare 4DDiG to recover your video. This tool scans your drive for recoverable files and lets you restore those files on your computer. You can use the tool as follows.
Install the latest version of the software on your computer. Choose the location where you lost your data.

The software will scan the lost location, and you will have to wait for a few minutes.

Select your YouTube video and click on Recover.

Choose the folder to save your YouTube video.
That is all for how to find out deleted YouTube videos. Within simply clicks, you lost videos will be recovered without any quality loss.
People Also Asked about Video Recording
Users often have questions about what video recording software do YouTubers use and the following answers them.
1. What to consider when choosing screen recorder?
When choosing a screen recorder, keep the following things in mind.
Hotkeys - make sure there are hotkeys for all main features.
Built-in tools - there should be enough tools to do your task in the app.
Easy to use - it should be easy to start and stop your recordings.
Recording time - go for unlimited if that is offered.
Editing options - it is good if the app has editing capabilities.
Custom recording resolution - this will help you save a lot of time in editing.
Video frames - these should be adjustable.
2. Is screen recording YouTube illegal?
Yes, it is illegal to screen record YouTube as almost all the videos on the site are copyrighted. You cannot make unauthorized copies of those videos on your machine.
3. What recording software do singers use?
Singers use a variety of software and some of those are WavePad, GarageBand, Ocenaudio, SoundForge, and so on.
Summary
We hope the above post tells you what software tools are used by YouTubers to make their videos. The post also offers a method for you to recover your YouTube videos in case you ever end-up deleting them unintentionally.