Best 4 Ways to Fix iTunes Music not Syncing with iPhone 12
by Jenefey Aaron Updated on 2020-12-11 / Update for iPhone 12
Tenorshare 4uKey - Password Manager is trusted by many users for its ease of functionality and security. It is the best iOS password finder and manager for iPhone and iPad users."

-- From Apple Community
Are you facing the same iTunes not syncing music issue as mentioned above? Just after the iOS 14.2 update, many iPhone users are dealing with glitches and bugs related to iTunes. Among several issues, the most common one is iTunes music not syncing with the iPhone 12. There can be many reasons for it, such as you haven't updated iTunes or it didn't recognize your device.
Thankfully, you don't have to worry about anything because we've explained all the possible solutions that might help you to resolve this issue ASAP. Read the content below to find the solution.
Part 1: Why is iTunes Music Not Syncing with iPhone 12?
If your iPhone playlist is not syncing and you cannot edit it either, then below are the reasons you are having this issue.
You haven't updated iTunes.
Your USB cable is broken or not working correctly.
There might be issues with your network connection.
It is possible that music syncing settings are not done properly.
You haven't updated the drivers.
Your system is not working correctly.
These could be the possible reasons why iTunes is not syncing playlists. However, you don't need to panic because solutions are available here. You can read the details below to find out how this issue can be fixed.
Part 2: 4 Fixes to Solve iTunes Music Not Syncing to iPhone 12?
If you have spent several hundred dollars on a new iPhone 12, then you would be expecting it to work properly. However, some people reported issues related to iTunes music not syncing with iPhone 12. It can be quite frustrating because you can't either backup your music and even can't edit it. But you don't need to worry about anything because here are 4 different solutions that you can try. All of them are effective and will provide the best results. Let's check them one by one.
Method 1. Check If Other Devices or Computers Signed in with the Same Account
If you are here to find out why iTunes music library is not syncing with iPhone, your wait is over. We are going to explain to you the first solution that you can try to solve the sync issue. Consequently, it's essential to verify that all the devices are signed in with the same account. To check your account details, you can follow the steps mentioned below.
Launch Apple Music app on Mac and for Windows, open iTunes.

From the top menu, select the "View My Account" option. To view the settings, you have to sign in using your Apple ID.

Now, scroll down and select Manage Devices. From there, you will see the list of devices that are linked with your account.
Method 2. Make Sure You've Updated the iTunes to the Latest Version
Updating your iTunes will help you to overcome iTunes not syncing playlist issue. Therefore, if you are using the old version, upgrade it so you can sync music easily. To do that, below are some steps that you can follow:
Open iTunes and click the "Help" option. You can find this option on the top menu.

Choose the "Check for Updates" option. It will automatically update the iTunes if any updates are available.
If this didn't work for you, try solution number 3.
Method 3. Disable Sync Library from Settings and Enable Again
If the iTunes playlist didn't sync with the iPhone, it's time to check Sync Library settings. In the latest versions, this option turns on automatically. But if you have turned it off on your iPhone, follow the steps below to enable it again. However, enable this option to make sure that you have subscribed to Apple Music or iTunes Match; otherwise, you won't be able to see it.
Go to your device's settings and look for the Music option.

Below Add Playlist Songs, you will see the option "Sync Library" first, turn it off and wait for a few seconds. Then, enable it again to check if it's syncing properly.
If this solution didn't work for you, restart your device as mentioned in solution number 4.
Method 4. Restart Your iPhone and Connect to iTunes to Sync
Sometimes you can easily resolve the issue by restarting your iPhone. Moreover, this solution will try to solve connectivity issues. In case you haven't tried it, below is how you can restart your old and new iPhone and connect to iTunes.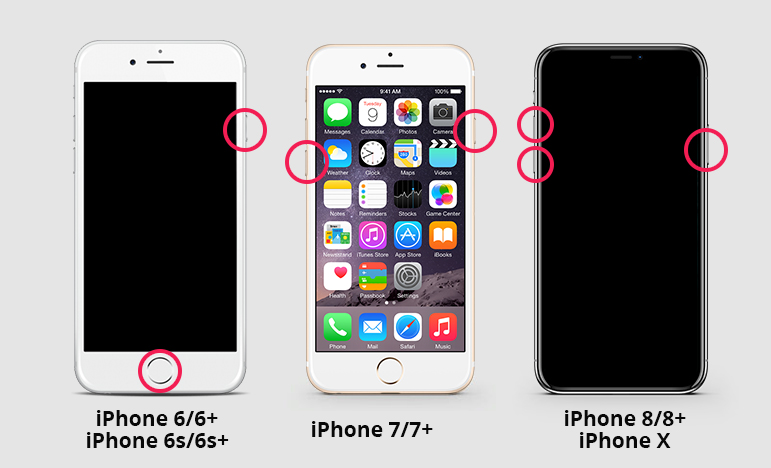 iPhone 8 or 8 Plus

To restart the newer version, you have to press and hold the volume up and the side button. Once the device has started, enter your password to unlock it.

iPhone 7 or 7 Plus

Hold the power and volume key simultaneously to turn off the device. Then, press the power button until you see the logo on your screen. Within a few seconds, your iPhone will restart.

iPhone 6s, SE, or Earlier

Hold the home and power button for a few seconds until you see the Apple logo. Once the logo has appeared, let go of the buttons and unlock your phone to use it.

Once you are done with restarting your device, now it's time to connect it with iTunes. Here is what you can do to sync using iTunes.
Open iTunes and use a USB cable to connect your device with your computer.
Now click the device icon, and you will be redirected to the list.

Now choose the "Music" option from the list. Make sure that Sync Music is turned on.

Once you are done with the settings, click the "Apply" option.
Part 3: Best Alternative to Sync Music with iPhone 12 Using iCareFone
In case the four solutions mentioned above didn't work for you, then here is an alternative way you can try. We are talking about Tenorshare iCareFone, which allows you to transfer media files, including ringtones, music, and much more. It works best with iPhone 12, 12 Pro Max, 12 mini, etc. Plus, and helps transfer iTunes media between computer and device. If you want to sync music with iPhone 12, below are the steps you can try.
First, you have to download Tenorshare iCareFone on your device; after that, connect it with your device. In case you see a message, "Trust This Computer," make sure to unlock your device using a passcode. After the connection, choose the "Transfer Device Media to iTunes" option.

On the screen, you see all the media files, and by default, all will be marked ticked. If you want to transfer an individual file, then you can select the desired one. Otherwise, you can transfer all of them.

Once you have selected the media files, choose the "Transfer" option. Within a few minutes, your files will be on iTunes. However, this tool will ignore duplicate files.
Using this method, you can quickly transfer music to iTunes. Below are the advantages of using Tenorshare iCarefone.
Excellent for backing and restoring data
Migrate music, photos, and more with one-click
No Apple ID Restriction
Preview the files before transferring
No Data loss issues
Using this application, you can also move data from iTunes to different devices. Plus, if your iTunes backup is not working, then you can use this software as an alternative to backup data.
Summary
If, due to any reason, music is not syncing with iPhone 12, then it's time to fix this issue ASAP. We have mentioned 4 different solutions that you can try, but still, if you face the same problems, try using Tenorshare iCareFone. This tool is an effective solution for iTunes problems and provides a hassle-free experience.